July 19-25 is National Zookeepers Week
As the need to protect and preserve wildlife and vanishing habitats has increased, zookeepers' role as educators and wildlife ambassadors has become essential. During the third week of July each year, we celebrate National Zookeeper Week to recognize both keepers and the animals the care for.
The National Zoo has a dedicated staff of animal keepers who provide outstanding care for the Zoo's large and diverse animal collection—2,000 animals representing 400 species. The Zoo's keepers have a wide range of responsibilities and are a unique breed of people devoted to the care and conservation of animals and their habitats.
Animals need care 365 days a year and keepers come in early, stay late and work weekends, holidays and in all kinds of weather. Meet a few of these enthusiastic and dedicated Smithsonian staff.
Greg Peterson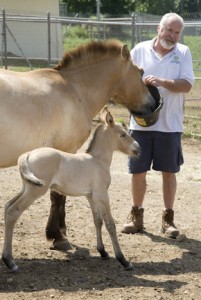 Greg Peterson is a "life-long" animal keeper, having worked for the National Zoo for 30 years, including 20 years at the Zoo's Conservation and Research Center in Front Royal, Va.
The list of animals Peterson has cared for is long and varied. He has worked with small mammals such as beavers and monkeys; majestic lions and tigers; salty seals and sea lions and even spent a short stint working in the elephant house.
Currently, Greg is a busy, busy animal keeper. He takes care of all of the mammals—many of which are endangered—in CRC's collection. These include onagers, Eld's deer, tufted deer, bison, takin, oryxes, black-footed ferrets, clouded leopards, maned wolves and the critically endangered Przewalski's horse.
For Peterson, working with "living organisms" is the fulfillment of a childhood dream; he knew he wanted to work with animals in elementary school. In fact, Peterson is so attached to his job, that he actually lives on the CRC campus. "I can never be late for work," he jokes. When not caring for the endangered species at CRC, Peterson enjoys what he calls the three Fs: family, fishing and falconry.
Photo: Greg Peterson with the Zoo's newest Przewalski's horse, a colt born on June 10, and his mother, Brandy. Przewalski's horses were thought to be extinct in the wild due to hunting, climate change and loss of habitat and water sources. However, thanks to conservation efforts by the Zoo and other institutions, breeding programs have successfully reintroduced some of the animals back into the wild. They are now considered "critically endangered." (Photo by Mehgan Murphy)
Kristen Clark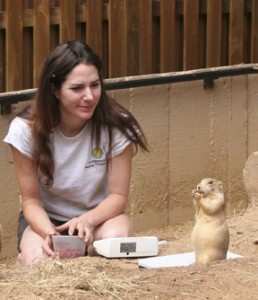 Kristen Clark has worked as an animal keeper at the Zoo since the summer of 2005. Clark is primarily a big cats keeper at the Lion and Tiger house, but she also helps care for the spectacled bears, giant anteaters, fishing cats and those favorites of zoo visitors, the loveable little prairie dogs. She has had unparalleled success in actually training the skittish animals.
To care for any animal in the best way possible, keepers must earn its trust. Gaining the trust of a cautious prairie dog—an animal that is the prey of so many other animals—is extremely difficult. So how does a lion and tiger keeper train a prairie dog? Clark spent time with the prairie dogs consistently every day for two and a half years. Her biggest hurdle was getting them to simply accept her presence in the open-air exhibit where they view everything, including zoo visitors, as a potential threat.
But her persistence paid off and she was able to accomplish what other keepers had not. "I'm now able to put my hands on them;" Clark explains. "I am able get their weights, read their transponder chips and have them go voluntarily into a crate" for transportation to the vet hospital for further care if needed. Clark's expertise and patience has enhanced the Zoo's care of these animals since she can physically examine them and obtain vital health data that was not readily available before.
Kristen lives in the District and when not at the Zoo, can usually be found outdoors: hiking, biking, skating and kayaking.
Photo: Kristen Clark waits patiently as she earns the trust of one of the Zoo's prairie dogs.  Prairie dogs' social structure is much like that of humans —they live in family groups, which cluster in neighborhoods, which are all part of a larger "town" or "colony."  The colony lives in an underground tunnel system with many chambers. Prairie dog family members greet one another with what looks like a kiss. They're not really kissing, though—they're gently touching their front teeth together. This is how prairies dogs recognize each other. (Photo by Heidi Helmuth)
Dell Guglielmo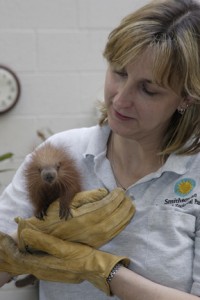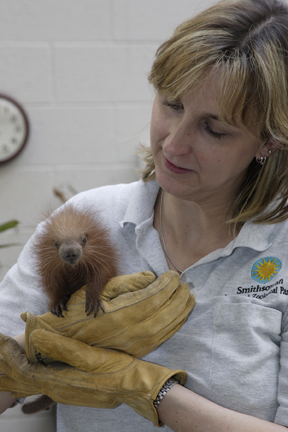 Dell Guglielmo has worked as an animal keeper at the Zoo for 10 years. Currently assigned to the Small Mammal House, she works with prehensile-tailed porcupines, red ruffed lemurs, black howler monkeys, golden lion tamarins, banded mongoose, pale headed sakis, giant elephant shrews and the ever-popular naked mole rats.
What Guglielmo likes most about her job is that it is never monotonous. "Day to day, I never know what's going to happen with the animals," she says. "It's always different and they never cease to amaze me. "I am constantly on the move and rarely sit at a desk for more than an hour a day."
Even away from the Zoo, Guglielmo enjoys spending time with animals as a volunteer for the Fr4ench Bulldog Rescue Network.
Photo: Dell Guglielmo is holding a prehensile-tailed porcupine, a nocturnal vegetarian rodent. They have a prehensile tail, that is almost as long as their bodies that can be usedl as a fifth appendage to grasp and hang from trees. Their tails have no spines and the upper side near the end has a callus pad. They curl into a ball if threatened and when agigtated, stamp their hind feet, shake their spines and emit both deep growls and high-pitched cries. (Photo by Jessie Cohen)
Dolores Reed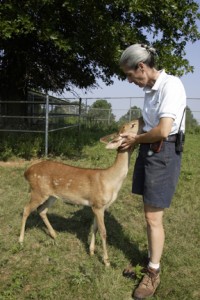 Dolores Reed has worked as an animal keeper at CRC for 21 years. She cares primarily for hoofed animals, including Eld's deer, scimitar-horned oryxes, Przeswalski's horses, onagers, and tufted deer; and occasionally, dama gazelles, takins and bison.
According to Reed, the best part of her job is the interaction with the animals. "Knowing them on an individual basis, their likes and dislikes," she says, is one of her greatest responsibilities."Gaining the animals' trust and having them look to me for assurance is an amazing feeling."
Reed lives along the Shenandoah River in what she refers to as a "cozy" log home with her husband and two teenage sons. When not working with and caring for the hoofed stock at CRC, Reed and her family enjoy camping and hiking. But animals are never far from her mind; she is also an accomplished artist who enjoys drawing the animals she has worked with over the years.
Photo: Dolores Reed reassures Claire, an Eld's deer. Eld's deer are native to Southeast Asia, and habitat destruction has made them an endangered species. Eld's deer are extremely excitable and when disturbed will run about erratically, bumping into any obstacles in their path. Keepers at CRC —which houses a 50-member herd — have acclimated the deer to accept strange noises (such as cars, lawnmowers and music) without becoming excited and injuring themselves. They are also taught to enter open doors they reach, which makes it easier for keepers and vets to interact with the animals in a stress-free environment. (Photo by Mehgan Murphy)
Kathy Brader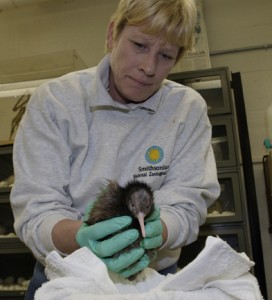 Kathy Brader has been caring for the birds at the Zoo's Bird House for 22 years. A lover of all birds, Brader tends to Guam rails, Micronesian kingfishers, toucans, owls, hornbills, parakeets, white-crested laughing thrushes, kookaburras and a whole flock more, but the kiwi holds a special place in her heart.

Brader is best known around the Zoo and to many, many visitors for her outstanding education program with kiwis. She hosts a small group of lucky visitors at the "Meet a Kiwi Program" every Monday, Wednesday and Friday in the Bird Resource Center at the Zoo to share conservation information about the bird and give visitors a chance to see a kiwi up close.

Brader says the program is one of the best parts of her job. "I have met some of the most terrific people in the world and made some lifelong friends through it," she says.

Brader lives in Centreville, Va., with three cats and an African Grey parrot named Smaug. Among her hobbies are reading, gardening, embroidery and perhaps unsurprisingly, bird watching.

Photo: Kathy Brader holds a kiwi. Kiwis are the "honorary mammals" of New Zealand. They are ground-dwelling, burrowing birds that also have the sharp sense of smell and poor eyesight associated with mammals. In addition; they have solid bones like mammals (unlike other birds, whose bones are hollow). (Photo by Jessie Cohen)


Posted: 22 July 2009