Cooper-Hewitt announces People's Design Award
The Smithsonian's Cooper-Hewitt, National Design Museum presented its fourth People's Design Award to the Trek Lime bicycle Thursday, Oct. 22, at its 10th annual National Design Awards gala in New York. Tyler Florence, host of Food Network's "Tyler's Ultimate," announced the winning design and presented the award to Hans Eckholm, senior industrial designer for Trek Bicycles.
After thousands of votes were cast during the course of one month on Cooper-Hewitt's Web site, the Lime―a coasting bike designed for the casual rider interested in biking for recreation and conveniences―emerged as the public's favorite design.
Aimed at the 65 percent of Americans who do not currently own or ride a bike, the Lime features a coasting drive system (a three-speed automatic shift with push-back brakes) combined with an upright riding position and virtually maintenance-free mechanics. The coasting system was developed based on research findings by innovation and design firm IDEO and components manufacturer Shimano. The Lime is manufactured by Trek Bicycle Corp. An ideal urban commuting bike, the Lime bike is available in three sizes and features a storage saddle.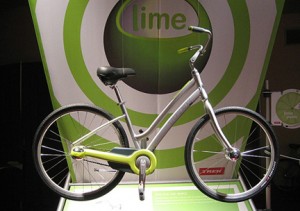 "More people on the road with two tires, rather than four, is a big step toward a greener city and world. I'm delighted that the public has chosen to honor the Lime bike," said Caroline Baumann, acting director of the museum. "Cooper-Hewitt is committed to sustainable and socially responsible design through its exhibition and education programs, and it recently partnered with New York's Department of Transportation on the CityRacks competition to design a new sidewalk bicycle rack."

Launched Sept. 21, the People's Design Award Web site received hundreds of nominations, thousands of votes and nearly 200,000 visitors. By logging on to www.cooperhewitt.org, users were able to browse and vote from the existing nominees or upload images to nominate a new object.  Nominees included a range of transportation systems from the CMYK Elektric Bike to the Zip car, sustainable projects with a social mission such as the D.light Kiran solar lantern and Adspecs eye glasses, and design blogs like Re-nourish and Design Observer. For the second year, the museum also offered a People's Design Award Facebook application, allowing Facebook users to share and discuss their favorite designs with friends, expand the audience for the award contest and broaden the conversation about good design.


Posted: 26 October 2009