Lighten up and celebrate the season at the Zoo
Tickets are now on sale for ZooLights, the National Zoo's third annual winter celebration, featuring LED-lit sculptures of the Zoo's animals and winter scenes. ZooLights will take place Dec. 4-13 (Friday through Sunday nights) and Dec. 18-Jan. 2 (every night except Dec. 24, 25 and 31) from 6:00-8:30 p.m. Tickets are $5 for Friends of the National Zoo members and $8 for nonmembers.
People of all ages and stages of life will find something to love in the ZooLights nightly entertainment lineup, which includes talks by animal keepers, roving musicians, "dancing trees," lectures about energy conservation, photo opportunities with costumed characters and performances by Flumpa® and Friends Live (Dec. 26-29) and the Blue Sky Puppet Theater (all other nights). Special activities and giveaways are planned for Dec. 4 (Opening Night), Dec. 12 (Giant "Zootrition" Night), Dec. 18 (Date Night), Dec. 19 (SunTrust Night), and Dec. 26 (Hair Cuttery Night). On Military Nights (Dec. 6, 11, 13, 20-23, Dec. 27-Jan. 1), admission is free for military personnel with military photo IDs and their spouses and children.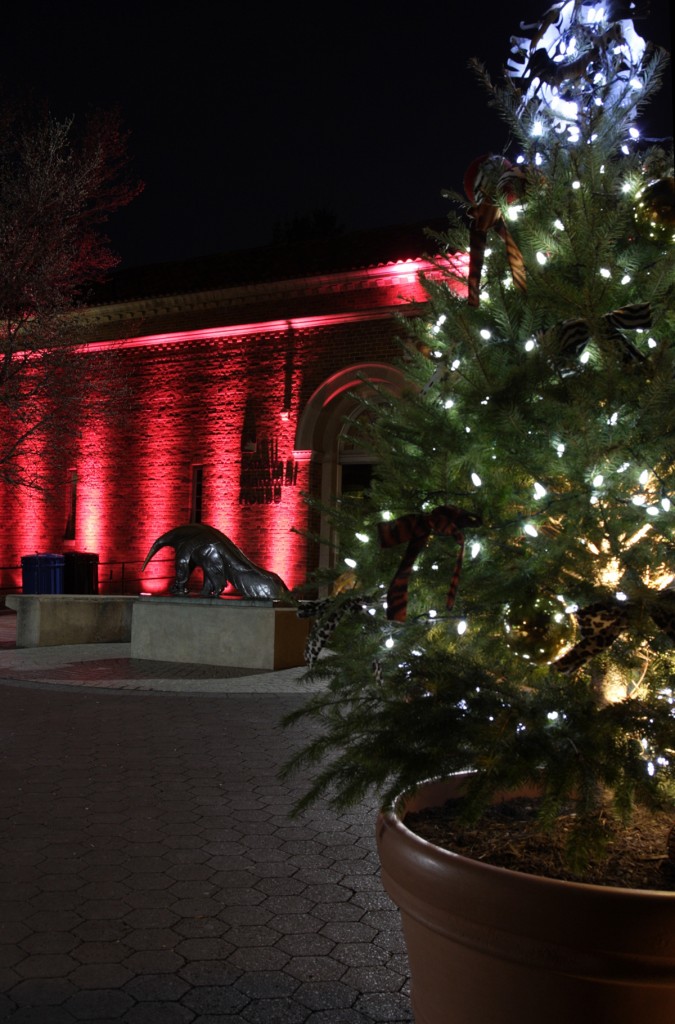 In addition to their cameras, visitors are encouraged to nonperishable food items that will be collected in the Zoo's gift shops to benefit the Marshall Heights Community Development Organization. Participants in the food drive will receive 10% off their retail purchases in the shops that evening.

Tickets can be purchased through FONZ www.fonz.org/zoolights.htm, through Ticketmaster (202-397-SEAT), at the Zoo's gift shops (Monday-Friday, 9 a.m.-4 p.m.), or at the event. Proceeds from ZooLights support animal care, conservation science, education and sustainability at the National Zoo. Although ZooLights tickets include parking, the Zoo encourages participants to take Metrorail or Metrobus. The first 25 people each night to present their Metro farecard or SmarTrip card at the Mane Restaurant will receive a free holiday cookie.

The Zoo will close to the public at 4:00 p.m. each day of ZooLights. For a complete schedule of activities, go to www.fonz.org/zoolights.htm. ZooLights is supported by a generous donation from Pepco. Other sponsors include The Coca-Cola Company, Comcast, Giant Food, Hair Cuttery, NewsChannel 8, Rosenthal Jaguar/Land Rover, SunTrust Bank, United Airlines, 97.1 WASH-FM, The Washington Post/KidsPost, and ABC 7 WJLA Washington.


Posted: 20 November 2009