Engineering a design for living
After Secretary Wayne Clough's recent visit to Cooper-Hewitt, National Design Museum in New York, Senior Writer Ruth Selig sat down with him to discuss the importance of good design in our daily lives.
How has your engineering background influenced your view of design?
Engineers are trained to appreciate design. Design touches all our lives through the everyday objects we use: for example, our knives and forks, coffee cups and automobiles. Good design can inspire us and improve our lives.
Take today's Coca-Cola can. When pop-tops first came out, the cans were thick and hard to crush. Today, anyone can crush one. The can's structure is elegantly designed with thin walls and the curved bottom creates a kind of arch that transmits the "load" onto the can's sides. You can easily "pop" the top, creating the hole from which to drink. We take these cans for granted, but someone put a tremendous amount of thought into their design.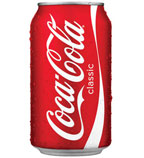 Henry Petroski's 1992 book, The Evolution of Useful Things, tells the fascinating stories of how everyday artifacts—zippers and scotch tape, paperclips and can openers—came to be.

Design ties into creativity and innovation, which lies at the Smithsonian's core. Design is where art and science meet, and having the Smithsonian in this unique space is a very good thing. Cooper-Hewitt, National Design Museum is unique among museums in America, and is the only museum in the nation devoted exclusively to historic and contemporary design. Cooper-Hewitt established the National Design Awards in 2000 and last year, First Lady Michelle Obama hosted a ceremony at the White House honoring our country's best and brightest designers. It was terrific because it gave national recognition to the importance and breadth of design.

What objects particularly appeal to you from a design perspective?

I love design because it ranges from the simplest thing—like a paperclip—to complex motorcycles or airplanes. The planes flown by Amelia Earhart and Charles Lindbergh are spectacular, classic aircraft, magnificently designed. In March, Cooper-Hewitt will showcase the world's most affordable car, the Tata Nano. Unveiled last year in India by Tata Motors, India's largest automobile manufacturer, the Tata Nano is targeted to families who had not previously been able to afford a car. The base model starts at $2,200 in India and can accommodate up to five adults. A bright, sunshine yellow Nano will be on display in Cooper-Hewitt's Great Hall, along with diagrams and a short film describing its concept, development and production.

Airplane and car engines are exciting because of their design and their look and feel–all that chrome and power and machinery. Perhaps this "sex appeal" partly explains why cars attract the intense attention of teenagers.

Was that true of you as a young person?

Yes, absolutely. The best car I ever owned was a 1960 Austin-Healey that I bought secondhand while working my way through college. Everyone back then knew that the Austin-Healey was just an awesome, timeless car—a gorgeous-looking automobile. Mine sat low to the ground, its engine purring. It was just a lovely, lovely automobile. The only problem was its red color, because I was attending Georgia Tech, whose arch rival's colors were red; so I had my red Austin Healey painted gun-metal blue.

I wish I had my Healey today—they look as good now as they did then because the design is timeless.

How can our work in design be responsive to the new strategic plan?

For each of the four grand challenges, design plays an important role. For example, most Americans can tell you their favorite car or piece of sports equipment. Cars and sports are important parts of the American identity, and our large collections can help us in Understanding the American Experience. 

Design fits the second challenge—Understanding and Sustaining a Biodiverse Planet—because increasingly, good design is integral to sustainability. The National Design Triennial exhibition, opening at Cooper-Hewitt in May, will focus on the work of designers addressing human and environmental problems across many fields of the design practice, from architecture and products to fashion and new media. A recent exhibit, "Design for a Living World," highlighted sustainable materials. Ten leading designers were commissioned to develop new uses for sustainably grown and harvested materials in order to tell a unique story about the lifecycle of materials and the power of conservation and design. Fashion designer Isaac Mizrahi used salmon skin, a by-product of southwestern Alaska's salmon food-processing industry, to create an exquisite dress decorated with sequin-like disks of salmon leather (See cooperhewitt.org for the exhibit's online version).

Design also relates to the strategic plan's third grand challenge, Valuing World Cultures. There have been great designers in all the world's cultures from the beginning of human development, including the makers of early stone tools. We can use design to teach about both global history and cultural diversity.

And, of course, our scientists are Unlocking the Mysteries of the Universe through beautifully designed telescopes, satellites and other inventive technology.

We can expect exciting interdisciplinary initiatives between New York-based Cooper-Hewitt and other Smithsonian units. One example might be an exhibition on engine design, using aircraft engines from the Air and Space collection—these are magnificent works of art. Good design is what keeps aircraft in the air!


Posted: 4 January 2010