"Dress to Empress" at the Sackler
The Freer/Sackler  is offering  Smithsonian staff a 50 percent discount on tickets to Dress to Empress, an evening party celebrating Chinese fashion, Saturday, Dec. 3, from 8:oo p.m.-midnight. Discounted tickets at $59 each are available only through Dec. 1. (Regular price is $115.)
The sumptuous soiree will feature a glamorous fashion show by award-winning New York designer Yeohlee Teng. You're invited to meet and mingle with other culture lovers while enjoying specialty cocktails, Chinese cuisine and hypnotic music by DJ Nitekrawler. Transport yourself to the Qing Dynasty and pose for photos in one-of-a-kind costumes from the Chinese embassy and watch elaborate art unfold as  Voyo Foo crafts Chinese paper masterpieces.
When: Saturday, Dec. 3, 8:00 p.m.-midnight
Where: Arthur M. Sackler Gallery of the Freer|Sackler
Dress: Evening Fancy
Tickets: Discounted SI tickets are available only through Dec. 1. SI staff may purchase up to two tickets at the discounted rate.
The evening is hosted by the Silk Road Society, the Freer|Sackler's new membership for young professionals. Along with a deeper understanding of the wonders of Asia—from Istanbul to Tokyo—members receive special access to many of the museums' most popular offerings, plus discounts in the shops and at Washington, D.C.-area hotspots. Join other art enthusiasts in exploring 5,000 years of Asian art and culture, and discover one of our nation's most important cultural institutions. To learn more about the Silk Road Society, or to join at a discounted rate, please visit http://www.asia.si.edu/silkroadsociety or e-mail silkroadsociety@si.edu.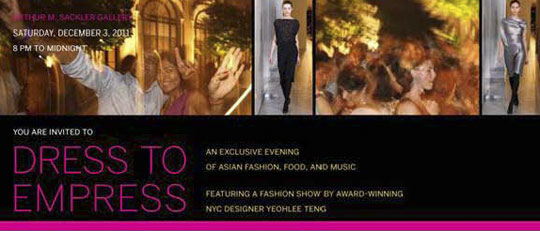 Posted: 30 November 2011