Creativity and Crisis: The Smithsonian AIDS Memorial Quilt Block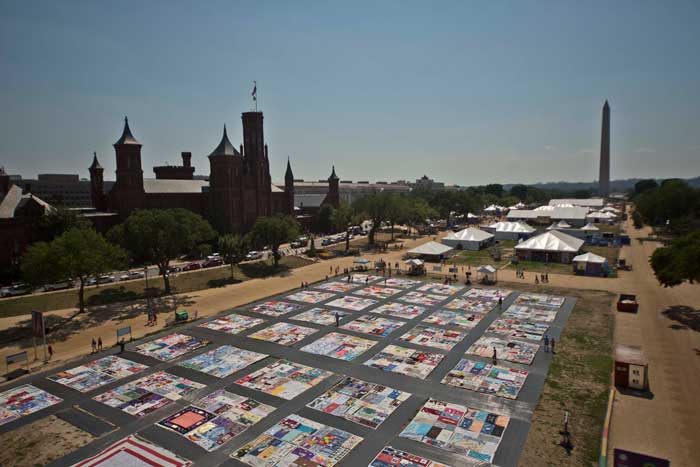 The 2012 Smithsonian Folklife Festival program Creativity and Crisis: Unfolding The AIDS Memorial Quilt featured a display of the AIDS Memorial Quilt, a portion of which was exhibited on the National Mall each day. During that time, the Smithsonian community came together to create their own quilt block. After more than a year, the Smithsonian block is complete, and on display at the Ripley Center on the National Mall through the end of February, 2014.
Honoring Smithsonian colleagues and friends who lost their battles with AIDS, the 12-by-12-foot block depicts the Smithsonian Castle and gardens. "Mini-quilts" in front of the Castle include replicas of existing panels in the AIDS Memorial Quilt, along with new ones that commemorate co-workers, friends, and relatives.
Led by Kathleen Mead in the Office of Government Relations, more than 140 staff, docents, interns, volunteers and friends from offices all across the Smithsonian gave time, skills, energy and supplies towards the project. Eventually, the block will be transferred to The NAMES Project Foundation in Atlanta, Ga., the custodian of the AIDS Memorial Quilt. As of 2012, the AIDS Memorial Quilt includes more than 48,000 panels dedicated to more than 90,000 individuals. The Smithsonian block will become part of this powerful global project to foster understanding, hope, and healing in the face of crisis.
Special thanks go to the following people for their artistry, dedication and enthusiasm:
Aurelie Beatley (Office of Public Affairs)
Kathleen Brewster (Office of Finance and Administration)
Tracy Councill (art therapist)
KJ Jacks (Office of Special Events and Protocol)
Alli Jessing (National Portrait Gallery)
Giovanna Klein (Natonal Museum of American History)
Taina Litwak (Dept. of Agriculture/National Museum of Natural History)
Nora Lockshin (Smithsonian Institution Archives)
Kathleen Mead (Office of Government Relations)
Mary Matton (American History)
Arlene Reiniger (Center for Folklife and Cultural heritage)
Michael Enn Sirvet (sculptor)
Michelle Strange (Smithsonian Enterprises)

Posted: 16 December 2013