How do you dismantle a dinosaur? (Very carefully.)
It's been just a year since the National Fossil Halls closed for renovation and the last fossils, models, dioramas and paintings have been removed. Find out what's involved in dismantling these giant specimens as we prepare for an entirely new, bigger and better Fossil Hall coming in 2019.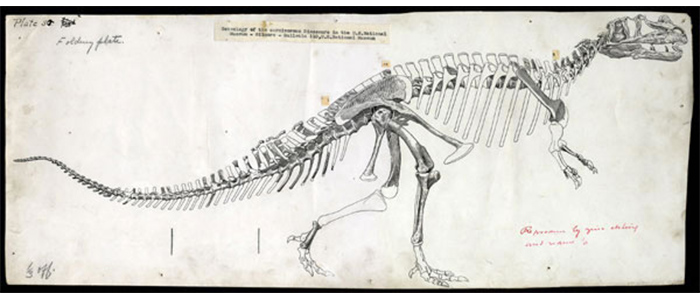 It's been just over a year since the National Fossil Halls at the Natural History Museum closed for renovation, and we've reached an important landmark: The last fossils have been taken out of the exhibit, and numerous models, dioramas and paintings have been removed as well.  Demolition is under way.
The final dinosaur specimens to exit the halls were the tail and hind limbs of Corythosaurus casuarius ) and the full skeleton of Ceratosaurus nasicornis.  Both had been exhibited on the wall as "plaque mounts," with most of the bones partly embedded in plaster.  Neither was small enough to pass out of the exhibit intact.
Specimens of Ceratosaurus are rare, and the Smithsonian's, found in the 1880s, was the very first discovered. Because of its scientific and historical importance, the original bones will be preserved in NMNH's  collections and casts will be made  for exhibit in the renovated Fossil Halls.
The last mammals to leave the Fossil Halls were Harlan's ground sloth, Paramylodon harlani  and the Stegomastodon arizonae.  These large specimens are rotating out of the exhibit lineup and entering storage, where they will be available for scientific study.  But first they must be conserved and dismantled, and appropriate archival storage jackets and trays must be built for all of the bones.
Fossils weren't the only things that needed to make way for the renovation:
We are keeping many of the models that helped bring the Fossil Halls to life for our visitors, but some models have been given to other museums. The life-sized models of the pterosaur Quetzalcoatlus and Stegosaurus, for example, were trucked to the Museum of the Earth in Ithaca, New York. These models, too, had to be cut into pieces to fit through the doors, so they will have to be reassembled before they can be exhibited.
A version of this post was originally published by Digging the Fossil Record: Paleobiology at the Smithsonian. Read earlier posts about dismantling the Fossil Halls here.  The National Fossil Hall is currently closed for renovation. A brand new hall will open to the public in 2019. Dinosaurs are currently on view in the new exhibit The Last American Dinosaurs on the second floor of the National Museum of Natural History.

For more information about the National Fossil Hall renovations or current or upcoming dinosaur exhibits, please visit http://naturalhistory.si.edu/fossil-hall.

Posted: 16 June 2015
Categories:

Education & Outreach , Feature Stories , History & Culture , Museum Conservation Institute , Natural History Museum , Science

Tags:

conservation , Dinosaurs , exhibits , Fossil Hall , fossils , Paleobiology , renovation