Go "Behind the Book of Omens" at the Sackler
Have you ever wondered how a major exhibition comes together? Why does it take years to plan, and what steps are involved before the public walks into a fully prepared exhibition space?
In a new four-part video series called "Behind the Book of Omens," BBC World News America goes behind the scenes to meet the exhibition team of the Freer and Sackler Galleries and see just what it takes to put an international exhibition together. The series focuses on the Sackler Gallery's upcoming exhibition "Falnama: The Book of Omens," which highlights a group of rare and unusual manuscripts that were once used to explore the unknown through divination in 16th- and 17th-century Iran and Turkey. "Falnama" opens officially to the public on Saturday, October 24 at the Arthur M. Sackler Gallery.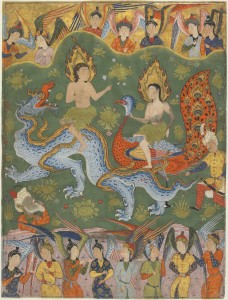 Click here to watch an introduction with chief curator and exhibition coordinator Massumeh Farhad and Part I of "Behind the Book of Omens." 
 

Follow the exhibition as it unfolds today in Part II; Part III on Wednesday, Oct. 21 and Part IV on Thursday, Oct. 22.

The video series will culminate in a special "Behind the Book of Omens" feature on the nightly newscast of BBC World News America on Thursday, Oct. 22 at 7 p.m., repeating at 10 p.m. Join award-winning BBC anchor Matt Frei for his nightly newscast and a special look at Falnama, including a one-on-one interview and exhibition tour with curator Massumeh Farhad.


Posted: 20 October 2009