How does he DO that?: The secrets of drawing a face
This article, written by Wendy Wick Reeves, curator of prints and drawings at the National Portrait Gallery,  originally appeared on NPG's blog, facetoface.
No red-carpet stalker has observed celebrities more closely than caricature artist John Kascht. Conan O'Brien, Eminem, Whoopi Goldberg, Bill Murray, Jack Nicholson, Barbra Streisand, Mick Jagger and Donald Trump are just a handful of the famous faces he has scrutinized, deconstructed, and reimagined for our delight. All appear in his video Funny Bones: Anatomy of a Celebrity Caricature, done recently for the National Portrait Gallery's Gallery360 series.
Fifteen years ago, when I started collecting Kascht's work for the National Portrait Gallery, we began a series of conversations about how to draw, "getting" a likeness, the nature of celebrity and the art of caricature.
Inevitably, Kascht, with his unusual combination of wicked humor and thoughtful insight, made unique contributions to those challenging subjects, all of which interest the students, teachers, artists and general public who make up the Portrait Gallery's diverse audiences. So the idea of a sharing Kascht's drawing process through a video has been a long-term dream.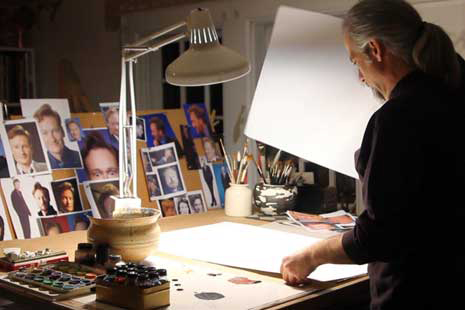 Throughout Funny Bones, we have the illusion of peering over the artist's shoulder as he draws. The video starts with the seductive sound of charcoal scratching on paper. Using a broad vocabulary of graphic marks in various media, Kascht experiments with lines, squiggles, blotches, tracings, and washes, moving ever closer to his final concept.

"Getting" the likeness is a more particular skill. It is "all about noticing," he tells us. You realize how little most of us see in our daily interactions with people. Kascht's scrutiny is relentless. The taut mouth, fidgeting hands, tapping feet, wrinkled face, belly laugh—beautifully filmed here by A. Greg Raymond—all tell him something about a person.

No doubt Kascht is right that "you wear your life," but it takes his keen eye to observe it. Since his subjects are famous, he also studies multiple photographs and available moving footage, adding to his information. By the time he is done, he knows the structure and facets of each face intimately, along with its characteristic expressions, as well as which single feature might force our recognition.

But there are challenges to focusing on the famous, with their agents, handlers, and stylists. With comedian Conan O'Brien as his case study, Kascht explains the difficulty of trying to catch a celebrity's unguarded moment or figuring out the authentic look disguised by makeup and the public persona. He considers comportment, behavior, and body language; he loves finding pictures of his subjects when they were children.

It is a tricky balancing act. The preened and polished version of the star is, after all, what we recognize. Some of that familiar artifice might have to remain. All that digging and observing nonetheless helps capture the essence of the individual, any portraitist's goal.

Finally, once Kascht understands how to create a likeness, he can move that portrayal into caricature. It isn't mere exaggeration in his view but an intensification of characteristic attributes.

In one sequence, he morphs Abraham Lincoln, Luciano Pavarotti, Barbra Streisand, and Mick Jagger from photographic reality into caricatural magnification of their actual features. He has to really know that likeness before he can start to mess with it. Sometimes he finds that it helps to mimic his subject, compare someone's hair to soft-serve ice cream, or make a likeness out of cheese doodles. It is all part of learning the face and pushing toward "the life at the center of it all."

For those of us who have enjoyed long lunches learning about portraiture through Kascht's enhanced eyes, it is a delight to share Funny Bones with our Portrait Gallery audience.

Gallery360 is a series of conversations between contemporary artists and NPG audiences. Previous participants include Henry Casselli, Rose Frantzen, Martin Schoeller, and Jim Torok. Access recordings of these presentations at the Portrait Gallery's iTunesU page.


Posted: 28 April 2011