REthink, REuse, REcycle, REduce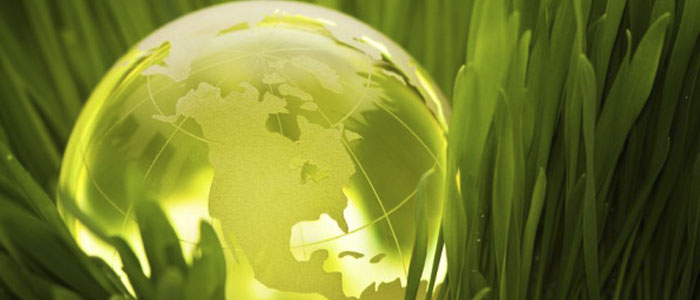 Museums all over the world have been striving to "go green" for years and the Smithsonian is working to be a leader in this process. Small innovations can go a long way in promoting sustainable practices in museums and the Smithsonian Institution Traveling Exhibition Service has taken on the challenge of pioneering this initiative through a unique new exhibition.
SITES has partnered with the Museum of Science and Industry in Chicago to present Green Revolution, a fully digital exhibition that gives local venues the power to build and present their own exhibition or "eco-zibit."
Green Revolution focuses on major environmental themes including waste, energy, green pioneers, gardening and composting, green construction, and carbon footprints. It is not only an innovative exhibition that incorporates green themes but also an effective way to dramatically reduce SITES' own carbon footprint. Instead of travelling on trucks across the country, Green Revolution is transmitted to host sites entirely online.
SITES supplies the professionally produced design files for exhibition panels and interactive activities. Exhibition hosts build their own presentations with repurposed, donated and recycled materials. Hosting Green Revolution gives facilities the perfect opportunity to give new life to old items while (bonus!) reducing clutter and increasing storage space.
Community involvement and participation is essential to the success of any exhibit, and Green Revolution takes this relationship several steps further. Community members are encouraged to bring supplies and to participate in the fabrication of the exhibit. Many venues have hosted "Community Days," bringing people—and their donated materials and talents—together for a day of building, learning and fun. Green Revolution engages a variety of audiences, including young kids, adults, teachers and students and allows individuals who have environmental interests to convey important messages in a truly distinctive way.
After its creation at the Museum of Science and Industry, the new Green Revolution was launched in 2010 at the Bob Jones Nature Center and Preserve in Southlake, Texas, on the 40th Anniversary of Earth Day. The Center used creative displays, including one consisting of 300 gallon milk jugs hanging from a tree, vividly representing the average daily consumption of water per person (290 gallons) in Southlake. The display visually depicted how much water the average person used in a way that was both compelling and easy to understand.
Venues as diverse as zoos, nature centers and presidential libraries have already hosted Green Revolution across the country, and international displays are in the works. For more information or to see the display schedule visit: http://www.sites.si.edu/greenRevolution/index.htm#itinerary
I have been fortunate during my internship in SITES' public relations department to work with the Green Revolution team and I've gained valuable experience from my involvement with different projects. For example, to better track visitor response and feedback, I have worked to develop a targeted survey for host venues. I've also compiled contact lists of potential bloggers and news outlets who may be interested in writing about this novel exhibition. I'm proud that my input is going to make a difference for the organization and I could not be happier to have been given the opportunity to work with the amazing individuals at SITES and at the Smithsonian Institution as a whole.

Posted: 27 August 2012