Leadership is an art as well as a science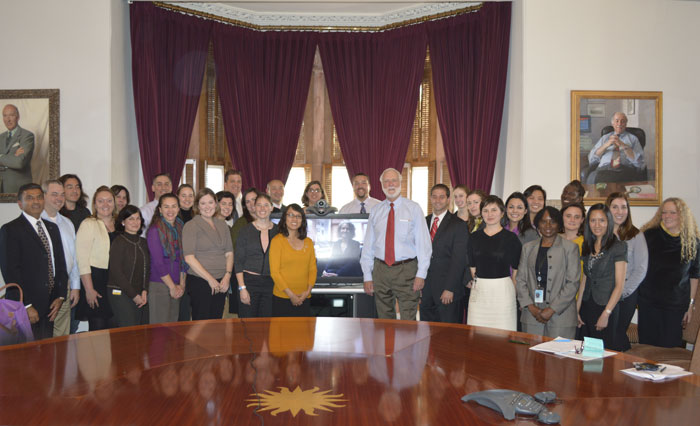 The Smithsonian Mentorship Program is an investment in people–our greatest asset.
The Office of Human Resources concluded the 2012 Smithsonian Mentorship Program with a graduation ceremony in December that celebrated those who had completed a nine-month program dedicated to developing leaders from the entire Smithsonian. The program pairs mentors and mentees to encourage professional development in the areas of work skills, networking, interpersonal relations, coaching and institutional engagement.
The Mentorship Program is open to a wide range of professionals. In 2012, 60 participants—30 mentors and 30 mentees—were selected as a result of a competitive application process. Participants mutually select their partners through a process that focuses on individual goals and professional backgrounds. The Program itself consists of an extensive curriculum covering topics ranging from Presentation Skills to Effective Writing, taught by Smithsonian field experts. Participants took several behind-the-scene tours of SI units and had discussions with many Smithsonian leaders, including Secretary Clough and Gen. Jack Dailey, director of the Air and Space Museum. Mentees focused on their own professional development, while simultaneously building relationships with their mentors and fellow program participants which empowered them to increase their professional expertise, demonstrate their skills, and make greater contributions to the Smithsonian.
Dave Opkins, an administrative project assistant with SI Libraires, wrote on the  SIL Blog, "For me, the most valuable aspect of the program was the number of professional introductions that my mentor, Salim Mawani, helped me make. Through about 10 introductions, I met with a number of the Smithsonian's Finance and Administration executives and a variety of managers from our museums, Smithsonian Enterprises, and the Office of Sponsored Projects.  Each one of these leaders shared their own message of collaboration, team-building, and information sharing."  Librarian Bianca Crowley had this to say about her work with her mentor, Amy Karaszia, director of individual giving at the American History Museum: "The biggest lesson learned for me was the realization that leadership, thought largely to be an art, is also a science with skills and methodologies that can be acquired and cultivated with the appropriate guidance and space to explore what it means to be a leader within your own position. As I grow in my career, I look forward to sharing what I have learned and the opportunities to someday supervise others and serve as a mentor myself."
As Salim Mawani points out, the benefits of the program are two-way: "The SI Mentoring Program offers opportunities for both the mentor and mentee to stretch beyond the 'comfort zone' to learn and grow as individuals. The reward for participating in the mentoring program is not marked by crossing a finish line, accepting a certificate or visiting a number of locations, but rather the journey itself.  The key is to learn from this wonderful experience and take a disciplined approach to expanding your personal and professional networks. This is one way to invest in the future of the Institution."
"The best thing I got from the mentoring program was the peer group that developed within the mentee community," said Allison Wickens, director of education at the National Postal Museum. "I have a great core group of people that are both passionate about the Smithsonian and their own careers.  It is wonderful to engage in discussions with such a diverse group of individuals who represent so many different career paths and Smithsonian units."
Applications for the 2013 Smithsonian Mentoring Program will be held later this year, and will be announced by the Office of Human Resources.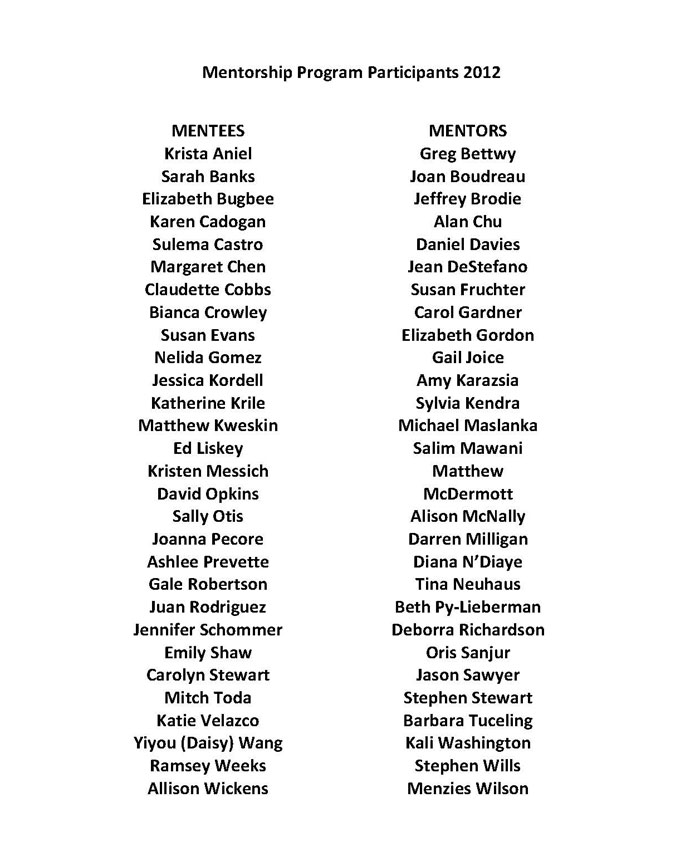 Posted: 30 January 2013