The first ever Smithsonian Share Fair!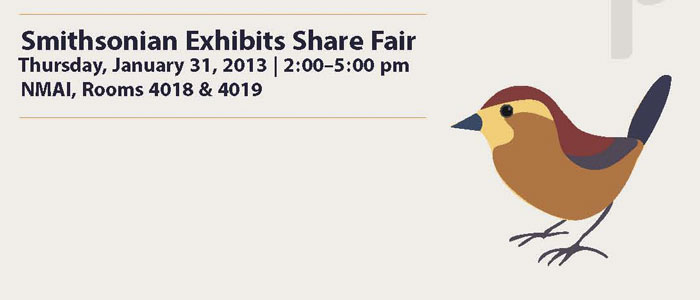 The Smithsonian Exhibits Share Fair celebrates the diversity of exhibit projects across the Institution, and the work of the dedicated staff who develop, design, install and shape these exhibits. Join us on Thursday, January 31, from 2:00 – 5:00 p.m. at the American Indian Museum, rooms 4018 and 4019.
Meet the names and faces behind Smithsonian exhibits
Get a 'behind-the-scenes' peek at the exhibit design and fabrication process
Vote for People's Choice awards in a variety of categories
Celebrate with SI's seriously amazing exhibit teams
Who's organizing the Exhibits Share Fair?
The Exhibits Share Fair is put together by PEEPS (Promoting Excellence among Exhibit Professionals at the Smithsonian). We are a grassroots network of exhibit professionals. Want to get involved? Newcomers (including folks outside the exhibit profession) are always welcome. Email us at PEEPSSIEXhibits@si.edu
What should my display be about?
The goal of the Exhibits Share Fair is to showcase the diversity of exhibits at the Smithsonian. Pick an exhibits project (or projects) that your team worked on to share with the Smithsonian community. Your display can be about a particular exhibit you worked on; or it may be on a common theme across more than one project. Perhaps you'd like to explore how you worked through a difficult exhibit problem, or your unit's use of a new technique or technology. Maybe you want to give a behind-the-scenes look at the exhibit process at your unit. All of these ideas (and others you come up with) are welcome.
Hmm, I'm still not sure I get it. What's are some sample display topics?
Here are a few fictional examples, based around some current exhibits:
Big Snake in the Museum: the making of the Titanoboa exhibit
Working with REALLY BIG objects: Whistler's Peacock Room
How'd they do that? Projecting Doug Aitken in 360 degrees at the
Hirshhorn
Prototyping 101: how our museum talks to visitors to make better exhibits
This didn't work out how I planned… Dealing with broken technology on the exhibit floor
What should my display look like?
We encourage creativity of display, and welcome any and all methods that can be accommodated on a 2' x 6' table. You may use photographs, display boards, a laptop, architectural drawings, sketches, examples or models – or whatever you feel will best communicate your exhibit story to your peers.
That sounds like a lot of work. I'm not sure I have time to make an elaborate display.
That's ok, kick it old school with a trifold display board. Or load some
photographs onto your work laptop, and be on hand to chat with others about the project. You don't need a slick presentation. The Share Fair is meant to be a celebration of exhibit staff and our work. So even if you don't have time to put something together, you can be your own "display" and just talk about what your unit's been up to. If you think you will need less than a full 2' x 6' table we can arrange for you to share one with another presenter.
Can my unit or group have more than one display?
Yes, but we are limited by the room's size, which holds approximately 18 tables. Tables will be assigned on a first come, first served basis. If your unit would like to showcase several projects we may ask you to put more than one project on a table.
Who can come to the Exhibits Share Fair?
The Exhibits Share Fair is open to all Smithsonian employees, volunteers, and interns, and our local colleagues in DC.
Who can participate in the Exhibits Share Fair?
Participation in the Exhibits Share Fair is open to Smithsonian employees who plan, design, create, maintain, study and otherwise work with exhibits. We suggest coordinating with your department to select the topic(s) for your display.
Hey! January is the winter time– what if there's a snowmergency?
Not to worry, we will reschedule the Exhibits Share Fair in the case of inclement weather.
Will there be food? Can I bring something to eat?
Yes! We are actively looking for volunteers to bake/bring treats to share with their colleagues. In fact, we encourage presenters to bring or make a dessert to share that is somehow related to their display. For example, why not bring gummy worms to go with your Titanoboa display? Contact us at PEEPSSIExhibits@si.edu if you're interested in bringing something to share.
What are the People's Choice awards?
We'll have a variety of creative categories, which visitors to the Exhibits Share Fair can vote on, including:
New and Different
Grace Under Pressure
Unusual Objects
Collaborative/Cross Pollination
Come to the Fair and cast your vote!

Other questions?

For more information visit our SharePoint site or email Emily Sloat Shaw at PEEPSSIExhibits@si.edu


Posted: 24 January 2013