Rock and roll will never die
From Elvis' swiveling hips and Janis' bluesy wail to Prince's "Purple Rain" and the massive 'dos of '80s hair bands, some images and objects instantly evoke an era. Like Joan Jett, I love rock and roll, and I was curious about how the great rockers are represented at the Smithsonian, so I went looking and discovered some gems.
The National Museum of African American History and Culture has Chuck Berry's Cadillac Eldorado and Parliament-Funkadelic's "Mothership." Elvis stands in front of Graceland in an oil painting at the National Portrait Gallery, where Janis Joplin is looking groovy in a psychedelic poster. Eddie Van Halen's "Frankenstein Replica" ("Frank 2") and Prince's "Yellow Cloud" electric guitars live on at the National Museum of American History. These and other rock and roll items span the decades, and if they could talk, I can imagine the stories they would tell. However, I'm happy to learn more from someone who can talk. Eric Jentsch, deputy chair and curator in the Division of Culture and the Arts at the American History Museum explains how curators decide what to collect.
How many rock and roll items do you have here at the museum?
That's hard to say! Rock and roll is a pretty loose term that absorbs a lot of different strains of American popular music. Our strength would be our collection of sound recordings. We have over 80,000 examples, which of course include not only straight up rock and roll acts, but also blues, country-western, funk, etc. In relation to our instrument and costume collections, we are still working on getting a more sizeable representation. We do have some ephemera like posters, fan magazines, ticket stubs, etc.
What do you want to acquire?
There is so much more to do to create a representative collection, that I am pretty open to almost everything. As we have some hip-hop and hair metal artifacts, the next step would be to collect some made-in-America punk from the same era. I'd love to have artifacts from essential American acts such as Elvis and Jimi Hendrix.
How do you go about getting items for the collection?
We get objects either by asking for them or being offered them. Only rarely can we afford to purchase something.  As with almost every other aspect of life, the Internet has radically changed our ability to collect items. First, if we are going to cold-call, we can usually find access to some sort of representation online. Second, by digitizing our collections, and letting people know what we are doing via blogs and social media, potential donors can learn of our interest.
Have there been items that you couldn't get, and, alternatively, have you been offered items you didn't want?
It is no secret that rock 'n' roll memorabilia can be highly valuable on the collectables market. Much of what we are interested in has already made its way to the auction house, making it difficult for us to acquire. Of course, we turn down offers, mostly because we have limited space and have to make good decisions about what really fits our mission.
What are some of the most popular pieces in the collection?
The Eddie Van Halen Frank 2 guitar is pretty popular, as is the Prince guitar and the Supremes' dresses.
What was the craziest story about one of the rock 'n' roll artifacts you have curated?
We just collected some artifacts from Ken Wilkerson, bass player of the band '80s hair-metal band Nova Rex. The documentary "Ain't Easy Being Cheesy," has plenty of crazy stories about that era.
Watch the trailer here.
You already have Prince's yellow guitar.  Would you ever make an attempt to acquire the notorious peekaboo jumpsuit that he rocked at the 1991 MTV awards??
Professionally, no. Personally… maybe.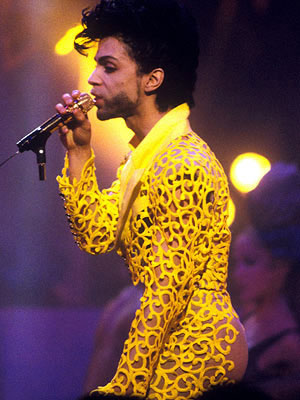 The End


Posted: 28 February 2013