Translating a love of Africa into seven languages
Welcoming. Knowledgeable. Patient. Enthusiastic. Did we mention energetic? The list of requirements for docents is a long one but those who guide our visitors are the cream of the crop. Case in point: Theresa Steverlynck, a docent for 17 years at the National Museum of African Art. Her introduction to the volunteer program came in in 1994 when she brought a Tuareg jewelry maker from Niger to the Museum's store in hopes of introducing her to the manager. The manager was so impressed with Steverlynck's knowledge of African art and culture that he gave her name to the education department which extended an invitation to join the Museum's docent program.
Steverlynck feels that volunteering at the Museum is a way to give back to Africa. She worked on the continent for More than 30 years on the social-anthropological dimensions of the development process: assessing basic needs, conducting base-line studies and studying gender and youth involvement in development programs.  A world traveler, Steverlynck speaks English, German, Spanish, Russian and Hebrew, in addition to French and her native Dutch!
Finding the time to volunteer several days every month may seem daunting enough, but the intense nine-month training required for docents is in many ways the bigger commitment. In fact, Steverlynck postponed a trip to her beloved Africa so she could complete the training class.
Steverlynck gives tours of the Museum to everyone from young school children to foreign dignitaries. One of her favorite memories is escorting the First Lady of Gabon. When they reached the "African Mosaic" exhibition and Steverlynck explained the novelty cell phone coffin, the First Lady burst out laughing. Making a First Lady laugh is not something everyone can claim on her résumé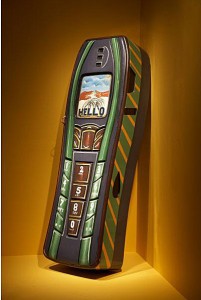 But it's not just the high-profile visitors that inspire Steverlynck. She escorts lots of school groups and she's certainly seen plenty of bored kids on field trips. But in every tour group there are "three or four little faces in the group whose eyes sparkle as you talk to them," she says. "They grab your hand and say, 'Thank you, Miss Theresa. I liked it so much!' You feel good. Many people have told me that they look very differently at African Art after getting a tour."

Her rich cultural background makes her an ideal bridge between Western cultures and the sometimes exotic-seeming cultures of Africa. By highlighting masks, jewelry, furniture and traditions found in Africa, Steverlynck points out that celebrating rites of passage and the urge to creativity is universal.

Left: Nokia cell phone coffin by Samuel Narh Nartey, Ghana, 2007. Popularized in the mid-1950s by the Ghanaian artist Kane Kwei (1922-1992), fantasy coffins range in subject from a farmer's onion to a rich man's Mercedes. Each imaginative form illustrates an important aspect of the deceased's life.

 


Posted: 12 June 2013