Lifetime achievement, the Bacardi Award and accreditation for Smithsonian Gardens
August 15, 2013
Have you reached a milestone, received an award or conquered the world (at least your little corner of it) lately? Let us know at torch@si.edu.  We want to toot your horn for you! Be sure to include your contact information and a picture as an attachment.
Natural History
The work of paleontologist Rick Potts was the subject of the cover article by Liz Pennisi, "How a Fickle Climate Made us Human" in the August 2 edition of Science magazine. The article explains how Pott's decades of research at Olorgesailie in the Eastern Rift Valley of southern Kenya suggests that climate change is more of a factor in human evolution than previously thought. Contrary to the historically held theory that humans evolved and began standing upright when they moved from the forests and onto the open savannahs, Potts' research shows that constant changes in climate compelled human beings to evolve and adapt to many different environments.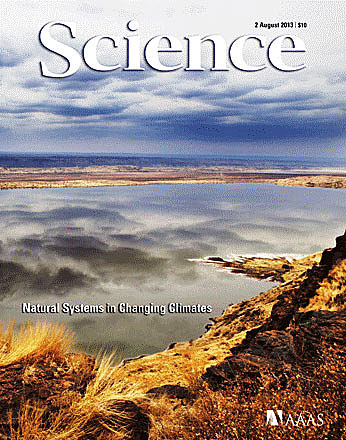 Smithsonian Conservation Biology Institute
Tremaine (Tremie) Gregory, a research scientist at the Center for Conservation Education and Sustainability,  was presented the Luis F. Bacardi Award for the best oral presentation on conservation given at the Association for Tropical Biology and Conservation meeting in San Juan, Costa Rica earlier this summer. The Luis F. Bacardi Award is given to a young post-doctoral researcher for outstanding conservation-related presentation at each ATBC annual meeting. Gregory and her colleagues, Farah Carrasco Rueda, Jessica Deichmann, Joseph Kolowski, and Alfonso Alonso  developed a research program aimed at maintaining the natural movements of animals that live in increasingly fragmented tropical rain forests in South America.
National Zoo
Herpetologist James Murphy received a prestigious lifetime achievement award from the International Collective Arboreal Symposium earlier this year. Murphy has served as President of the Society for the Study of Amphibians and Reptiles and has held various positions in several herpetological organizations. He has published 10 books and a number of papers, book chapters and bulletins on topics such as the natural history of Mexican rattlesnakes, ethological and reproductive studies on a variety of amphibians and reptiles, zoo history and philosophy, and husbandry. He is section editor of the ZOO VIEW column in Herpetological Review. He was a board member of the International Union for Conservation of Nature/Species Survival Commission Declining Amphibian Populations Task Force for 16 years and is currently a member of the Captive Breeding Specialist Group of that organization.
Smithsonian Gardens
Smithsonian Gardens recently received accreditation from the American Alliance of Museums. This designation confers a high mark of distinction for a museum and is truly a milestone in the history of Smithsonian Gardens. Accreditation recognizes SG's core values of excellence, teamwork, integrity, creativity and relevance in its mission to enrich the Smithsonian experience through exceptional gardens, horticultural exhibits, collections and education Although the entire horticulture staff helped achieve the goal of accreditation, special recognitions belongs Sarah Hedean, chair of Smithsonian Gardens' Accreditation Committee, who coordinated all aspects of the project. Smithsonian Gardens' next accreditation review is in 2022.
Air and Space Museum
Photographer Dane Penland has been asked by the Office of High Performance Computing and Communications at the National Library of Medicine, National Institutes of Health, to participate in an expert advisory panel that will review vendors' proposals for providing digital photography for prescription pills, capsules, and tablets. Using his knowledge and experience with digital photography, he will evaluate the various contractors' technical expertise and ability to produce a quality product.


Posted: 15 August 2013