Eligible Feds can request a buyout or early retirement for a limited time
The Smithsonian has decided to exercise its authority to offer certain Federal employees the opportunity to request a voluntary separation incentive payment (buyout). The Institution has also requested and received approval from the Office of Personnel Management to offer early retirement (early-out) to Federal employees.
By exercising these authorities, the Smithsonian will be able to reshape its workforce to meet current and future programming needs as we continue to move forward in implementing the Strategic Plan. This will also help us address critical Federal budgetary issues.
A buyout is a lump-sum payment provided to an eligible employee who resigns or retires voluntarily during a specified period established by the Smithsonian. The amount of the buyout is not discretionary. It is an amount equal to an employee's calculated severance pay or $25,000, whichever is less. Employees who wish to take early retirement without a buyout will be permitted to do so.
We are offering the buyout to all Federal employees. This offer is not available to Trust fund employees.
Federal employees only
Individual Federal employees must meet all the following eligibility criteria in order to receive a buyout:
You must have had continuous employment with the Federal government (Trust employment does not apply) for the last three years
You cannot be a re-employed annuitant
You cannot have received a buyout from the Federal government or the Smithsonian previously
Your current appointment must be a permanent appointment without a time limit
You cannot have received a recruitment or relocation incentive within the last 24 months
You cannot have received a retention incentive within the last 12 months
An cannot have received a final removal decision based upon misconduct or unacceptable performance
You must be willing to resign or retire during the designated separation window (Oct. 1, 2013 – Feb. 3, 2014)
Deadlines
To help you make a decision about requesting a buyout, the Office of Human Resources will prepare and provide individual buyout and retirement estimates for employees. Employees may request buyout calculations and/or retirement estimates between Sept. 4, 2013 and Sept. 16, 2013; OHR will provide employees with the requested estimates by the deadlines outlined below. Employees have until the specific dates listed below to decide if they wish to request an estimate and subsequent buyout.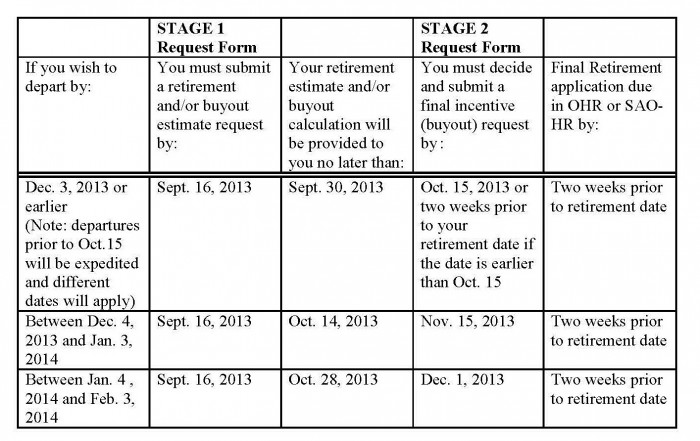 Under this plan, employees must retire or resign from the Smithsonian with an effective date of separation beginning on Tuesday, Oct. 1, 2013 but no later than Monday, Feb. 3, 2014. The Smithsonian early-out retirement authority has only been approved through Jan. 11, 2014. Employees eligible for early retirement must retire no later than Jan. 11, 2014.
Once final buyout requests are submitted, OHR will perform the final eligibility audits and notify individuals and unit leadership by Nov. 7 for separations that will occur between Oct. 1, 2013 and Dec. 3, 2013; and by Dec. 6 for separations between Dec. 4, 2013 and Feb. 3, 2014.
The dates above were selected to allow time for employees to receive buyout calculations, retirement estimates and individual retirement counseling, as well as to permit the Institution to achieve maximum savings while staying within the timeframes established by OPM for our early-out authority.
Early retirement
Although all early retirements must occur by Jan. 11, 2014, a decision may be made to delay the separation of employees under "optional" retirement for an additional period after the final effective date of Feb. 3, 2014. Such a delay will not be permitted to extend beyond Feb. 28, 2014.  Employees must be eligible to retire under optional retirement by Feb. 3, 2014, and this extension period cannot be used for the purposes of becoming retirement eligible. Any such delays must be approved at the Under Secretary level, and must be documented to demonstrate why the delay is critical to workload and mission requirements.
Initial requests for buyout calculations and retirement estimates will be confidential; however, as indicated above, upon approval of the official request for a buyout, OHR will notify management to allow for workload planning.
More information
OHR will issue detailed information and instructions to human resources liaisons and the Smithsonian Astrophysical Observatory Human Resources Office in the near future. Unit Directors should ensure that informational materials are distributed to their employees. These materials contain detailed information on eligibility for a buyout payment, retirement eligibility, deadlines for submitting documents, requesting buyout and retirement estimates, forms, and other important information. These materials will also be available on PRISM, and in the "What's New" feature on the OHR website. Please watch for further announcements.


Posted: 5 September 2013