Smithsonian on its way to raising $1.5 billion–Yes, that's Billion with a 'B'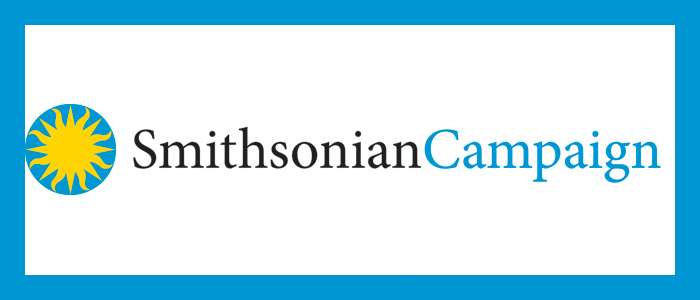 The Smithsonian's first-ever national fundraising campaign is the largest in history for a cultural institution.
Three well-known philanthropists serve as co-chairs of the Smithsonian Campaign's steering committee and leaders of the fundraising effort: David Rubenstein, member of the Board of Regents and donor to many Smithsonian museums, such as the National Museum of Natural History, National Museum of American History, Smithsonian American Art Museum and the National Zoo; Barbara Barrett, a Regent and major contributor to the science education center in the National Museum of Natural History; and Alan Spoon, Regent Emeritus and donor to Cooper Hewitt, Smithsonian Design Museum in New York, research fellowships and broadening access to Smithsonian collections.
The campaign's four themes focus on the Smithsonian's contributions in the fields of history, science, art and culture—Spark Discovery, Tell America's Story, Inspire Lifelong Learning and Reach People Everywhere. These messages were chosen by the campaign to highlight the Smithsonian's strengths and address issues relevant in today's world.
"Campaign gifts invest in attracting and retaining the best minds, building spaces and exhibits and advancing education," said Spoon. "This includes people who create today and will lead tomorrow, places that are our public face and inspire and delight, programs that excite the imagination and connect to people everywhere and treasures that preserve our natural and cultural heritage and inform our research."
Hundreds of donors have been recognized for their contributions during the quiet phase of the campaign. These are stories of a few of those individual campaign gifts and their impact:
National Museum of African American History and Culture
As chairman and CEO of American Express and a philanthropist, Ken Chenault has chaired the fundraising program of the museum and serves on its council. Chenault and his wife Kathryn have made a founding donor gift ($1 million) for the design and construction of the museum, which is scheduled to open in 2016. "The museum speaks of hope; it speaks of struggles and it speaks of dreams," Chenault said.
Global Marine Biodiversity Program
An avid diver, Michael Tennenbaum understands how development and climate change are affecting the ocean's coastal systems. Tennenbaum and his wife Suzanne endowed the Tennenbaum Marine Observatories ($10 million) to monitor the ocean's coastal ecosystems over a long period of time. "The Smithsonian is best suited for creating a global marine observatory," Michael Tennenbaum said when announcing his donation.
Education and Access
The Bill & Melinda Gates Foundation is known for supporting forward-looking initiatives around the world. The foundation established an endowment ($30 million to create the Youth Access Endowment, $10 million for the National Museum of African American History and Culture and $10 million for the Smithsonian Grand Challenges Consortia) at the Smithsonian to fund innovative, multidisciplinary education projects. The Youth Access Endowment reaches students and teachers in underserved regions around the country. Through the endowment, children in Massachusetts photographed deep space with robotic telescopes while others in Maryland mapped out their personal narratives through technology and art. "The Smithsonian is a national treasure," Bill Gates said. "We must support its place in American education, culture and world history."
National Museum of Natural History's Dinosaur Hall
David Koch remembers his awe the first time he encountered a dinosaur skeleton in a museum as a child. His $35 million donation to the Museum of Natural History, the largest gift the museum has received, will fund the renovation of the beloved dinosaur hall, one of the Smithsonian's most popular exhibitions. The hall, which will be named for Koch, will display the museum's new Tyrannosaurus rex skeleton. It is scheduled to open in 2019. "This phenomenal Natural History Museum needs to have an updated dinosaur hall," Koch said. "They are the most popular in any natural history museum."
National Museum of American History—Telling American Stories
As chair of the Patrick F. Taylor Foundation, which she founded with her late husband, Phyllis Taylor understands the vital importance of education to the nation. The foundation's gift of $7.5 million to the museum's West Wing Education Center establishes an "Object Project" focusing on everyday things that have changed everything, and encourages visitors of all ages to discover American history through games, activities and authentic touchable objects. In addition, the gift funds an endowment to serve K–12 teachers and student outreach and programming.

The Smithsonian Campaign goals are to create new endowed positions, especially for museum directors; represent all 50 states in its donor base; bring new donors to the Smithsonian; and continue relationships with long-time donors.

"This campaign will ensure the Smithsonian has the power to change and the permanence to endure," said Barrett. "A gift to the Smithsonian is a gift to the nation, the world and the future."


Posted: 20 October 2014