MayDay! MayDay! We need your help.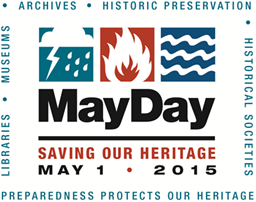 Each year, museums, archives, and libraries set aside May 1 to participate in MayDay, a global effort encouraging cultural institutions to do one simple thing for emergency preparedness. Emergency preparedness does not have to be difficult. We can take simple steps toward meeting our shared goal of safeguarding our collections. Why not start today?
Prizes
Do one thing to enhance emergency preparedness for collections anytime during the month of May and your unit director will receive an amazing resource packet consisting of the Field Guide to Emergency Response, Emergency Response and Salvage Wheel, and Implementing the Incident Command System at the Institutional Level. To ensure your unit receives these resources, submit a brief synopsis and at least one photograph of your MayDay activity to MayDay@sp.si.edu.
Simple Preparedness Steps
Here are a few ideas for MayDay activities that can boost our level of preparedness:
Update your staff and service provider contact information and create a wallet-size version of your emergency contact roster. See the Pocket Response Plan (PReP) here. If your unit fills in this template and submits the final version to MayDay@sp.si.edu, your unit will receive 10 Tyvek sleeves for staff to use in keeping the information safe and accessible.
Identify and label priority collections and objects for evacuation during emergencies. Which are most important to your mission, irreplaceable, or most fragile? Consider how to track this information in your unit collections information system.
Take stock of on-site collections emergency response supplies. Do you have a cache of supplies ready to help you respond to your biggest risks?
Download the free ERS: Emergency Response and Salvage app to your Apple, Android, or BlackBerry device for easily-accessible collections response and recovery information.
Participate in a live or recorded webcast from Connecting to Collections Care:
LIVE on May 1! After Disasters: Salvage and Recovery in Small to Mid-Sized Museums and Libraries
Recorded: Protecting Your Collections: Writing a Disaster Response Plan
Recorded: Exercising Your Disaster Response Plan: Techniques for Testing Your Plan and Training Staff
Ensure that departmental and unit colleagues, collections interns, volunteers, and visiting researchers are informed about your emergency plans for collections, emergency exits, and shelter-in-place locations.
Want more ideas? See what your Smithsonian colleagues did for MayDay 2014 and are doing this year.


Posted: 1 May 2015