Feds Feed Families 2015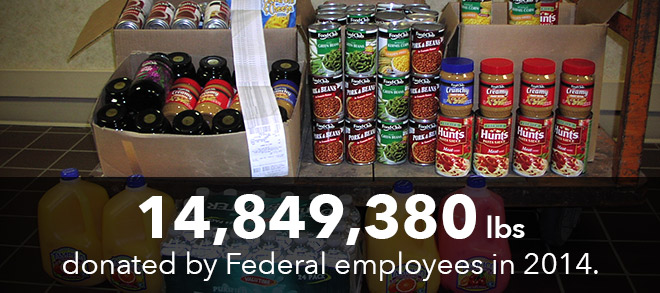 The 2015 Feds Feed Families campaign at the Smithsonian Institution has begun and will run through Oct. 2, 2015.
The Feds Feed Families campaign began in 2009 when Rep. Frank Wolf of Virginia told then Director of the Office of Personnel Management John Berry about how local food banks suffer during the summer months. Donations drop and kids do not have access to school lunch programs that are so important to ensuring that they are well nourished. FFF was created to help close that gap. Our donations help ensure that those children are not greeted by empty shelves when they or their parents get to a pantry.
Last year's campaign collected 4,933,000.00 lbs. of food and other non-perishable items to support families across America who are in need. Cargie Vaughn and Kathleen Fleming from the Office Facilities Management and Reliability, co- chairs for this year's campaign, are asking the Smithsonian community to join the fight against hunger and work toward a goal of collecting 25,000 pounds of food for local food banks. Click here to see most wanted items
If you are interested in being a volunteer for your building or museum, please email FedsFeedFamilies@si.edu.
Food boxes will be placed in the front main lobby, on the loading docks, and in the Café area of the Castle to collect nonperishable food items.
Every Tuesday, staff are encouraged to bring in two cans or boxes for "2-Can Tuesday" to help fill the donation boxes.
Randy Peters, Sr. and his staff from OFMR have graciously agreed to assist in taking care of all box drop offs and pick-ups.
All food collected will be donated the Capital Area Food Bank.
There will be two boxes at each location: one for dry food products and one for canned foods, jars and other containers.
When donating canned goods, check the expiration date. on the cans.  Please do not donate outdated goods.
2015 Feds Feed Families campaign will send email reminders during this campaign.
Individuals who donate 50 canned or dry goods or more will be recognized on the monthly e-mail updates as "2015 Feds Feed Families Star Contributors".
Updates will be emailed once a month showing the pounds of food products collected.
This is a volunteer collection campaign. If at any time you have any questions, please contact: Cargie Vaughn at (301) 238-1137 or email Vaughnc@si.edu or Kathleen Fleming at (301) 238-1129 or email Flemingk@si.edu.


Posted: 7 August 2015