Wear your art on your sleeve
Form and function merge in the fabulous finery and wearable art on display at the annual Smithsonian Craft2Wear show. Don't miss this opportunity to Indulge your senses with the exquisite designs from some of America's finest craft artists.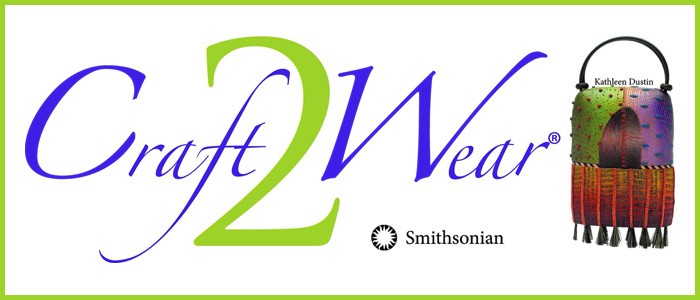 The Smithsonian's annual fall celebration of American style and design comes to the National Building Museum Oct. 1-3. Far from a typical craft show, the juried Craft2Wear features top artists from around the country showcasing  one-of-a-kind jewelry, clothing and accessories for both men and women. Whether you're after a unique holiday gift, something to wake up your tired work wardrobe, or a stop–'em-in-their-tracks evening look, Craft2Wear is where you'll find it.
To get a taste of what you can expect, we talked with a few of the artists who are preparing for the October show.
Starr Hagenbring, Clothing
Starr was at last fall's show, but this year the New Orleans-based designer's collection will have a different focus. Her inspiration? "I love insects." Fascinated with the line and form of these often maligned creatures, she says she hopes her work will make people take a closer look at them and appreciate their beauty. Her newest pieces feature silhouettes in different patterns with lace that is painted and then sewn on. "Some of the lace montaged with paint gets almost Escher-like, some is more like shadows," she explained. "Each item is like a puzzle, with so many pieces I don't really know how it will all work together till it's done. I surprise myself all the time." Craft2Wear will mark the debut of  the new collection.
Aaron Macsai, Jewelry
Aaron is a goldsmith so captivated by the different hues gold can assume that he actually makes his own alloys in 17-, 18-, 19-, or 22-karat gold. "I found an old 'recipe book' a few years ago," he explains, "and just started experimenting. Gold can be rose, even greenish, and the colors are different in subtle ways." For Craft2Wear he plans to feature his most current work. "I've been combining 18-karat beads with muted-color raw diamonds and other dark stones that contrast well with the yellow gold." These pieces are so new he doesn't even have pictures yet, so you'll have to come see them at the show.
Ignatius Creegan and Rod Givens, Hats
Well known for their fanciful one-of-a-kind straw hats, Ignatius and Rod are featuring berets and canvas hats for fall. "The canvas offers a good fall transition," Ignatius points out. "It's not too hot and not too warm – and you don't have to worry if you get rained on." Their Petersburg, Va., studio has also been taken over by increasing numbers of historic hats. Ignatius and Rod are creating costume hats for Colonial Williamsburg and Monticello, as well as hats for a new Civil War-era television series, "Mercy Street," scheduled for this fall.
Harvey Greenwald, Leather Goods
Harvey has been working with leather for 48 years. He started at Woodstock─yes, that Woodstock─in 1969. And although he's not doing headbands and fringed bags any more, you can see pictures of his Woodstock days at the booth. His bags are all one-of-a-kind, but he has promised to bring a representative sample of his classic purses, handled zipper totes, briefcases, and his latest carrier category, backpacks.
There will be more than 50 other artists at the show, with great things to see and stories to tell about their work. Prefer drinks and hors d'oeuvres with your shopping? Visit the show's website, www.Craft2Wear.Smithsonian.org, to buy tickets to the Thursday, Oct. 1 Advance Chance Party, 5:30–9:00 p.m. (Tickets $75, reservations required). Or come for the Artful Happy Hour on Friday, October 2, 5:30–8:00 p.m. There will be a cash bar and —what else?—craft brews.
The show and sale continue throughout Friday, 10 a.m.–8 p.m. and Saturday, 10 a.m.–5 p.m. Tickets are $10, cash only, payable at the door. Items will be available at a variety of price points. The National Building Museum is located at 4th and F Streets NW, Washington DC, on Metro's Red Line.
Your entrance fees and a portion of your purchases will enable the Smithsonian Women's Committee to fund grants for the Smithsonian's 19 museums, nine research centers and the National Zoo.
Kamer Davis is a strategic communications consultant with more years' experience in Washington than a lady cares to admit.  But she does confess to a passion for quality stuff, honed through years of visits to craft and antique shows, galleries, U.S. and European flea markets, and more. She is a recent member of the Smithsonian Women's Committee. which organizes and sponsors the prestigious Smithsonian Craft Shows.

Posted: 15 September 2015