Going the Extra Mile Every Day: The 2016 Unsung Hero Awards
 We all hear about the superstars—the colleagues who make scientific breakthroughs or uncover brilliant young artists or unravel historic mysteries—but what about those colleagues who do exceptional work at indispensable jobs that never make the news? Meet this year's Unsung Heroes, Smithsonian staff who, day in and day out, make the Smithsonian a great Institution.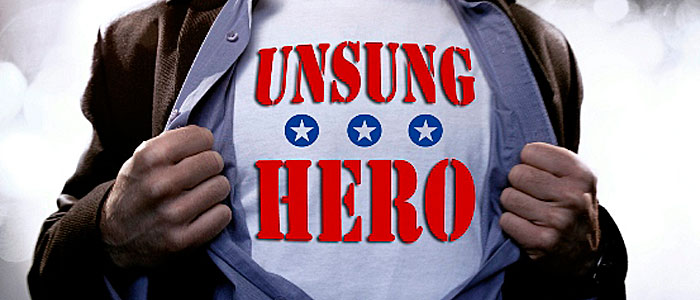 Being an Unsung Hero isn't about an individual act, but rather an overall attitude and set of achievements that reflects the best aspects of what the Smithsonian and its employees strive to be. Little things and big things count, as long as they reflect a consistent striving to make the Smithsonian a better place for fellow staff or the public at large.
Carolyn Adams
Building Services Supervisor, Office of Facilities Management and Reliability—Suitland
Carolyn Adams supervises the building services workers for the Suitland Zone, which includes the Anacostia Community Museum, the Museum Support Center and the Paul E. Garber Preservation, Restoration, and Storage Facility. Her title may be supervisor, but if she is short-staffed, there is no job she will not roll up her sleeves for and do herself. If a special event is scheduled on one of her days off, she comes in to work to make sure her buildings are at their best. Her dedication is one of the reasons the Anacostia Community Museum was the second Smithsonian building to achieve LEED status for environmental sustainability.
Dennis A. Allen Anderson
Maintenance Supervisor, SMithsonian Tropical Research Institute
As maintenance supervisor for the Tropical Research Institute's Bocas del Toro Research Station in Panama, Dennis Allen and a single assistant are responsible for taking care of the entire six-hectare campus, which hosts 300 scientific researchers each year. The facilities include ten buildings, a seawater system and a boat dock. Although termites and other insects thrive in the humid tropical environment, structures and systems do not. It can seem to an outsider that Dennis' job is fixing one emergency after another: The a/c is not working and the rising temperature in the lab is threatening an experiment; a faulty alarm sensor has beeped all night in someone's bedroom; a construction crew has cut through the pipe that supplies water to the entire station. Dennis has worked nights, weekends and even abandoned vacation plans to make sure everything at the station is running smoothly. Bocas del Toro would not be able to provide the support it does to an international community of scientists without Dennis Allen.
James A. Babcock

Administration Support Manager, Smithsonian Enterprises—New York
"Support" is part of James Babcock's job description and according to his colleagues from Smithsonian Enterprises' New York office, that support is an integral part of their success. James anticipates staff needs and handles everything from orienting new employees to assisting with event marketing and facilitating complex travel arrangements with swift efficiency. As one of his colleagues put it, "When I asked my team whom in our office should be considered [for an Unsung Hero Award], it was unanimous! That's a sign to me that we have a very special team member deserving recognition on a larger scale."
Nigel Briggs

Senior Designer, National Museum of American History
Some people have to wear two hats at work, but Nigel Briggs often wears four hats, five hats, or more. A talented designer, educator and coffee connoisseur, Nigel balances his role as the Acting Director of the Design Studio while managing daily demands as Senior Designer at American History. Nigel generously shares his time and knowledge with both interns and new staff, organizes a weekly "Design Bistro" to discuss new projects and selflessly provides fresh pastries and coffee for studio meetings. Nigel approaches the challenges of his many roles with a great attitude and sense of humor, uniting the studio in a shared mission: to provide thoughtful, lasting exhibits that celebrate the on-going legacy of American History.
Junko Chinen

Chief of Exhibition Development and Project Management, National Museum of Natural History
Junko Chinen started as a contractor in the Exhibition Department at Natural History, was hired fulltime as an assistant and now serves as the Chief of Exhibition Development and Project Management. Through the years she has been tireless in her efforts to foster relationships among colleagues and create efficiencies across departments. With small gestures, such as bringing tea for everyone working on the Korea Gallery, and larger ones, such as building relationships with other departments to better understand their missions, Junko is professional, inclusive and inspiring. She is a generous mentor and team leader who keeps both people and projects on track.
Kathleen Fleming

Zone Manager, Office of Facilities Management and Reliability—Suitland
Over the course of her career, Kathleen Fleming has worked her way up from custodian to managing the maintenance and operations of the entire Suitland campus, which encompasses 44 buildings, 24 acres and five different unit and museum directors. Kathleen succeeds because, no matter the position, she strives to learn all she can and be the best. In addition to her very demanding day job, she co-leads the USDA's Feds Feed Families campaign on behalf of the Smithsonian and represents OFMR for the Project Search program. OFMR has provided opportunities for 14 interns with developmental disabilities through Project Search and has hired nine for permanent, paid positions. In a recent survey of OFMR's 900 employees, nearly 10 percent of her colleagues named Kathleen as someone who represents the best of OFMR.
Maria Galban

Collections Information Assistant, National Museum of the American Indian
Maria Galban's work at the American Indian Museum may seem to fly under the radar, but it is vitally important to the museum's mission. She is responsible for implementing the "retroactive accession lot project," which means she is painstakingly going though archival documentation and connecting them with individual catalog records of the museum's vast collections. Maria's dedication to this project and her ability to follow obscure clues, connect the dots and organize this huge volume of information into something usable is truly awe-inspiring. Not only is she extremely skilled at this difficult task, she performs it with grace, enthusiasm and care. She is always willing to assist colleagues with questions and share the results of her research, and her work will benefit the museum in perpetuity.
Kathy Hollis

Supervisory Collections Specialist, Paleobiology Department, National Museum of Natural History
Her quiet demeanor belies the fact that Kathy Hollis has created an ambitious and extensive plan to overhaul collections management within her department. The Paleobiology Department has a centuries-long history of idiosyncratic collections management and record-keeping that can be challenging, to say the least, to adapt to modern information demands. Kathy has built a dedicated team by placing an emphasis on development and training so that her staff continues to grow professionally, has the leverage to try new approaches and techniques and collaborates both within Natural History and with colleagues in other museums. She also is spearheading the effort to standardize the way Federal agencies manage and share paleontological data, a subject that frequently generates strong opinions and differing approaches. In her quiet way, Kathy Hollis is a hero for bringing dusty data into the digital age.
Javier Jara

Site Manager, Smithsonian Tropical Research Institute—Punta Culebra Nature Center, Panama
Javier Jara is responsible for maintaining all the exhibits and grounds for the Punta Culebra Nature Center in Panama, which hosts 100,000 visitors each year. Javier is the quintessential jack-of-all-trades – on any given day he might be found building a cage to trap fish for the aquaria or feeding crickets to frogs or fixing a roof that was struck by lightning or installing interpretation signs and recycling bins.
Reliable, dedicated and skilled with any kind of tool, Javier is one of those rare people who really is indispensable. He is a tireless worker who almost literally has to be pushed out the door to take a vacation. Modest and self-effacing, Javier displays great strength of character and integrity both in his work and in his relations with his colleagues, who have great respect for the intelligence, creativity and the collaborative and can-do attitude he brings to every endeavor.
Ed Kunickis

Entomologist, Smithsonian Gardens
The Smithsonian employs many entomologists but there's only one whose work is so critical to the health and safety of staff, visitors and the collections themselves. Ed Kunickis is responsible for integrated pest management for our facilities. What might seem routine somewhere else—a few mouse traps here, a little bug spray there—is far more complicated at the Smithsonian. In addition to the run-of-the-mill rodents and roaches one might expect in any building, we have millions of visitors each year, priceless collections that pests find irresistibly delicious, restaurants that must be kept code-compliant and gardens that represent a bastion of wildlife habitat in an urban environment. We are also committed to safe and sustainable pest management. Whether it's drain flies at McDonalds, mosquitoes swarming security guards, raccoons in the A&I building, hitchhiking lice and bedbugs looking for new homes, or aggressive geese protecting their nest in the parking lot, Ed manages it all with professionalism and good humor. Ed is an Unsung Hero because you never hear much about pest management at the Smithsonian—not because we don't need it; on the contrary, it's a never-ending job—but because he does it so very well.
Angela McGuire

Security Supervisor, Office of Protection Services—National Museum of the American Indian, New York
Sgt. McGuire is now and always has been a dedicated officer—the first to report for duty and the last to leave her post─ but she deserves special recognition for her efforts during Superstorm Sandy that devastated lower Manhattan in October 2012. New York City was at a standstill. The few security staff at NMAI's Heye Center had no water or food, no power and no communication with the outside world, even as the Hudson River surged over its banks, flooding downtown. Sgt. McGuire managed to make her way to the museum—a heroic feat in and of itself—and went immediately into "McGuire mode." She established a secondary control room after the first became inoperable to keep security alarms functioning. She scrambled to establish communication with the command and control operation in Washington, finally finding one corner of the building where she could pick up a weak cell phone signal. She made sure her officers were safe and accounted for, provided regular updates to D.C., found solutions for problems ranging from plugging leaks to providing food and water. As one colleague recalls: "I have worked with Sgt. McGuire for 10 years and during that time we have had many storms and other emergencies that immobilized New York City, but there was always one constant: Sgt. McGuire. She always reported for duty, was always ready and prepared for duty and always, always had one priority: protecting her officers and other staff and safeguarding the precious objects in our care."
Dale Mayhew-Jefferson

Sergeant, Office of Protection Services—Anacostia Community Museum
Sgt. Mayhew-Jefferson's philosophy of "Each One Teach One" is displayed every day as she works to ensure that all staff, both those reporting to her and those from other units, are empowered with the knowledge, skills and expertise to excel. She has helped staff navigate performance plans by carefully and clearly explaining each element required for success. She has patiently helped older staff master unfamiliar computer skills. She encourages her staff to share their ideas and expertise with each other and she is always available to share her own. She models the professionalism, dignity and respect she seeks to instill and inspires others to "pay it forward" by mentoring others. By consistently encouraging creativity and courtesy and by fostering leadership skills in others, Sgt. Mayhew-Jefferson demonstrates the ripple effect that can resonate from embodying excellence.
Maria Montgomery

Animal Keeper, Small Mammal House, National Zoo
For 20 years, Maria Montgomery has provided exemplary care to the animals at the National Zoo and has helped make the Small Mammal House a highlight of any visit. Ever ready to assist colleagues with animal care or exhibit design, she embodies the spirit of the Smithsonian with her enthusiasm for education and her willingness to share her knowledge and skills with staff, volunteers and especially, visitors. Maria spends all the time it takes during her daily keeper chats to speak with every visitor who has a question, even sitting on the floor to interact with the smallest children. Not every task is so pleasant, but Maria never shies away from the more difficult jobs, including soothing a beloved animal resident in the final moments of its life. With her dedication to animal welfare and the intrinsic value of the collection, Maria is an inspiration to staff, volunteers and visitors alike.
Steven I. Netcott

Mason, Office of Facilities Management and Reliability—South Mall Zone
Steven Netcott exemplifies the behind-the-scenes dedication that may be invisible to visitors but is nonetheless critical to their experience of the Smithsonian. His masonry skills are in near-constant demand—repairing steps that must hold up under millions of footfalls each year, resetting frost-heaved brick sidewalks and fixing minor nuisances before they become major expenditures or safety hazards. Steven has come to the aid of Smithsonian Gardens on numerous occasions. He deconstructed a curving brick wall in the Ripley Garden to allow the transplant of a valuable Japanese maple and rebuilt the wall so expertly that the repair is undetectable. He spent weeks lifting drains in the Haupt Garden to allow the horticulturists to create new planting beds. He laid new cobblestone edging along the south side of the Arts and Industries Building, defining the inset beds and reducing runoff of soil and mulch. Steven's skill on projects large and small enhances not only the beauty of our facilities but also the safety of our staff and visitors.
Mary Petty
Building Services Worker, Office of Facilities Management and Reliability—National Museum of Natural History
Cheerful, positive and dedicated, Mary Petty takes pride in making sure the East Court of the Natural History Museum is immaculate and organized. Quick to anticipate what might need extra attention, she is equally quick to offer a smile or a kind word. The subject of several nominations, Mary has helped create a sense of community among the staff she greets each day. One colleague said, "[Mary will] go the extra mile to help get whatever we need—whether it's paper towels, or someone to lend an ear when we need someone to talk with! She takes the time to get to know us and she makes our days brighter." As another noted, "[Mary] does a lot of hard labor keeping the building clean, but always brings a smile…It is a pleasure to be in the company of someone who does her job with dedication and joy."
Frank F. Sienkiewicz
Education Specialist—Science, Smithsonian Astrophysical Observatory
Frank Sienkiewicz is probably the most well-known staff member at SAO. Frank's philosophy of life—a view that one of the most important things a person can do is care for and cultivate community—is reflected in everything he does. In addition to his day job maintaining the MicroObservatory Robotic Telescope Network, Frank also serves as president of the Center for Astrophysics Social & Recreation Club. This completely volunteer group, composed of both Harvard University and Smithsonian staff, has a mission to foster a sense of community by organizing social events and extracurricular expeditions. Everyone at the Harvard-Smithsonian Center for Astrophysics regularly receives emails from Frank about the next opportunity to meet new colleagues and have fun—everything from ballgames to barbecues to OktoberFest. In an organization as large as the CfA with a diverse community of scientists, students, engineers, technical, support and administrative staff, it can become all too easy to get stuck in one's own silo, but there can be no doubt that Frank's efforts to promote collegiality have led to many productive work collaborations and friendships that might not have otherwise happened. Life at the Observatory is better for everyone because of Frank Sienkiewicz.
Charles (Chip) Thomas

Engineering Technician, Smithsonian Environmental Research Center
With more individual nominations than any other candidate, Chip Thomas is certainly a hero to his colleagues at SERC. Again and again, they say, Chip's knowledge and skill, his ability to troubleshoot and repair everything from autoclaves to refrigerators, and his willingness to tackle any issue and come up with creative solutions have saved time, money and research and prevented not a few gray hairs. One example must suffice of the many offered: "Chip spent hours of his own time learning a highly advanced HVAC system at the new Mathias Lab and more importantly, understanding how to make sure the building complied with its LEED Platinum status. He has also spent countless hours with the scientific staff helping them understand how the building functions and how to optimize their instrumentation and procedures to take full advantage of the new space and do so efficiently. Most importantly, he does this with incredible patience, great humor and a warm smile that tells you no question is 'stupid' and no issue is too small or insignificant. He is one of the most important and underappreciated members of the entire SERC community."
Lolita K. Thomas

Travel and Budget Manager, National Museum of American History
Travel can be stressful under the best of circumstances, but when one colleague found herself stranded in Oklahoma in the midst of a tornado that knocked out power and grounded flights, Lolita Thomas found a way to get her home. Whether she is dealing with travel emergencies or more routine questions of honorarium payments and invitational travel for speakers, Lolita will find the best solution—one that meets both staff needs the commitments of the Smithsonian. Lolita takes special care in preparing communications with speakers and developing invitational travel because she wants to present the Smithsonian in the very best light. She cares intensely about the Institution's reputation, and the way in which her work reflects it. Such a commitment could lead one to be more focused on external communication than internal, but that is not the case with Lolita. She approaches her work with compassion and good cheer; her warmth and spirit have earned her the nickname "Mama Lo." Lolita is an excellent steward of the Smithsonian's financial resources, its staff and its reputation.
Kevin Washington

Sergeant, Office of Protection Services—Hirshhorn Museum and Sculpture Garden
When the Smithsonian hosts dignitaries and special events, it is easy to see the glamour and the VIPs and overlook the planning and coordination that goes on behind the scenes. Sgt. Kevin Washington is one of those who ensure that everything from Regents meetings to donor dinners to movie premieres go off without a hitch. Sgt. Washington maintains event safety from start to finish, working overtime until the last guest has left and the last vendor has loaded out, even escorting staff from the Office of Special Events and Protocol to the Metro after late-night events. Whether he is opening the Regents Room at 6 a.m. so it can be prepared for a meeting, or coordinating with the Secret Service for a security sweep, he is unfailingly courteous, professional and responsive. As an OSEP colleague says, "He makes guests and staff alike feel at ease and at home. He treats everyone with respect and everyone is equal. He makes us smile just by being on our team. And he makes our Smithsonian team better by being a part of it."
Paul Yamaguchi

Microwave Electronic Technician, Smithsonian Astrophysical Observatory

Paul Yamaguchi seems to have an almost uncanny knack of anticipating and resolving technical issues at the Smithsonian Astrophysical Observatory's Submillimeter Array radio telescope, located at almost 14,000 feet on the summit of Mauna Kea in Hawaii before they even become issues. Offically a microwave technician, Paul takes an interest in all areas of telescope operations. For example, he recently suggested an innovative fix to the control system of the complex air conditioning unit that keeps telescope electronic systems cool. The fix seems to have eliminated a series of recurring failures that had caused substantial lost time at the observatory. A radio telescope operates at night when the weather allows observations. Since there is far more science to be done than telescope time to execute it, it can be extremely frustrating to the scientists and operators when technical failures prevent observations. Paul is well known for checking in during off hours and he will drive up to the summit late on a Sunday afternoon to assist operational staff in resolving a problem that might threaten the evening's observations. In his own quiet way, Paul Yamaguchi helps us all reach for the stars.

Watch the webcast of the May 17, 2016 Unsung Heroes Awards..


Posted: 19 May 2016