Viejos amigos: The Smithsonian and Cuba
As the U.S. moves to normalize relations with Cuba, Secretary Skorton discusses the Smithsonian's long history with the island nation and offers some insight into our future plans there.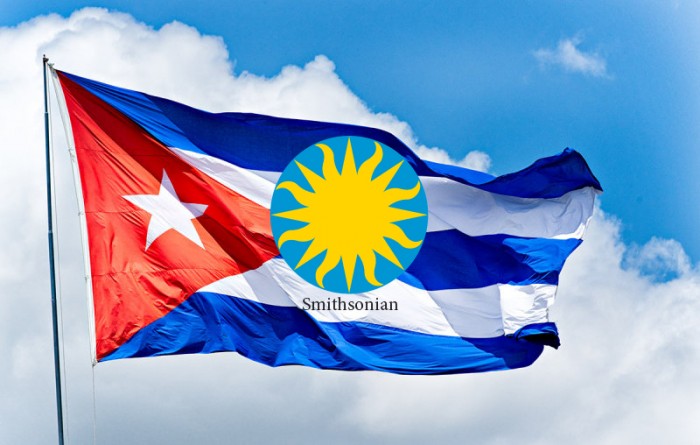 When President Obama visited Cuba in March—the first sitting president to do so since Calvin Coolidge—the trip marked a new era in the relationship between the United States and the island nation 90 miles south of Florida.
Normalizing relations with Cuba will likely encompass not only trade and shared science, but also the free exchange of ideas and culture. In April, the President's Committee on the Arts and the Humanities led an historic cultural delegation to engage in a dialogue with their Cuban counterparts.
Led by co-chairs George Stevens Jr., founder of the American Film Institute, and theater producer Margo Lion, the delegation included Smithsonian Secretary David Skorton and other members of the President's Committee, and luminaries from across the fine and performing arts, such as sculptor Don Gummer,  violinist Joshua Bell and musicians Smokey Robinson, Usher and Dave Matthews.
A long relationship
This historic visit is not a first for the Smithsonian. The Smithsonian's relationship with Cuba began in 1849, when specimens collected by the famed Cuban naturalist Felipe Poey y Aloy became part of our earliest collections. Our relationship has continued over the years and now is poised to enter a new era.
"The Smithsonian has a long history of working with our Cuban colleagues and highlighting Cuban culture in the U.S. We have featured aspects of Cuban arts and culture in previous Folklife Festivals, in many exhibitions and other programs over the years," says Skorton. "That background is one of the reasons we were asked to participate in the cultural exchange delegation. We met with Cuba's Minister of Culture and other governmental leaders and visited Cuban educational institutions.
"Michael Mason, director of the Smithsonian's Center for Folklife and Cultural Heritage, has been working for some time with colleagues at the Smithsonian and in Cuba to formally invite Cuba to be the focus of the 2017 Folklife Festival, " Skorton continues. "Michael and I met with cultural leaders who are involved in these talks and on the last day of our visit, we made a joint announcement at Havana's Gran Teatro that we are close to signing an agreement to feature Cuba at the 2017 Folklife Festival."
The delegation didn't have to wait until 2017 to experience the vibrancy of a cultural exchange with Cuba, however.
"We were able to enjoy performances by Cuban artists of a variety of ages in many genres of the visual and performing arts," Skorton says. "Americans artists also performed and there were several exciting and heartwarming joint performances. It was a fantastic experience. So much of American music is influenced by the Afro-Cuban tradition; music that is a fusion of African rhythms and European traditions. I was once the producer and DJ of a Latin Jazz radio program on Iowa Public Radio, so it was a thrill for me to be in the place where that music was born."
_______________________
___________________________
A personal connection
"On such a whirlwind trip, it's hard to get a sense of everything Cuba has to offer. My wife, Robin Davisson, had the opportunity to get another perspective," Skorton continues. "She is a prominent scientist in the field of molecular physiology. She met with Cuba's Vice Minister of Health  and she was invited to visit the Instituto de Cardiología y Cirugía Cardiovascular, where she met with the director and his colleagues. She was quite impressed with the state of the science and the advances in medicine she saw there.

"I didn't have a lot of free time to just walk around Havana, but when I did, people were very friendly. Many recognized that I wasn't Cuban and came to say hello and ask where I was from—in very good English. Growing up in L.A., I used to speak pretty fair conversational Spanish, but I've lost most of it. I was inspired to be communicative and people were not only friendly, they were very patient with my efforts.

"This trip also had a personal twist for me. Before I was born, my dad lived in Cuba for more than two years on his way to the United States from Russia (in what is now Belarus) It was very meaningful to me to think that I might be walking the same streets my father had walked some 90 years before. This trip was exciting and meaningful, both for my own personal connection to Havana and for the Smithsonian and our ongoing relationship with Cuba.

"Although I'm a newcomer to this relationship, Michael Mason, Provost Richard Kurin and many other people have toiled in the field at the Smithsonian and built strong relationships in Cuba. The name 'Smithsonian' was greeted with clear recognition in many, many places. People in general were happy to see Americans, but the Smithsonian seemed to warrant special recognition that was extremely gratifying. Based on that recognition, the good progress Michael Mason and others made on this trip and the huge expertise and interest we have to share at the Smithsonian, I believe The Smithsonian is going to have a lot more collaboration with our Cuban colleagues."

Click a date on this interactive timeline to learn more about the Smithsonian's long relationship with Cuba. 


Posted: 18 May 2016