ICYMI: Highlights from the week that was Nov. 13 – Nov. 19, 2016
No one can keep up with everything, so let us do it for you. We'll gather the top Smithsonian stories from across the country and around the world each week so you'll never be at a loss for conversation around the water cooler.

The power of art–in design, performance and policy–was a highlight of the week, along with the gems we mine from the stars and from deep beneath the earth.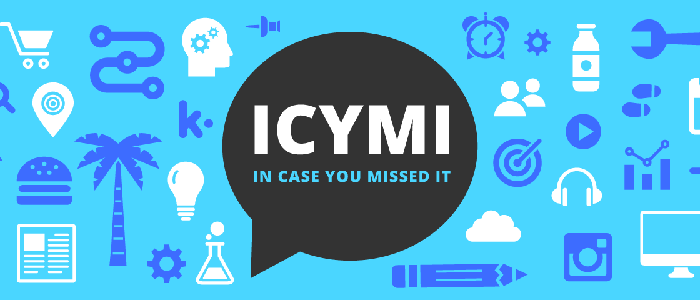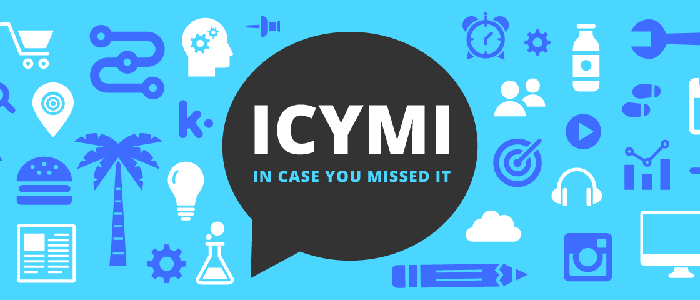 Jackie Kennedy raised the bar for history, but the boldest choice may have been Mary Todd Lincoln's floral crown
Harper's Bazaar, Nov. 13
Read the complete photo essay by Brie Dyas for Harper's Bazaar.
---
Community design efforts get a platform at the Cooper Hewitt museum in New York.
The Atlantic, CityLab, Nov. 15
On the top floor of the Smithsonian's Cooper Hewitt museum in Manhattan, a large, beat-up plastic barrel, painted blue, rests against the wall of the third-floor exhibit hall. Housed in a regal Upper East Side building, Cooper Hewitt is a maze of ornate staircases and rich wooden walls; walking through it, one expects to encounter objects of beauty, easily classifiable as "art." Read more from Eillie Anzilotti for The Atlantic's CityLab.
---
ArtFix Daily, Nov. 15
In "Bill Viola: The Moving Portrait," the Smithsonian's National Portrait Gallery offers a new interpretation of the artist's work, presenting it through the lens of portraiture and technology. The exhibition, the first of its kind for Viola's work in Washington, includes 11 media pieces by the pioneering artist. Since the early 1970s, Viola has been recognized for his groundbreaking and masterful use of video technologies, creating works that explore the spiritual and perceptual side of human experience. The exhibition opens Nov. 18 and is on view through May 7, 2017. Read more from ArtFix Daily.
---
Phys.org, Nov. 16
Three federal entities, including NASA, are reaffirming their commitment to search for Antarctic meteorites, to help learn more about the primitive building blocks of the solar system and answer questions about Earth's neighbors like the moon and Mars.
NASA, the National Science Foundation (NSF) and the Smithsonian Institution (SI) recently renewed their agreement to search for, collect and curate Antarctic meteorites in a partnership known as ANSMET—the Antarctic Search for Meteorites Program. The signing of this new joint agreement advances the program for an additional decade, replacing an earlier agreement signed in 1980. Read more from Phys.org
---
Why a show in Berlin of Tehran's superb collection of Modern art is a crucial part of Germany's foreign policy
The Art Newspaper, Nov. 16
The Modern art collection founded in Iran under the auspices of the last empress Farah Pahlavi before the 1979 revolution is travelling abroad. The collection, which is housed in the Tehran Museum of Contemporary Art, includes paintings by Picasso, Rothko, Kandinsky, Pollock, Warhol and Bacon as well as many Iranian artists. It is to be shown at the Gemäldegalerie in Berlin from 4 December (until 5 March 2017) before travelling to Rome.
The Tehran Museum of Contemporary Arts, the Stiftung Preussischer Kulturbesitz [Prussian Cultural Heritage Foundation] in Berlin and Rome's MaXXI museum are planning a large exhibition showing contemporary Western and Persian art, which opens in Berlin in December, and then will move on to Rome in April 2017. Read more from Andreas Görgen, Director-general for culture and communication, Federal Foreign Office, Berlin for The Art Newspaper.
---
A Congressional commission recommends adding a new museum to the Smithsonian.
Washingtonian, Nov. 16
After nearly two years of deliberation and just over a week after the nation did not elect its first woman president, the bipartisan Congressional Commission on the American Museum of Women's History presented a proposal to Congress Tuesday that a new Smithsonian museum be erected in honor of our nation's collective female history. The commission is sponsored by Senators Susan Collins and Barbara Mikulski and Representatives Carolyn Maloney and Marsha Blackburn. Representative Maloney says it's "the first ever digital report to Congress" and you can explore it here.
In its official recommendation, the Commission suggests that such a museum be created as a formal member of the Smithsonian Institution, noting that "the brand and reputation [would] bring credibility" to the venture. To that end they specifically ask that admission be free, as it is for all other Smithsonian museums. Read more from Rosa Cartagena for Washingtonian.
---
NBC4-Washington, Nov. 17
The largest uncut diamond from North America will go on display Thursday at the Smithsonian National Museum of Natural History, according to the museum.
The Foxfire Diamond will join the museum's Harry Winston Gallery Thursday through Feb. 16. Read more from Jenna Milliner-Waddell for NBC4.
---
Washingtonian, Nov. 17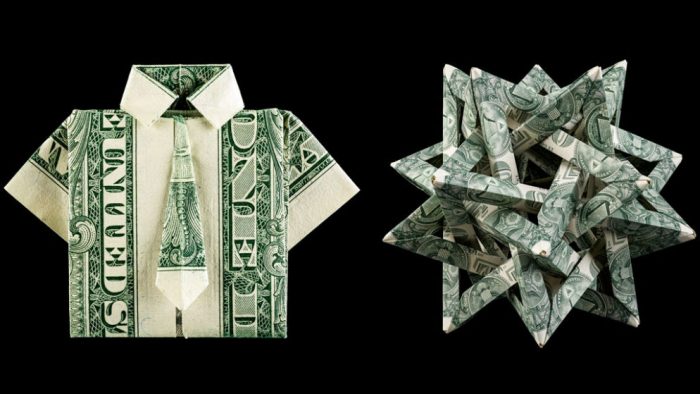 My uncle Ron has always rejected the seriousness of adulthood.
There was the time he got a jukebox for his living room. Or the year he installed a stoplight and parking meters in his driveway, where he'd sometimes display one of his extra-small European Mini Coopers. In his and his family's backyard in Madison, Wisconsin, you'll notice a fence made out of skis he's collected from garage sales. And every summer, you could count on him to bring dozens of inflatable rafts and remote-control boats to our cabins in Northern Wisconsin.
Through his consistently delightful antics, he became our "fun uncle." He earned it. Read more from Greta Weber for Washingtonian.
---
The Washington Post, Nov. 17
LeBron James has added to his growing philanthropic portfolio with Thursday's news that he, his charitable foundation and business partner Maverick Carter will donate $2.5 million for a new exhibit about Muhammad Ali at the recently opened Smithsonian National Museum of African American History and Culture in Washington.
"Muhammad Ali is such a cornerstone of me as an athlete because of what he represented not only in the ring as a champion but more outside the ring — what he stood for, what he spoke for, his demeanor," James told USA Today. Read more from Matt Bonesteel for The Washington Post.
---
Sheldon Scott's performance is based on the experiences of enslaved Africans in rice production in the American South.
Hyperallergic, Nov. 17
On a Saturday earlier this month, Sheldon Scott performed "Precious in Da Wadah, A Portrait of the Geechee" in the Kogod Courtyard and Great Hall of the National Portrait Gallery. The Gallery is housed in the Donald W. Reynolds Center for American Art and Portraiture, a Greek Revival behemoth which began its life in 1836 as the United States Patent Office. While it does host the requisite ongoing exhibition of presidential portraits and its walls are sometimes dominated by portraits of famous Americans, the museum also makes an effort to present more challenging work, often in the form of performance. It commissioned Scott's work as part of Identify, a performance series created "to acknowledge those individuals who are missing from the permanent collection." Read more from Blair Murphy for Hyperallergic.
---
ArtNews, Nov 18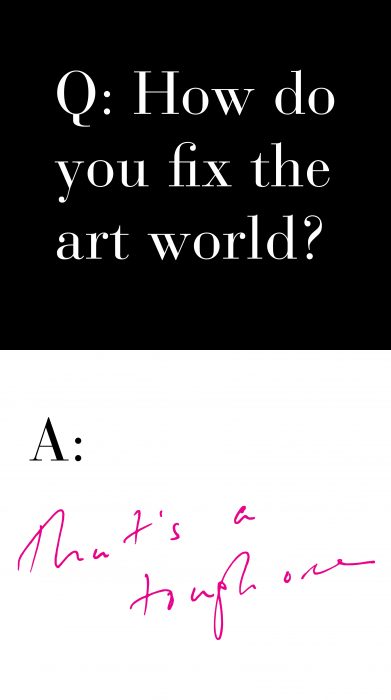 Back in August my staff and I embarked on an epic project: we wanted to know what inhabitants of the art world think is wrong with it and how they would fix it. In the ensuing months we spoke with more than 50 individuals—artists and curators, critics and historians, art dealers and an art fair director—to gather a range of perspectives. Some wrote longer essayistic responses; some artists responded with visuals. We finished our research and put the Winter 2017 issue of ARTnews to bed on the eve of the U.S. presidential election. Subscribers will receive the print edition later this month. Because some of our respondents wanted to speak about what's right with the art world, we are posting a portion of the many responses in these days before the Thanksgiving holiday. We hope you will read them with the same great interest, and the same open mind, with which we did when we received them. We hope that you will continue the conversation.

Read more from the editors of ArtNews.


Posted: 21 November 2016
Categories:

African American History and Culture Musuem , African Art Museum , American Art Museum , American History Museum , Art , Collaboration , Cooper-Hewitt Museum , History & Culture , ICYMI , Natural History Museum , News & Announcements , Portrait Gallery , Science