Strengthening collections by strengthening collaboration
Managing your personal collections may mean no more than putting up a few shelves in the basement for Dad's "Beer Cans of the World" or renting a pod down at EZ Storage for grandma's antiques, but managing the Smithsonian's collections is a bit more complex. Samantha Snell offers an introduction to the National Collections Program and some of its initiatives. Plus, presidential bobble heads! Just because.
The current presidential election has been nothing if not contentious, but choosing a president is not always so controversial. In July, the National Collections Program hosted a table at the Congress of Scholars tent during the annual staff picnic and offered a light-hearted presidential choice between two bobble-heads as a way of introducing the NCP. (We'll keep you in suspense as to the results for a moment.)
We've all heard the numbers—the Smithsonian has nearly 154 million objects, works of art and scientific specimens in its collections—but most of us have no idea what's involved in managing those collections.
The graphic offers a quick overview of the various initiatives, programs and projects that the NCP leads, facilitates, and supports and demonstrates just how many gears must interlock and turn to keep the Smithsonian's vast collections management machinery running smoothly. (Click to enlarge.)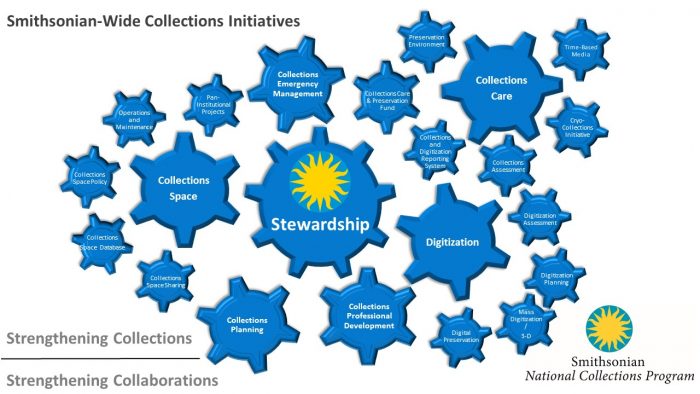 Dedicated to improving the overall stewardship of all Smithsonian collections, the NCP is uniquely positioned to foster pan-Institutional, interdisciplinary collaboration by working with Smithsonian units and offices that support the care, management and accessibility of SI's priceless collections, including Smithsonian Facilities, Office of the General Counsel, Digitization Program Office, the Office of Protection Services, Office of Safety, Health and Environmental Management, Office of Emergency Management, Risk Management Division, Office of Human Resources, Office of Contracting, and so many more.

The program is complex and has a lot of moving parts, so Bill Tompkins, director of the National Collections Program and Collections Management Specialist Samantha Snell set up shop in the Congress of Scholars tent to increase and diffuse a little knowledge by showcasing several collections initiatives:

The Collections Care and Preservation Fund – Fore more than a decade, this central funding source has helped improve the management, preservation, and accessibility of millions of Smithsonian collection items, from national icons to frozen tissue samples.

Preparedness and Response in Collections Emergencies – PRICE is a new initiative to enhance Smithsonian collections stewardship by strengthening unit-level and pan-Institutional collections emergency preparedness, response and recovery capabilities; planning for the best while preparing for the worst.

Collections Space Framework Plan  – CSPF is a highly collaborative pan-Institutional planning initiative that assessed current collections space conditions (more than 2.1 million square feet!) and developed a framework plan for addressing the Institution's current and projected collections space requirements in a pragmatic, strategic and integrated manner.

The Proceedings of the Smithsonian Institution Summit on the Museum Preservation Environment – This downloadable document, recently published by the Smithsonian Institution Scholarly Press, presents a critical history of research on the role of environmental factors in the long-term preservation of collections and provides a collaborative interdisciplinary framework for decision-making regarding a preservation environment that balances preservation and sustainability.

Finally, Presidential Bobble Heads — A raffle was held for those who voted for their favorite candidate: George "Father of His Country" Washington or Abe "The Great Emancipator" Lincoln. The final tally was Lincoln: 53%, Washington: 38%, with 9% undecided (it was a tough choice!). The bobble head raffle winners were Allegra Tennis (Smithsonian Libraries) for Washington and Roberta Walsdorf (Office of Planning Management and Budget) for Lincoln. Congratulations! (Perhaps a raffle would help improve voter turnout in the current election?)

Samantha Snell is a collections management specialist with the Smithsonian's National Collection Program. If you'd like to learn more about NCP's activities and initiatives, please contact her at snells@si.edu.


Posted: 3 November 2016