The 50th Smithsonian Folklife Festival builds on a rich history
Immigration and circus arts are featured this year, along with a family reunion of Festival staff and volunteers from years past.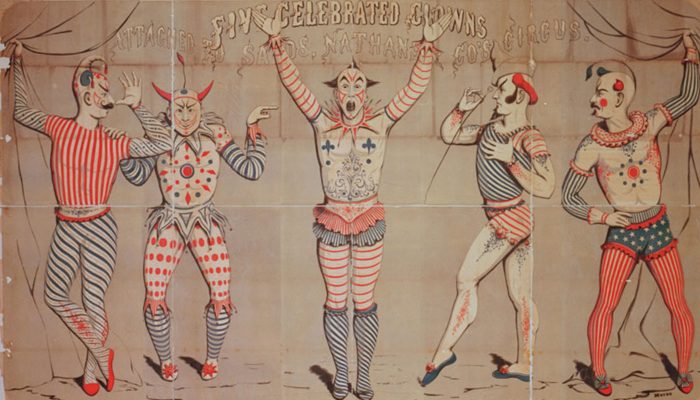 The Smithsonian Folklife Festival that begins June 29 will include a reunion July 8 and 9 for the thousands of staff and volunteers who have pulled off the complex event for 50 years in a row.
This year's themes include Circus Arts—which explores the people, arts and social contexts of the circus art form—and On the Move, a closer look at groups migrating to the United States and how multiple generations of people within those groups have indelibly shaped American culture.
Circus Arts
"Circus Arts" will take visitors behind the scenes to explore everything from traditions passed down through generations to many of the new expressions that reflect changing social and cultural mores that have always been a hallmark of circus life, work and artistry.
The program will feature intimate workshops, full-scale performances and an interactive circus school where visitors can meet and learn from master artists from across five major circus disciplines: acrobatics, aerials, clowning, equilibristics (e.g., tightrope walking) and object manipulation (e.g., juggling).
Residents of the D.C. Metro area may not be aware of our own place in circus history: Bailey's Crossroads in Falls Church, Va., was purchased by Hachaliah Bailey in 1837 as a place where his circus menagerie could spend the winter. Bailey founded one of the earliest circuses in America after purchasing an African elephant as his star attraction. Festival Director Sabrina Lynn Motley hopes visitors drawn to the Circus Arts theme will think past their idea of circuses dominated by sequined elephants under big tops—which the now-defunct Ringling Brothers and Barnum & Bailey circus plied as its stock in trade—to a broader concept that melds artistry and social commentary. No exotic animals will appear at this year's Festival; the focus will be on the practitioners of the circus arts. More than 500 participants from groups such as Circus Harmony, Peru Amateur Circus, Wise Fool New Mexico and Medical Clown Project will take part in this year's festival.
On the Move
As part of "On the Move," visitors will experience live performances and discussion stages on the themes of migration, identity, creativity and community. Visitors will also be invited to participate in a 50th anniversary reunion weekend celebration, bringing together past staff, volunteers, participants and visitors to reflect on the transformative power of the Festival.
Then and now
In addition to these focal points, this year's event celebrates the birth of the festival in 1967 and the people who have made it happen year after year since Jim Morris and Ralph Rinzler launched what was then known as the Festival of American Folklife. The first Festival of American Folklife had a budget of $4,900 and included 84 participants—among them Bessie Jones and the Sea Islanders, bluesman John Jackson, singer and storyteller Janie Hunter, Dejan's Olympia Brass Band, cowboy singer Glenn Ohrlin, Libba Cotten, and the King Island Eskimo dancers. The four-day Festival took place over the Fourth of July weekend on the Mall and on the plaza of the Museum of History and Technology. The Festival drew 430,000 visitors, media attention, and kudos from members of Congress.

"We are looking forward and back and the same time," says Motley. "We are turning the festival inside out so the public can see how we got yaks on the Mall" and a thousand other things, she adds. (The yak comment is a reference to the Silk Road theme that made 2002's Festival such a blockbuster. More than one million people attended that year. Most years, the Folklife Festival draws between 450,000 and 600,000 visitors.)

Echoes of the 1967 festival inform the 2017 event, entirely produced by the Smithsonian Center for Folklife and Cultural Heritage with generous support from units across the Institution

Then as now, "we are really asking questions about who we are as a country," Motley says. "Similar questions were asked at the very first festival. Back then it was about telling those stories that opened up what it meant to be American and what America's cultural life looked like. [The original planners' goal] was to showcase a range of ethnic communities." Given the political, cultural and social upheaval roiling the U.S. in the late 1960s, the festival "provided a space for multiple and diverse voices" at a time in American history when those voices arguably needed to be heard more than ever.

Most months the Festival staff is comprised of six or seven full-time staffers, but come Festival time, it will balloon to hundreds more staff, interns and volunteers. "We're all out there together in the dust and the heat and the crowds," Motley says.

"I work with a lot of really wonderful people, and their creativity and commitment to the Festival and its mission is truly inspirational," says Motley, who is working on her fourth festival since assuming the role of director.

Motley explains she is as thrilled about the reunion aspects of this year's 10-day event as she is about the activities and performers being planned around the official themes. Festival staff and volunteer reunion events that are slated to take place the final weekend of the Festival—events that will be open to the public—will include panel discussions, concerts and a Saturday night jam session (a party at which team members will "dance ourselves silly" as one more festival wraps up, she notes).

A native of Los Angeles, Motley views herself as a caretaker of a five-decade old Washington tradition. She considers it her mission to bring more people into the festival fold, whether as attendees, volunteers or performers.

"I talk to people all the time who tell me [the Festival] meant so much to them when they were young, how it shifted the way they thought about the world and inspired them to help create a different type of world, how they bring their own kids now that they are parents. By the same token, I run into people who live in D.C. and who have never been to it before."

Motley also says she counts on feedback from the public via email and social media to help shape the next 50 years of the Folklife Festival. Year after year, the future and the past are linked inextricably together on those acres of the National Mall.

"Ralph Rinzler and Jim Morris planted seeds," she says, "that we are still harvesting."

The 2017 Smithsonian Folklife Festival takes place June 29 – July 4 and July 6 – 9 on the National Mall near the National Museum of the American Indian. Check the Festival's website for a complete schedule of programs and performances.


Posted: 1 June 2017