You don't have to be emo to have a dark night of the Sol
No matter where you are, you can experience the rare total eclipse of our local star in August with the help of a free app from the Smithsonian Astrophysical Observatory.
The Smithsonian Eclipse app (iTunes | Google Play) is your interactive guide to the 2017 Total Solar Eclipse on Monday, Aug. 21, when Americans will have a front row seat to a rare celestial event.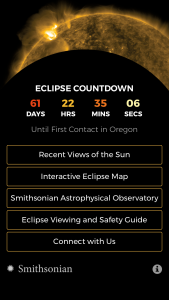 The free app, created with content from the Smithsonian Astrophysical Observatory, has a number of solar and eclipse-related features, including:
Interactive eclipse map that allows you to calculate your view of the eclipse from anywhere in the U.S.
Eclipse simulator, with views from your location here on earth, and from space.
Near live views of the sun—all day, every day, direct from the Smithsonian-built SDO space-based telescope.
Direct feed to NASA's streaming content the day of the eclipse.
Eclipse viewing and safety guide.
Great content about Smithsonian's century+ worth of solar research.
The Smithsonian Astrophysical Observatory is part of the Harvard-Smithsonian Center for Astrophysics, where leading astronomers ask, test, and answer some of humanity's greatest questions.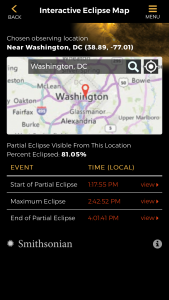 Since 1890, SAO has conducted solar research, including the study of solar radiation and the solar constant.

Today our telescopes and instruments send back high resolution images of the Sun and other data to study phenomena including how the solar atmosphere is energized, the topology of solar features, and space weather, to name just a few. During the 2017 solar eclipse, SAO's AIR-Spec instrument will ride along a unique aircraft built for scientific research in order to measure plasma emission from the sun.

Our solar research is more than a century in the making, and we can't wait to share it with you.

The free app is made possible by funding from the Smithsonian Women's Committee, with content from the Smithsonian Astrophysical Observatory and powered by SkySafari 5, the next-generation award-winning astronomy app for Android.


Posted: 31 July 2017