Sharing the Smithsonian with every visitor
As guardians of the nation's cultural heritage, we all have a responsibility to make sure every visitor can share our treasures. The Smithsonian Accessibility Network is working to demonstrate that access for anyone means enhanced experiences for everyone.
"Accessibility." It's a word increasingly heard in the museum world as curators, keepers, exhibition designers, educators and others push to make buildings, collections and exhibitions more accessible to more groups.
Visitors on the autism spectrum who might be sensitive to flashing lights or noise; people who are deaf or have hearing loss; persons with brain-based disabilities, including dementia; wheelchair users; people who learn best through tactile experiences; persons who are blind or have low vision: are they being served? If not, what can be changed to make it so that they are?
The Smithsonian Accessibility Network is a new initiative designed to share best practices around meeting the needs of a diverse public. The timing of this development couldn't be better as staff implement the new strategic plan and collaborate on One Smithsonian. Headed by Julia Garcia, Exhibit Developer at the American History Museum, and Devra Wexler, an exhibit developer at the Zoo, SAN's first meeting in May was attended by dozens of people across the Institution (a second meeting is being planned for the fall.)
After being appointed chair of an accessibility committee at her museum, "I realized I needed to know a lot more" about what making the units accessible means, says Garcia. "None of us are experts in accessibility except for Ashley and Beth."
Garcia is referring to Beth Ziebarth, director of the Smithsonian's Accessibility Program, and Ashley Grady, its program specialist. The pan-institutional office, opened in 1991, happens to be housed inside American History.
"Inclusion and diversity are two very important tenets of who we are as an institution," says Grady, a former special education teacher. "Within the museum profession as a whole, there is a movement to make museums more accessible to all."
It's no coincidence that the Americans With Disabilities Act was passed in 1990 and the AP launched a year later. "The generation [who came of age since ADA's passage] has grown up with laws and protections in all facets of life, from independent living to employment opportunities," says Grady.
"A lot of Smithsonian staff are very passionate about accessibility, about making sure that programs and facilities and content of the museums are accessible to all," Grady continues. In effect, SAN amplifies the work of the two-person AP: "It's a network of people who want to collaborate with their peers," she adds.
The Accessibility Program's growing Morning at the Museum program could expand further as Grady and Ziebarth train peers across the Institution. During Morning at the Museum, a museum opens an hour before public hours to families of children who may benefit from reduced crowds, shorter wait times, less noise and other factors. Staff and volunteers offer noise-cancelling headphones, touchable objects, quiet spaces, sensory maps, picture schedules and other supports to help guests ranging in age, ability and learning styles enjoy a less stressful museum visit.  Since its pilot in 2011 at the American History Museum, the program has continued to grow; there were six Mornings in 2015 and in 2018, there may well be more than 20.
"We think about SAN as a marketplace of ideas," says Brooke Rosenblatt, visitor experience manager at the Freer and Sackler Galleries, currently closed for renovations (FSG's reopening is slated for October 14.) "Each time one of us wants to start a new [accessibility] initiative, we don't have to reinvent the wheel because our colleagues at another museum have probably done something similar."
The temporary closure of Freer|Sackler has given staff across departments a chance to think about accessibility in new ways, says Rosenblatt, who leads the accessibility task force there. Label sets with larger print, movie clips that indicate they are video-only (to assure a visitor with hearing loss that she is not missing out on any information), an information desk that's lower to be more accessible for a visitor using a wheelchair or for children, lightweight folding stools visitors can opt to carry with them throughout the exhibition rooms in order to take a break─these are just a few of the concepts being piloted or implemented with the reopening, she says.
When it comes to enhancing accessibility, no idea is too bold, Wexler says. The National Zoo, for example, is exploring a pilot project to create a fully accessible exhibit in the small space known as Gibbon Ridge. Improved ramp access, signage that includes raised text and Braille, three-dimensional objects that can be touched, elements of art and sound and additional ways to increase equal access are all being considered.
For that matter, the Zoo's unique topography and campus layout present both challenges and opportunities in terms of expanding the boundaries of what accessibility means. In the works is a map of spots typically less trafficked than others, for anyone in need of a quiet break. And primates keeper Melba Brown initiated "social narratives"─a step-by-step breakdown, in words and pictures, of what a child─neurotypical or not─might expect on a visit to the Zoo, to help her and her adult caregivers─a teacher, parent or other guardian─prepare.
Across the Smithsonian, a groundswell of support for greater accessibility for all people is taking hold. SAN is one manifestation of that.
"When you make something more accessible to one group, you are actually making it more accessible for everyone," Wexler says. For example, objects that can be manipulated aid both visitors who are blind and those who learn best by touching; a presentation geared toward adults with dementia can be beneficial for their care partners as well (see box).
"It's about changing the staff culture so that when you are planning a special program or creating a new exhibit, accessibility becomes part of the package," says Garcia. "It's everyone's responsibility."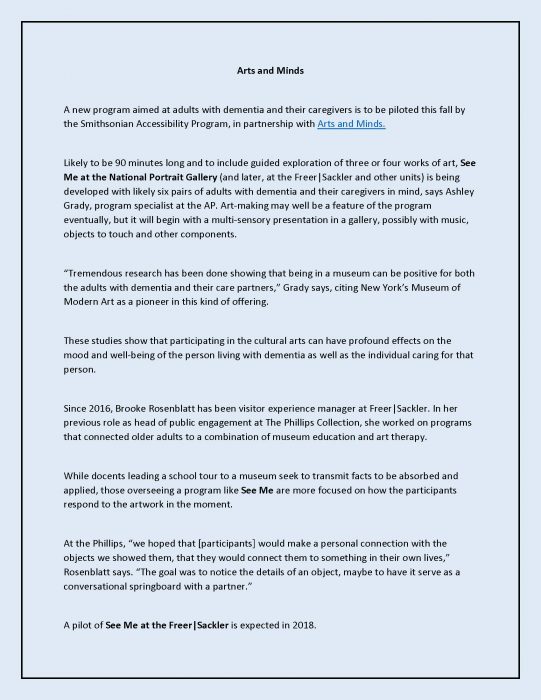 Posted: 14 August 2017