Their remains were unearthed 87 years ago by Aleš Hrdlička, who was the head of the Anthropology department in what is now the Smithsonian's National Museum of Natural History. During his 1931 trip to Bristol Bay, he likely excavated remains near Aleknagik, Ekwok, Koliganek and other communities as well. Read more and listen to the story from Avery Lill for KDLG.
---
The Washington Post, Sept. 21
In an etching from the 1860s, John Willis Menard appeared tall and lean, dressed in a black suit with tails. He stood behind an ornate lectern. White members of Congress looked on. Menard's left hand clenched his speech. He raised his right hand:
"Mr. Speaker, I appear here more to acknowledge this high privilege than to make an argument before this House."
On Nov. 3, 1868, John Willis Menard became the first black man elected to the U.S. House of Representatives. But Congress refused to seat him. Read more from DeNeen L. Brown for The Washington Post.
---
The Washington Post, Sept. 21
Nothing seems stable, dignified or unifying about the presidency these days, which is what makes the newly designed "America's Presidents" exhibition at the National Portrait Gallery such a relief. Closed since early this year, the rooms devoted to portraits of this country's chief executives (and sometimes their wives and family members) have been reinstalled for the first time since 2006, with new carpeting, lighting, window treatments and touch-panel information screens. Some of the works on view are different, and all of the wall texts have been rewritten. Given the way so many museums are going today — toward entertainment and trivial educational agendas — one couldn't help but wonder what the Portrait Gallery would do with one of its most beloved, and most important, hallmark exhibitions. The good news: The curators went for substance. Read more from Phillip Kennicott for The Washington Post.
---
PBS Newshour, Sept. 21
The instructions were simple, but take years to complete.
One night in London more than 50 years ago, Yoko Ono broke a vase on stage before her audience. She then asked them to pick up a piece, one by one, to carry home.
As retold in her subversive book of instructions "Grapefruit," which came out in 1964, anyone who took a fragment of the vase would promise to meet again in 10 years to reassemble the smashed object.
At a one-night-only tribute Sunday at the Hirshhorn Museum and Sculpture Garden in Washington, D.C., Ono's "Promise Piece" was once again orchestrated, this time by experimental artist and musician Kim Gordon. Read more from Joshua Barajas for PBS Newshour.
---
CBS News, Sept. 22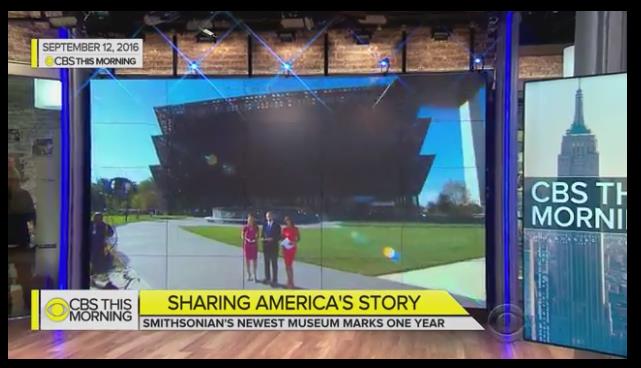 About one year ago, "CBS This Morning" had the honor of being the first media outlet to broadcast from the National Museum of African American History and Culture. Since then, nearly three million people have visited the newest Smithsonian museum, making it one of the most popular Smithsonian destinations in the nation's capital.
More than 8,000 people a day walk through the museum, twice as many people as organizers had prepared for. It's been a overwhelming response to a place that confronts painful issues people don't always want to talk about — and celebrates the triumphs — reports CBS News correspondent Jan Crawford. Read more and watch the broadcast from "CBS This Morning."
---
DCist, Sept. 21
Since Ruth Odom Bonner joined President Barack Obama in ringing the bell to open the Smithsonian's National Museum of African American History and Culture last year, more than 2.5 million people have visited the site.
"What's been so moving is that it's clear after a year, the museum has already become a pilgrimage site," says Director Lonnie Bunch, who began the "great adventure" of opening the museum in 2005. What followed was more than a decade of building a collection and a building from scratch.
It culminated on September 24, 2016 when the daughter of a slave and the nation's first black president tolled the 500-pound bell that had been lent by the historically black First Baptist Church in Williamsburg, Va. and ushered people in. Read Rachel Sadon's interview with Director Lonnie Bunch for DCist.
---
The Washington Post, Sept 22
A year after it opened, the Smithsonian's National Museum of African American History and Culture has helped change the landscape of Washington. It remains one of the hottest tickets in town, it is an essential stop for out-of-town tourists, and it has succeeded in attracting a diverse, engaged, multicultural and international audience. It has also changed the center of gravity on the Mall, drawing crowds to its symbolic nodal point, where the Washington Monument connects the White House and Jefferson Memorial to the Capitol and Lincoln Memorial. There is an energy along 14th Street and Constitution Avenue NW that feels new, and welcome, in the city.
It has also settled into its site, and whatever reservations remain about its basic form — a sharp break with Washington's tradition of monumental masonry architecture — are mitigated, at night, when light filters through the latticework of its three-tiered metal corona. Like so many large buildings in the ceremonial core of Washington, now that it's there, it seems always to have been there. Read more from Philip Kennicott for The Washington Post.
---
Oprah Winfrey Network, Sept. 23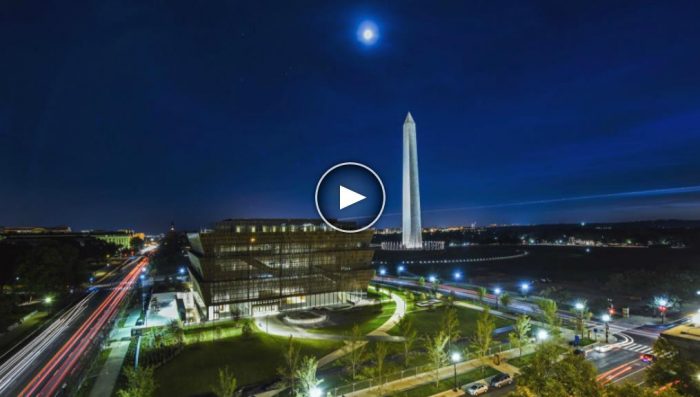 Millions of visitors have passed through the galleries of the National Museum of African American History and Culture since it first opened its doors to the public on September 24, 2016.
One year later, Oprah looks back on how visiting the museum—which chronicles the African-American experience with powerful artwork, artifacts, films and interactive media—has become an "emotional pilgrimage" for many Americans. "It stands as a gleaming testament to the courage, struggle and triumph of every soul who shared in our story," she says. Read more and watch the complete episode of SuperSoul Sunday on the Oprah Winfrey Network.