Mark Bradford created one of the most talked about displays at the Venice Biennale earlier this year. The artist from South Central LA piled up stones and gravel outside the US pavilion, to make it look like Monticello, the plantation in Virginia owned by Thomas Jefferson, the third US president. Bradford made visitors enter via a side door, as plantation slaves would have, and filled the inside with his abstract expressionist art, inspired by everything from the rise of Trump to police violence and Black Lives Matter. The result, he says, was his "most urgent exhibition to date".
His pavilion's full title, Tomorrow Is Another Day, echoed Vivien Leigh's last line in Gone With the Wind – but his latest work confronts the American civil war more directly. Pickett's Charge, which will spread itself around the walls of the Hirshhorn Museum in Washington DC for the next year, is a monumental 400ft linear work inspired by the Gettysburg Cyclorama, French artist Paul Philippoteaux's vast 1883 depiction of the final assault in the Battle of Gettysburg, often seen as the war's turning point. Read more from Lanre Bakare for The Guardian.
---
CBS News, November 14
Tian Tian means "more and more" — a good name for him because he's the father of all three surviving giant pandas born at the National Zoo in Washington, D.C.
His cubs are Tai Shan and Bao Bao, who are now in China, and two-year-old Bei Bei, who is still wowing the crowds in D.C.
At 20 years old, Tian Tian could father more cubs. So when he shows any signs of ill-health, he's treated like a national treasure. Read more and watch the full report from Chip Reid for CBS News.
---
The Washington Post, November 16
The Smithsonian's third Kickstarter campaign to fund an Anthology of Hip-Hop and Rap raised $368,841, blowing past its original $250,000 goal.
Smithsonian Folkways Recordings and the National Museum of African American History and Culture collaborated on the month-long campaign, which launched Oct. 17 and ended Thursday. It hit its all-or-nothing goal Nov 8. Read more from Peggy McGlone for The Washington Post.
---
Science, November 16
Carved into a sandstone cliff on the edge of a bygone river in the Arabian Desert, a hunter draws his bow for the kill. He is accompanied by 13 dogs, each with its own coat markings; two animals have lines running from their necks to the man's waist.
The engravings likely date back more than 8000 years, making them the earliest depictions of dogs, a new study reveals. And those lines are probably leashes, suggesting that humans mastered the art of training and controlling dogs thousands of years earlier than previously thought.
"It's truly astounding stuff," says Melinda Zeder, an archaeozoologist at the Smithsonian Institution National Museum of Natural History in Washington, D.C. "It's the only real demonstration we have of humans using early dogs to hunt." But she cautions that more work will be needed to confirm both the age and meaning of the depictions. Read more from David Grimm for Science.
---
Demonizing black protest while allowing black celebration has a deep historical context
The Undefeated, November 16
This NFL season, the usual game-day messaging of beer and sneaker ads and uplifting videos about community or military service has been augmented by a special kind of cultural telegraph.
Sent from white NFL owners and fans to black NFL players, it goes like this:
You can Milly Rock, Juju on the Beat or fake play pingpong in the endzone. (STOP) But we can't abide you kneeling on the sidelines. (STOP) Dance to your heart's content, but you best not raise a fist in protest. (STOP) Read more from Lonnae O'Neal for The Undefeated. 
---
Iowa Public Radio, November 17
When Martin Luther King Jr. gave his most famous speech, he did not say "I have a problem." A growing environmental movement called #EarthOptimism is taking that idea and painting a vision for a brighter future.
During this hour of Talk of Iowa, host Charity Nebbe talks with Nancy Knowlton, who is chair of marine science at the National Museum of Natural History at the Smithsonian and founder of the earth optimism movement, and Connie Mutel, who is a senior science writer at the University of Iowa. Read more from Lindsey Moon and Charity Nebbe and listen to the full interview. 
---
After revolutionizing bird-migration science over the past decade, geolocation technology is poised to shine light on the field's darkest mystery.
The Atlantic, November 17
One afternoon in May 2008, a graduate student named Pat Kramer was in northwestern Pennsylvania catching purple martins. The bird, a large swallow that nests in artificial birdhouses across North America, is a well-studied species. But one particular purple martin Kramer and some fellow researchers from York University caught was about to revolutionize ornithology.
Kramer let an exclamation mark creep into his otherwise staid field notebook when he found it: "At 2:45p.m., Evelina captured Yellow 2551 in WH-43!"
Yellow 2551, the identification code assigned to this martin, was wearing a geolocator, a small device that uses a light sensor to calculate latitude and longitude and track a bird's movement over time. The geolocator had traced this female martin's migratory journey to Brazil and back via the Yucatan Peninsula. In doing so, it provided the first data on what had been a massive blind spot in the scientific understanding of the otherwise familiar purple martin: Where, specifically, does the bird go during migration? And what route does it take? Read more from Andrew Jenner for The Atlantic.
---
The Washington Post, November 20
Once upon a time, there was a promise that man's dominion over the world would lead to shared prosperity and leisure. As we made machines to do our bidding, we would gain time to tend to our families and communities and pursue the improvement of our minds and spirit.
That promise never came to pass, and today the mechanization of labor is increasing more rapidly than ever, dragging legions of once middle- and working-class people into unemployment and despair. The great promise of technical mastery of the world has led to increasing inequality, and for many, penury and new forms of peonage.
And so we have exhibitions like "The Sweat of Their Face" at the National Portrait Gallery, which looks at how workers have been represented in this country since the early days of the republic. At one of the end of the spectrum is a dramatic 1829 painting by John Neagle called "Pat Lyon at the Forge." It depicts a ruddy, healthy, well-knit middle-aged man standing at a glowing forge with a hammer in his hand, staring straight at the viewer with a look of steely, democratic self-confidence. At the other end is a Lewis Hine photograph from around 1910, showing small girls at labor on the bare dirt floor of a tobacco barn, stringing leaves together at a crude table that is almost as tall as they are. Read more from Phillip Kennicott for The Washington Post. 
---
PBS Newshour, November 17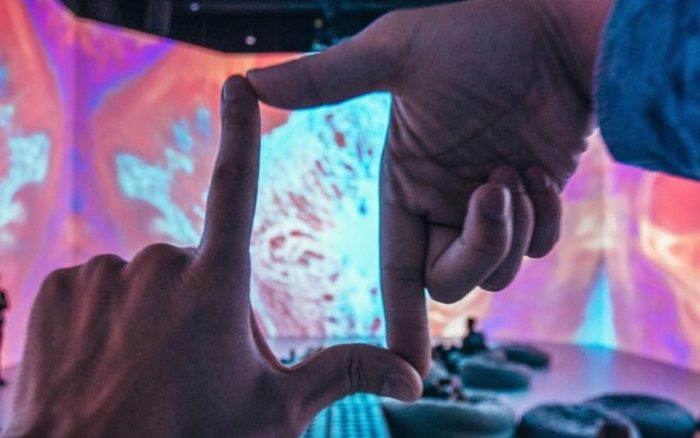 Artechouse founders Sandro Kereselidze and Tati Pastukhova insist their Washington, D.C., art space wasn't made with social media in mind, but cellphones snapping photos were a common sight during the press preview for their latest show.
"Kingdom of Colors," which opened Nov. 10, is a mesmerising, undulating video montage of swirling color projected onto 27-foot walls. Two French artists filmed paint, soap and oil with a macro lens to create the piece, and the sumptuous result is the stuff Instagram dreams are made of.
While museums have learned to capitalize on social media to promote exhibits, the way they curate and plan shows may be changing with social media — and especially Instagram — in mind. Read more from Jennifer Hijazi for PBS Newshour.
---