The 2018 Smithsonian Staff Picnic
As is traditional, the day of the Smithsonian Staff Picnic was blindingly hot and stiflingly humid, but as is also traditional, that didn't keep everyone from having a great time!
The 17th annual Smithsonian Staff Picnic took place Monday, July 2, on the National Mall. Since 2001, the Smithsonian Community Committee has sponsored the free  picnic for SI staff, interns, fellows and volunteers during the annual Folklife Festival. Meal tickets were distributed to more than 7,800 people and despite the heat (always a feature of the picnic!) more than 6,000 are estimated to have attended. This year, the picnic featured two entertainment tents with performances by our talented colleagues and friends, a Foodways tent, a tent for narrative SI Stories, the popular Congress of Scholars tent, health and wellness demonstrations and a tent highlighting Smithsonian employee groups.
Here are just a few highlights—we'd love to feature some of yours. If you have photos you'd like to share, please send them to torch@si.edu and we'll add them to the gallery!
SI Stories
The theme for the stories tent was "Transition." Panel topics included "Digital transformation at the Smithsonian" and "The Smithsonian and its Hollywood Transformations."
Gift Presentation
During the picnic, Secretary Skorton was honored with a special presentation of a painted scroll. The scroll represents a collaboration between a team from the Smithsonian Center for Folklife and Cultural Heritage and Patachitra (scroll painting) artists from Pingla, West Bengal, India.  During an in-person visit to West Bengal in February, as part of the U.S. State Department funded Communities Connecting Heritage program, the CFCH team told the story of the history and present-day use of the National Mall to the artists in words and images, and in subsequent months, the artists created the artwork and composed a song meant to be sung while unfurling the scroll, which is the tradition of this village of artists. This remarkable work of art was given to the Smithsonian by the head of our partnering organization in the exchange, Ananya Bhattacharya, and one of the artists involved in creating the scroll, Mamoni Chitrakar, on the occasion of their visit to Washington, DC.
Congress of Scholars
The popular Congress of Scholars tent highlights current research across the Smithsonian. The full list of participants included:
Center for Folklife and Cultural Heritage: Sustaining Minoritized Languages of Europe (SMiLE)
Museum Conservation Institute: Preserving Photo-Quilts from the Anacostia Community Museum
MCI: Discovery in the Details! Microscopy and Microanalysis at the Museum Conservation Institute
National Anthropological Archives: Research at the National Anthropological Archives: Melding Anthropology and Archival Practice
National Collections Program: Celebrating 25 Years of Collaboration – The National Collections Program
National Museum of African American History and Culture: DC's Black Art Galleries: Prequel to a Renaissance
National Museum of the American Indian: Building a Traditional Voyaging Canoe
National Museum of Natural History Dept. of Invertebrate Biology: The Lives of Jellyfish
National Zoo: Primate Research at Smithsonian's National Zoo
Office of the Chief Information Officer: Smithsonian Data Science Lab: Enabling Research on Diverse Digital Data
Office of Fellowships and Internships: Internships and Fellowships Program
Scientific Diving Program
American Art Museum/Renwick Gallery: The Art and Science of Lighting Museums
Smithsonian Conservation Biology Institute: Movement of Life
SCBI: Geospatial Conservation
SCBI: National Elephant Herpesvirus Laboratory (NEHL)
SCBI:Global Health Program
SCBI: Conservation Commons
SCBI: Candid Conversations
Smithsonian Environmental Research Center: Marine Debris as a Vector of Non-native Species Introductions
Smithsonian Libraries: File under 'Ephemeral: Art & Artist Files of the Smithsonian Libraries
SIL: National Air and Space (NASM) Library's Aerospace Legacy Materials (ALM) Collection
SIL: Managing Research Data at the Smithsonian Institution
Smithsonian Organization and Audience Research: SOAR: A Recent Projects Potpourri
Smithsonian Science Education Center: Engaging Youth in the Science of the UN Global Sustainable Development Goals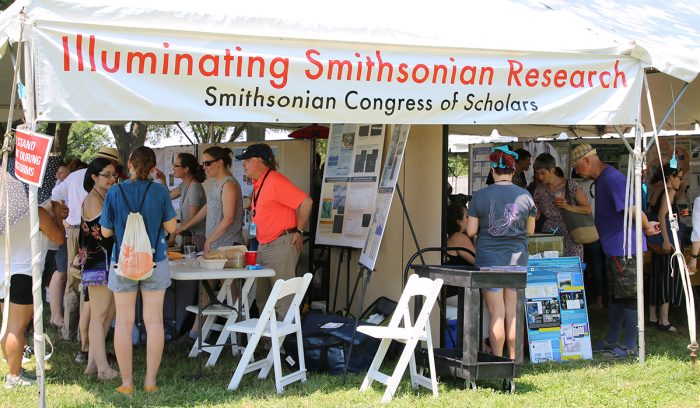 The Smithsonian Congress of Scholars hosted demonstrations and and research presentations from across the Institution at the 2018 Smithsonian Staff Picnic.
SI Affinity Groups
The tent for Smithsonian employee groups offered an opportunity to meet colleagues from several different community groups. Participants included:
Smithsonian African American Association (SAAA)
Smithsonian American Indian Employee Network (SAIEN)
Smithsonian Asian Pacific American Heritage Committee (APAHC)
SI Gay, Lesbian, Bisexual & Transgender Employee Group (SI GLOBE)
Latino Working Committee (LWC)
SHAPE
The Smithsonian Healthy and Active Program for Employees tent offered yoga, hula hooping and advice on meditation and bicycle commuting.
Food Fights
The fourth annual Smithsonian Staff Cook-off was inspired by Catalan sofregit, in honor of Catalonia being featured at this summer's Smithsonian Folklife Festival. Contestants were asked to share a one-pot recipe that represented their culinary roots and tasted of home.
Entertainment
Two musical stages featured performances by our talented Smithsonian colleagues and friends, as well as remarks and introductions by Smithsonian senior staff. The full roster of performers includes:
Artists in Residence: Making American Music
Dom Flemons, Grammy winner and founding member of the celebrated Carolina Chocolate Drops, is known as "The American Songster."
Hannah Baker, Intern, NMAH, a senior in the American Roots Music program at Boston's Berklee College of Music, plays guitar and fiddle.
Kelly Bosworth, Intern, NMAH, a graduate student in the Ethnomusicology program at Indiana University, plays guitar and is a singer-songwriter.
Rose Rodgers, Intern, NMAH, a senior at the University of California Santa Cruz, plays flute and sings.
Libby Weitnauer, Intern, NMAH, a graduate student in the Music Performance program at New York University, plays violin and sings.
Caribbean Nights
Gary Peresta, bass/vocals, Environmental Engineer, Smithsonian Environmental Research Center
Chris Mohr, guitar and vocals
Rayon Walker, vocals
The roots of this group go back to 1993, when guitarist Chris Mohr met up with bassist Gary Peresta's reggae group "Rice Dream," a band founded at SERC. They've nurtured the dream over the years, appearing with different configurations under names from Code Dread to their latest venture, the acoustic Caribbean Nights. We provide a mellow, classic reggae experience featuring Jamaican Rayon Walker's powerful vocals.
DWQ Jazz Band
Rex Little, trombone/percussion, Construction Control Representative, Smithsonian Facilities
Lawrence K. Blake, Conga
Deon "CleanCut" Clark, guitar
Lawrence "Bubbles" Dean, drums
Abraham Igho, piano
Clarence "Pookie" Jenkins, bass
Dave Walker, sax/flute
Harry Williams, trumpet
Dave Walker is the leader of the band. Born and raised in Philadelphia, he studied at Howard University. He is influenced by John Coltrane and Grover Washington. Rex Little is co-founder of the band and a Smithsonian employee. Abraham, the pianist, is a veteran Jazz musician whose understated playing has graced a number of venues. Clarence "Pookie" Jenkins is a veteran bass player born and raised in, Oakland, California who has performed internationally with jazz great David Murray. Lawrence "Bubbles" Dean is an educator of drum techniques to many drum students; an expert drummer himself, he has performed on stage and in studio with many jazz greats. Deon "CleanCut" Clark is a guitarist/producer from Washington D.C., and has been making his mark in and around the D.C. area playing guitar and bass in a variety of musical styles and settings. Harry Williams is a seasoned Washington area trumpeter who has performed in many venues around the DC metropolitan area.
Homegrown
Tami Huber, Research Technician, Smithsonian Environmental Research Center
Dan Nees
Gary Peresta, bass/vocals, Environmental Engineer, SERC
Homegrown brings you original American/Alt Country rock with a couple of familiar covers as well. Experience real-life stories through the soul-soothing, gospel-infused tunes. Don't be surprised when you find yourself singing along!
James Zimmerman Band
James Zimmerman, vocals, Public Program Specialist, National Museum of American History
Nasar Abadey, drums
Michael Bowie, bass
Lee Edgecome, guitar
Ben Sands, sax
Wayne Wilentz, keyboard
James Keith Zimmerman, a native Washingtonian, is an exceptional interpreter of songs.  Immersed in the time-honored tradition of the great jazz vocalists, his voice is like that of a horn, and his performances presented in an original, authentic style.  He has received grants from the D.C. Commission on Arts to present the music of Eddie Jefferson, Jon Hendricks, Oscar Brown, Jr. Billy Eckstine, Johnny Hartman, and Bill Henderson.
Marcia Baird Burris & Friends
Marcia Baird Burris, vocals, Public Affairs Specialist, Anacostia Community Museum
Wes "Suguh" Biles, upright bass/electric bass
David B. Cole, acoustic/electric guitar
William Knowles, piano/keyboard
Lenny Robinson, drums
Marcia Baird Burris began her career singing in public in 2001 at a karaoke bar in Libreville, Gabon.  Originally from Brooklyn, NY, Marcia sings mostly jazz and blues but also includes R&B and other contemporary music in her repertoire. She regularly performs at Alice's Jazz and Cultural Society (DC's coolest new jazz venue), El Golfo's and Jo Jo Jazz Cafe and has performed in the Blues Alley jazz vocalist project. Marcia has sat in as guest singer at venues including Westminster Church Friday Jazz, Mr. Henry's, and even at the Duc Des Lombards Paris Jazz club, plus she performs at private gigs. When Marcia is not singing, she maintains her day job as the public affairs specialist for the Anacostia Community Museum.
Muddy Creek
Nicole Campbell, guitar/vocals, Administration, Smithsonian Environmental Research Center
Chuck Gallegos, mandolin, Scientist Emeritus, SERC
Pat Neale, keyboard, Scientist, SERC
Geoffrey 'Jess' Parker, guitar/vocals, Ecologist, SERC
Gary Peresta, bass/vocals, Environmental Engineer, SERC
Fritz Riedel, guitar/vocals, Retired Scientist, SERC
We meet on Thursdays at lunchtime throughout the year.  Anyone with an interest in music is encouraged to drop in!  Our core activity has been mostly guitar-and-singing, but we love to be stretched in any old eclectic direction, and we've visited a range from bluegrass to show tunes to reggae and have included things like brass, harmonica, strings, bagpipes and accordion at times.
OnRaé Watkins
OnRaé Watkins, producer/vocals, Hirshhorn Museum and Sculpture Garden
Ashton, drums
Nya, dancer
Cameron, dancer
OnRaé LaTeal is a top-rated radio producer and beat-maker who has produced content for national and international commercial broadcasting stations including Washington D.C.'s 96.3 WHUR-FM and Siirus XM Satellite Radio. Combining the sounds of hip-hop and soul, she leads the artist collective Aflocentric with the group's debut track, "Infatuation," currently being aired on stations around the world. OnRaé's latest work, "Miss Mary Mack" from the Black Girls Handgames Project, can be found on all music streaming sites.
Red Castle Blues Band
Craig Blackwell, guitar/vocals, Associate General Counsel, Office of the General Counsel
Philip LoPiccolo, guitar/vocals, Congressional Liaison, Office of Government Relations
Brian Smedley, drums
Dave Warren, bass
The Red Castle Blues Band was formed specifically to participate in the 2011 Smithsonian Staff Picnic and has been gigging in the DC area ever since. The band is influenced by the classic rocks sounds of the 1960's and 1970's and plays originals and rock covers.
Thunder's Empire
Gene Thunder Washington, vocal & congas, Office of Facilitied Management and Reliability
Tim Bias, keyboard
Anthony Bryant, drums
Danielle Byrd, vocal
Mike Mason, bass guitar
James Proctor, guitar
Roderick Sermon, vocal
Bishop Young, lead guitar
In 2009 Gene Washington had the honor of performing at President Obama's first inauguration. He formed Thunder's Empire band in 2010. For the last six years, this group has performed at the Smithsonian Folklife Festival. Thunder's Empire has performed at a variety of events and locations such as: cabarets, weddings and parks in the D.C. metro area, including the former Channel Inn/Pier 7 restaurant. Thunder's Empire is here to entertain you with its poetic sounds of old school love ballads and sultry funk.
Colleagues

Posted: 12 July 2018