The impulse to innovate is the focus of an inventive new display
Human beings have been trying to build a better mousetrap since the first caveman caught the first field mouse stealing a scrap. A new display at the Smithsonian Castle highlights our restless spirit of invention.
Flimsy pop-corn poppers were apparently a problem in 1876, the year Herman Belmer received a patent for a popper with braces "imparting a stiffness or rigidity to the basket not obtainable by the constructions heretofore in vogue."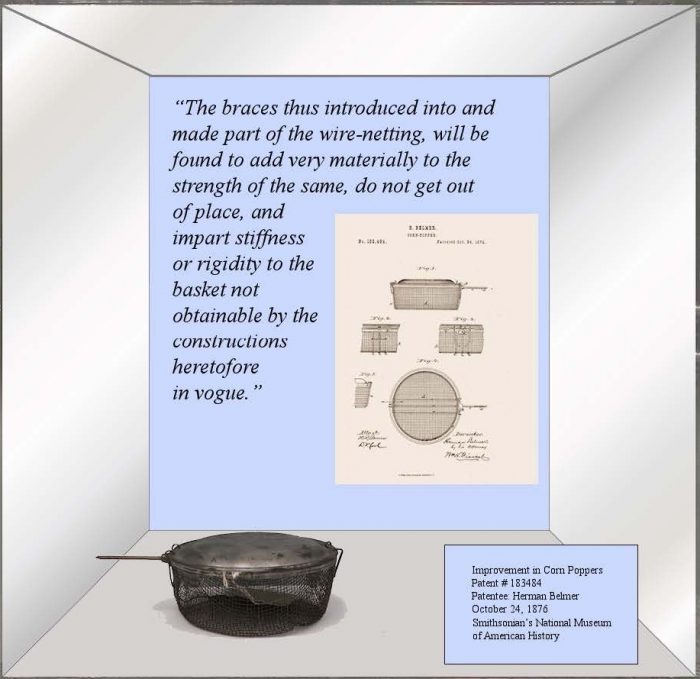 Smelly spittoons were addressed with a patent received by Liston Barguet in 1865 for a spittoon that could be readily cleaned, and thus kept free of the "disagreeable odors which lurk about the seams and crevasses of spittoons as usually made."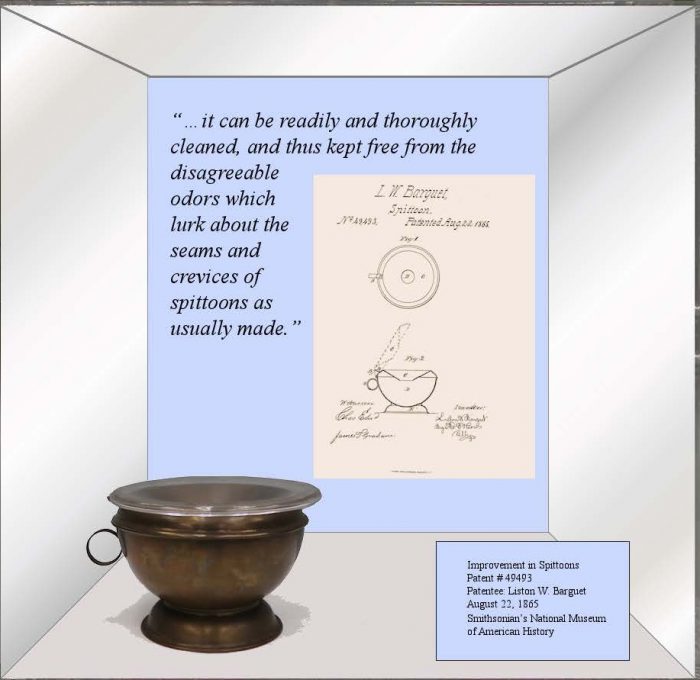 And those tired of thick or muddy coffee caused by "violent ebullition [boiling]" must have taken heart with the January 1865 coffee-pot patented by Marilla H. Curtis's "in which no coffee can possibly be burned."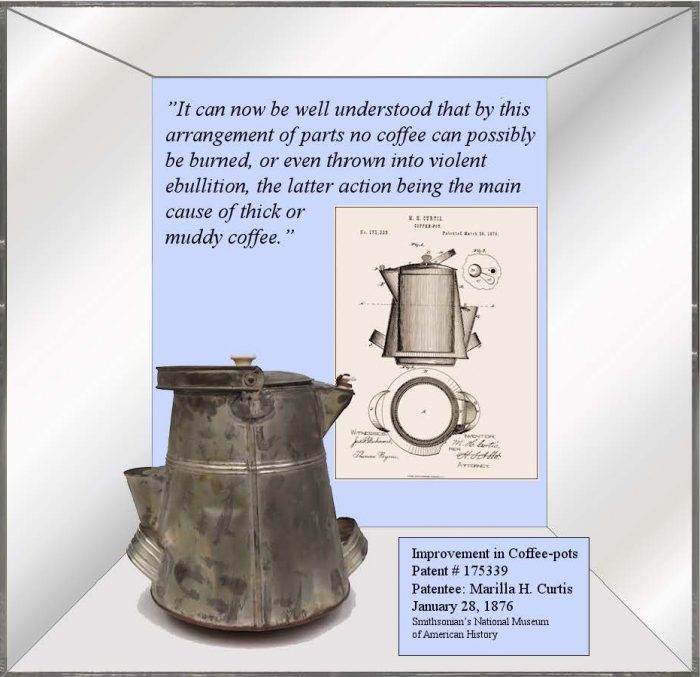 These and a few other 1800s domestic inventions on loan from the National Museum of American History's collection of some 10,000 patent models occupy a three-story vertical exhibit in the center of a spiral staircase just inside the east door of the Smithsonian Castle. Curator Rick Stamm, officially the "Keeper of the Castle," worked with the museum to select the models for the recently installed display.
"When the Smithsonian Secretary is entertaining or meeting with people from around the world," says Stamm, "this tower of patent models gives them a sense of just what the Smithsonian is all about.
"I knew I would not be able to secure the McCormick reaper or any big wow-factor items, so I chose domestic objects, which are interesting in their own right," Stamm continues.  "A lot of the patent options were technical, but the ones I chose were more fun."
The American History Museum holds more than 10,000 patent models, including Samuel Morse's electric telegraph, Thomas Edison's electric lamp, and Alexander Graham Bell's telephone. Other models—more obscure or fragile, such as Abraham Lincoln's patent related to river boats—are safely stored for posterity.
A significant part of Stamm's work is spent identifying, collecting and researching contemporary Castle-era objects and uncovering their fascinating stories.
During research for the patent tower, Stamm discovered an image of artist Andy Warhol on a spur-of-the-moment visit to the Castle in February 1977. Warhol apparently was drawn to a 1874 shoe-trimming patent model by Augustus C. Carey in an office and was captured by photographer Dale Hrabak as he studied it. Through research and cross-referencing, Stamm was able to work with NMAH staff to track down the actual patent model that so fascinated Warhol.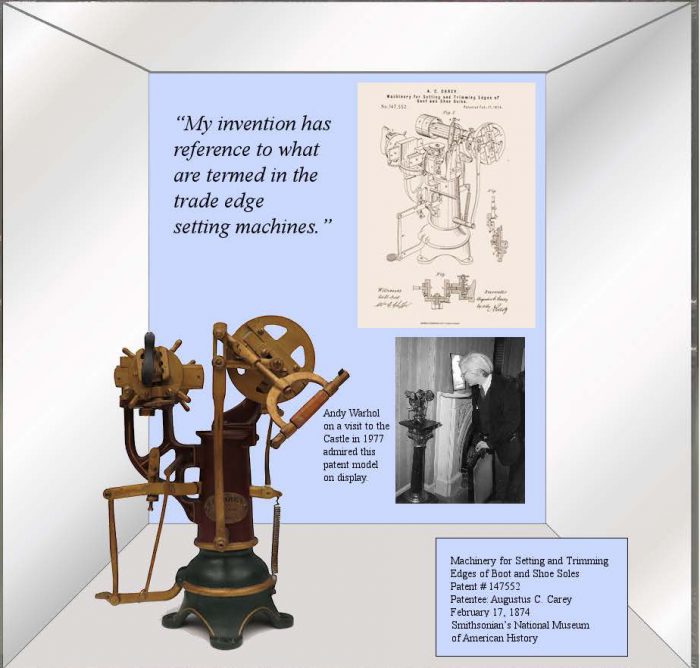 "What I didn't know is that Warhol was a shoe designer and decorator back in the 1950s, before his pop art career," Stamm says. "So I had to have that model."

In 1965, Smithsonian Secretary S. Dillon Ripley wanted the inside of the Castle to better reflect its historic exterior, so Ripley created the Castle's Collections Program which Stamm oversees. More than 3,500 objects are in the Castle Collection, including 19th-century furniture, furnishings and decorative art.

"People here actually sit at antique desks and on antique chairs as they work," Stamm says, gesturing down a narrow, carpeted hallway lined with framed artworks and stately furniture.

These historic buildings "all have collections, and they all have curators," Stamm says.  "It's about making each place special for visitors and guests."

An actively maintained collection of historic art and objects not only boosts employee morale, Stamm explains, but also helps imbue an institution's mission and convey it to visitors. Stamm represents the Smithsonian as part of an informal group of historians and curatorial staff from other federal buildings—including  the White House, the U.S. Department of the Interior, the Supreme Court and the U.S. Capitol—who meet periodically.

\With a background in arts education and graphic design, Stamm began his Smithsonian career as a gift shop designer in 1975 before going on to work in the Castle's conservation lab and as registrar before becoming the Castle curator. Stamm has been featured on television and is author of the 2012 book The Castle: An Illustrated History of the Smithsonian Building.

Stamm plays a central part in decisions related to any refurbishments, including everything from daily maintenance and repairs work to the major renovation of the historic building set to begin within the next decade.When doors need to be replaced or an alarm system installed, "we don't just allow workmen to start drilling," Stamm says.

"I am the curator of holes," he jokes, "because I'm always trying to find places that have already been drilled through," to avoid having to create new holes.

Completed in 1855, the Castle originally housed laboratories, a museum and lecture hall, and a residence for the Smithsonian Secretary and his family. The entire National Museum was housed in the Castle before specialized museums were built for the ever-growing Smithsonian collections.

"We call it the Castle," Stamm explains. "But that is really a misnomer. The intent was that the design would reflect that this is an educational institution."

Today, the Castle is not only home to the Smithsonian's Visitor Center, where visitors short on time can experience a sampling of each of the Smithsonian's museums, but it also serves as headquarters for the offices of the Smithsonian Secretary, the Under Secretaries, the Provost, and the Board of Regents, whose members include the Vice President of the United States, the Chief Justice, three Senators, three Congressmen, and seven citizen members. Approximately 200 other Smithsonian staff work in the Castle in the offices of Advancement, the General Counsel, Government Relations, Public Affairs, Visitor Services, Education, the Women's Committee and the Castle Collection.

To learn more about the Smithsonian Castle, and to see the patent tower and other special access highlights of the building, visitors can join free behind-the-scenes Castle tours offered weekly. To find out more visit: https://www.si.edu/Museums/smithsonian-institution-building.

In 2017, Richard Stamm and Steve Berry gave a tour and talked about the history of the Smithsonian Castle. The tour visited several spaces that are not open to the public, including a tunnel under the National Mall, a curator's office in the basement, and the Board of Regents meeting room. The areas visited are all featured in the historical novel The Lost Order by Mr. Berry, who is on the advisory board of Smithsonian Institution Libraries. Watch the video on C-Span.


Posted: 14 August 2018