ICYMI: Highlights from the week that was Sept. 30 – Oct. 6, 2018
No one can keep up with everything, so let us do it for you. We'll gather the top Smithsonian stories from across the country and around the world each week so you'll never be at a loss for conversation around the water cooler.

This week, we considered the implications of cultural appropriation, Latino representation and Guerrilla Girl confrontation.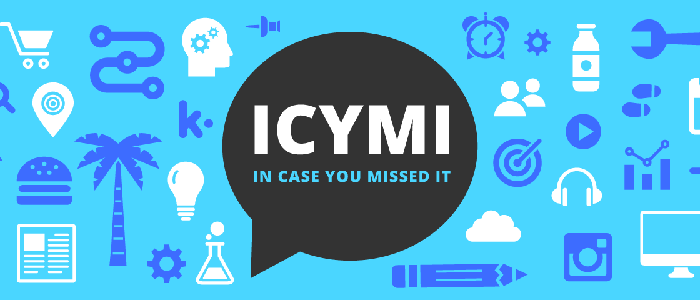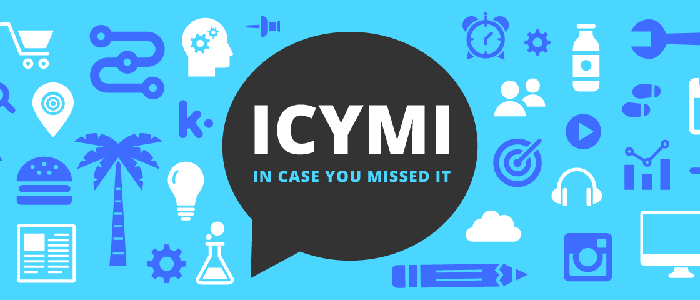 ---
Born into slavery in the eighteen-fifties and buried in a pauper's grave in 1949, the Alabama artist amazes today.
The New Yorker, October 8
Bill Traylor, the subject of a stunning retrospective at the Smithsonian American Art Museum, in Washington, D.C., "Between Worlds: The Art of Bill Traylor," was about twelve years a slave, from his birth, in Dallas County, Alabama, in 1853 or so, until Union cavalry swept through the cotton plantation where he was owned, in 1865. Sixty-four years later, in 1939, homeless on the streets of Montgomery, he became an extraordinary artist, making magnetically beautiful, dramatic, and utterly original drawings on found scraps of cardboard. He pencilled, and later began to paint, crisp silhouette figures of people and animals—feral-seeming dogs, ominous snakes, elegant birds, top-hatted men, fancily dressed women, ecstatic drinkers—either singly or in scenes of sometimes violent interaction. There were also hieratic abstractions of simple forms—such as a purple balloon shape above a black crossbar, a blue disk, and a red trapezoidal base—symmetrically arrayed and lurkingly animate. Traylor's style has about it both something very old, like prehistoric cave paintings, and something spanking new. Songlike rhythms, evoking the time's jazz and blues, and a feel for scale, in how the forms relate to the space that contains them, give majestic presence to even the smallest images. Traylor's pictures stamp themselves on your eye and mind. Read more from Peter Schjeldahl for The New Yorker.
---
A debate was sparked on Twitter when someone pointed out that the curator of the hip-hop archive at the National Museum of African American History and Culture is white.
NPR, September 29
Every now and again, we like to check in on controversies playing out on social media – not because they represent some careful scholarly debate, but rather because these controversies seemed to tap into wells of sentiment that exist but don't find expression anywhere else. So we wanted to talk about a debate that started with this tweet. Quote, "there is a white woman curating the hip-hop part of the NMAAHC Smithsonian" – lots of exclamation marks – who let this expletive happen," unquote.
Now, NMAAHC is the National Museum of African-American History and Culture, which opened with great fanfare in 2016 and has been wildly popular since. The hip-hop exhibit has been part of the museum since the outset. The reference is to curator Timothy Anne Burnside. And that tweet was met with many impassioned responses, both defending the curator's credentials and commitment but also those supporting the critique. And that sparked a much larger debate about who should have access to black spaces. Read the full transcript from NPR's "All Things Considered."
---
Nonprofit Quarterly (via the Washington Post), September 25

In 1994, a report from a Smithsonian-commissioned task force chaired by Raul Yzaguirre, executive director of the National Council of La Raza (now Unidos US) from 1974 to 2004, issued a report titled Willful Neglect: the Smithsonian Institution and US Latinos. At the time, the task force concluded that "the Institution almost entirely excludes and ignores [Latinxs] in nearly every aspect of its operations."
The Smithsonian Latino Center was found in 1997 to respond to the shortfall and promote Latinx contributions to arts, culture, and science. The Center "has been praised for its exhibitions and research, as well as its mentoring programs," notes Peggy McGlone in the Washington Post. This year, it won the Diversity, Equity, Accessibility and Inclusion award for institutions from the American Alliance of Museums. In granting its award, the museum trade association cited outreach efforts to Latinx scholars and students and acquisition of works by Latinx artists.Read more from Nonprofit Quarterly.
---
Newsweek, October 1
Certain invasive species could be helping combat climate change by storing "blue carbon," a study has found. These "ecosystem engineers" were found to boost a given ecosystem's potential to store carbon by growing bigger and faster than the native species they usurped. In some cases, ecosystems experienced a 117 percent boost in biomass and potential to store carbon.
A lot of research into carbon storage has focused on land-based biomass such as forests. However, the potential of coastal environments—like mangroves and salt marshes—is increasingly being looked at in relation to its role in climate change. "It has been established for some time that forests are excellent for carbon storage, but it is only in the last decade that coastal wetlands have been recognised as particularly good for carbon storage and sequestration," study author Grace Cott told Newsweek. Read more from hannah Osborne for Newsweek.
---
NBC4-Washington, October 1
Three Cheetah cubs are the latest whiskered felines to join the Smithsonian Conservation Biology Institute's family of wild cats.
Born Sept. 22, the three unnamed cubs were born to a first-time mother, Sukiri, at the SCBI's facility outside Front Royal, Virginia.
Sukiri has been an attentive and caring mother for the baby cheetahs, who have been monitored through cameras inside the cheetah den and through visual check-ins, staff said. They appear to be doing well.
"It is especially exciting to see Sukiri bonding with and successfully raising these cubs," cheetah biologist Adrienne Crosier said in a statement.Read more from Christian Paz for NBC4.
---
The feminist collective shows how to call out—or gloss over—accusations against an artist.
Artnet News, September 26
The Guerrilla Girls are setting out to help museums that are struggling with the fallout from #MeToo. Using Chuck Close's portrait of Bill Clinton as a case study, the anonymous feminist art collective has created wall labels to show the National Portrait Gallery in Washington, DC, and other institutions how to acknowledge an artist accused of sexual misconduct.
The Guerrilla Girl who goes by the name Kathe Kollwitz tells artnet News that they were in Washington, DC, last February and noticed that the official portrait of President Clinton was painted by Chuck Close: "One accused sexual predator painting another!" she says.
The collective saw this as a "great chance" to reimagine museums' responses to the #MeToo movement. "In every institution there is probably [a debate] going on right now, trying to figure it out." Kollwitz says. "We thought we'd help them." Read more from Javier Pes for Artnet News.
---
The Washington Post, October 3
Fans of the National Air and Space Museum have two months to visit favorite attractions before a massive renovation closes portions of the building.
Beginning Dec. 3, two galleries of the Smithsonian museum — one of the most visited museums in the world — will be closed for the start of a seven-year, $1 billion renovation. The entire building — with all new exhibitions and gallery displays — won't reopen until 2025.
The 42-year-old facility will remain partially open as work begins on the costliest project the Smithsonian has ever undertaken. Mechanical systems will be upgraded, the stone exterior replaced, the entrance on the Mall improved and 23 galleries and presentation spaces will be updated.
Many of the most popular attractions, such as the Spirit of St. Louis and the 1903 Wright Flyer, will remain on view for the first part of the project. Read more from Peggy McGlone for the Washington Post.
---
A new study evaluates Latino representation across the institution. One of the authors, Chon Noriega, discusses the results and why they are indicative of a widespread problem in the art world.
Hyperallergic, October 3
LOS ANGELES — On September 10, the Chicano Studies Research Center at the University of California, Los Angeles (UCLA) released a report forcefully titled "Invisible No More." The study, carried out with the UCLA Latino Politics and Policy Initiative, evaluates current Latino representation at the Smithsonian Institution, which, as you might have gleaned from the title, is not looking so good.
"Invisible No More" is a followup to a study originally carried about by the Smithsonian in 1994, when the institution's secretary, Robert McCormick Adams, appointed a task force to evaluate Latino representation across the world's largest museum complex, including its collections, programming, leadership positions, and budget allocations. While Adams wasn't too pleased with the study's title — "Willful Neglect" — he did not dispute its findings, which concluded that only 2.7% of employees at the institution were Latinos and none were in leadership or executive positions. Read more from Elisa Wouk Almino for Hyperallergic.
---
CNN, October 5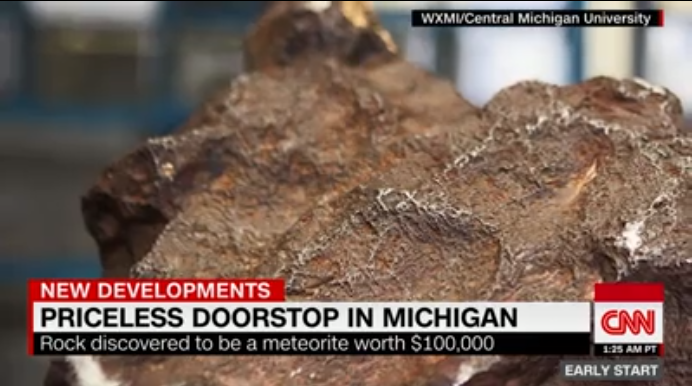 A 22-pound rock that has been propping open a door in Michigan for decades turns out to be a meteorite valued at $100,000, according to Central Michigan University.
Mona Sirbescu, a CMU geology professor, gets asked all the time by people to examine the rocks they bring her — but none ever turn out to be an official space rock.\
"For 18 years, the answer has been categorically 'no' — meteor wrongs, not meteorites," Sibescu said in a statement from CMU on Thursday.
But that all changed when she was asked to examine an oddly shaped large rock that a Michigan man, who didn't want to be named, had had in his possession for the last 30 years. Read more from Amanda Jackson for CNN.
---

Posted: 9 October 2018