ICYMI: Highlights from the week that was Dec. 9 – Dec. 15, 2018
No one can keep up with everything, so let us do it for you. We'll gather the top Smithsonian stories from across the country and around the world each week so you'll never be at a loss for conversation around the water cooler.

We celebrated man's achievement in reaching the moon and had a long conversation about the future of exploration, information and art in a digital age.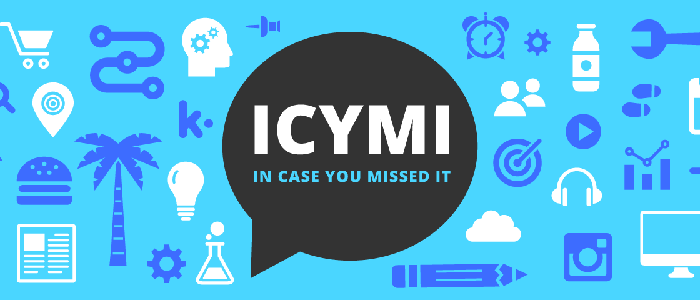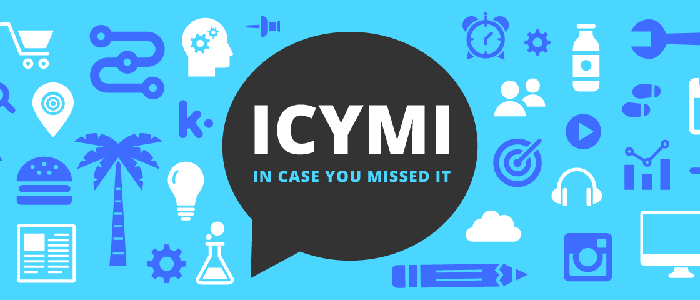 ---
"Latino history is American history, and we have a responsibility to reflect the stories and experiences of Latinas and Latinos in the U.S. today," said the Smithsonian Latino Center's director.
Hyperallergic, December 10
On Thursday, December 6, the Smithsonian announced that it will open its first-ever gallery devoted to Latinx experiences in the United States.
Opening in 2021 on the first floor of the National Museum of American History, the Molina Family Latino Gallery will include bilingual exhibits that detail the history and contributions of American Latinxs.
A first for the Smithsonian Institute's coterie of prestigious museums, the gallery will feature 4,500 square feet for an ambitious string of rotating exhibitions that will include first-person narratives, participatory experiences, and viewer-generated content. Read more from Zachary Small for Hyperallergic.
---
PBS NewsHour, December 10
The planet is becoming increasingly urban. As of 2007, more than half of the world's human population lived in cities. Today, it's almost 55 percent. As humans build and move into concrete jungles, other animals are joining them — and adjusting their behaviors along the way.
In a new study published Monday in Nature Ecology and Evolution, researchers in Panama City looked for changes in túngara frogs, inch-long amphibians known for their distinctive mating calls. They found that in the city, male calls were more elaborate and therefore more attractive to the female frogs — basically, city frogs could be described as sexier to potential mates. When placed back in the forest, city frogs reverted to less-showy songs, possibly because of the proximity of rural predators and parasites. Read more from Vicky Stein for PBS NewsHour. 
---
The bid to create a "global digital museum" has been welcomed by scientists, who say it will enable them to study valuable specimens that are currently "hidden" in museum drawers.
BBC News, December 9
Museums including London's Natural History Museum and the Smithsonian in Washington DC are involved.
They have set out ambitious plans to digitise millions of specimens.
Digitally recording the 40 million fossils at the Smithsonian will take an estimated 50 years.
But five years into the project, the team says it is "bringing dark data into the light" for crucial research. Read more from Victoria Gill for BBC News. 
---
The Washington Post, December 9
The Smithsonian was not kidding around when it dubbed its Friday event "The Long Conversation." Over the course of eight hours, more than 1,200 people flowed through the institution's Arts and Industries building to chat about their hopes for the future with big thinkers such as Librarian of Congress Carla Hayden, drag queen Sasha Velour, "The Daily Show's" Roy Wood Jr. and actress Alfre Woodard. Upon meeting sixth-grader and gun-control activist Naomi Wadler, whom the world first saw onstage at the March for Our Lives rally in Washington, Woodard had an "aha" moment. "I have things that make me optimistic about the future," Woodard said, "but right now, it's because I'm seeing and hearing you." Read more from Helena Andrews-Dyer for The Washington Post.
---
The Washington Post, December 10
For the first time in its 77-year history, the National Gallery of Art has chosen a woman as its next director.
Kaywin Feldman, 52, who has been director and president of the Minneapolis Institute of Art since 2008, will succeed Earl "Rusty" Powell III, who is retiring after 26 years.
She is credited with doubling the Minneapolis museum's attendance, improving its digital reach and strengthening its connection to the community through initiatives on equity and social justice. Read more from Peggy McGLone for The Washington Post.
---
NPR, December 9
Trevor Paglen writes the kinds of books that get you into weird conversations with strangers. He takes the kinds of pictures that are slightly unnerving until you read the title card, and then it becomes a regular amount of unnerving.
He also just sent a giant inflatable mirror up into space.
That last one is just the latest art piece in a career all about being watched by things you can't see.
It's a topic that's interested Paglen since the early 2000s. He was thinking about the growth of the private prison system — how prisons used to be big, visible structures inside cities, and how they were now more often built in remote areas. Out of sight, out of mind. Read more and listen to the radio version of this story from NPR.
---
African American Museum will continue to phase out timed passes at off-peak times\
The Washington Post, December 12
The National Museum of African American History and Culture has announced a new visitor policy for 2019 that will continue to phase out timed passes during less busy periods.
Peak season will run from March through August, and off-peak will run from September through February, officials said. During peak season, visitors entering before 1 p.m. daily and all day Saturday and Sunday will need a pass. During off-peak season, visitors will not need timed passes for entry on weekdays. Passes will still be required on weekends.Read more from Peggy McGlone for The Washington Post.
---
Pew Research Center, December 10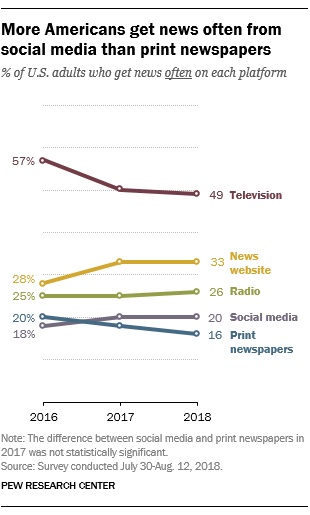 Social media sites have surpassed print newspapers as a news source for Americans: One-in-five U.S. adults say they often get news via social media, slightly higher than the share who often do so from print newspapers (16%) for the first time since Pew Research Center began asking these questions. In 2017, the portion who got news via social media was about equal to the portion who got news from print newspapers.
Social media's small edge over print emerged after years of steady declines in newspaper circulation and modest increases in the portion of Americans who use social media, according to a Pew Research Center survey conducted earlier this year. Read more from Elisa Shearer for the Pew Research Center.
---
Billboard, December 12
The power of music as a unifying force — through struggles for fairness, spiritual quests, human celebrations and global political movements — is the theme of an ambitious new boxed set, The Social Power of Music, set for release early next year from Smithsonian Folkways Recordings.
While the compilation consists of historical tracks, the themes in the songs have gained new relevance amid current world events. Paul Robeson's rendition of the union organizing classic "Joe Hill" resounds in a new era of resistance. The Italian folk song "Bella Ciao" speaks against the rise of right-wing leaders in Europe. Peggy Seeger's "Reclaim the Night" anticipated the #metoo movement. And the plight of immigrants and refugees has never been more compassionately conveyed than in Woody Guthrie's "Deportees (Plane Wreck at Los Gatos)," performed below by Sammy Walker. Read more from Thom Duffy for Billboard. 
---
Inspired by his one-man show, Latin History for Morons, the comedian recommends three books that challenge one-sided narratives of the past.
The Atlantic, December 8
ohn Leguizamo is on a mission to teach, as he might put it, "Latin history for morons." So far, it's going well: His one-man show with that same title was nominated for a 2018 Tony Award and released in November as a Netflix special. But the impetus for this educational pursuit didn't come until a few years ago, when Leguizamo found that his teenage son was being bullied and ostracized because of his race.
"I wanted to give my son the verbal ammunition to defend himself," Leguizamo said at the Smithsonian's American Ingenuity Awards Wednesday evening, where he was an awardee. Rather than resorting to physical violence—"the lowest form of communication," he said—Leguizamo wanted his son to "weaponize his knowledge" so that he would be equipped to respond to bullies and feel proud of his heritage. But as Leguizamo sought to teach his son more about the contributions and impact of Latinx people, he realized just how ignorant he was himself. Read more from J. Clara Chan for The Atlantic.
---
Henry, a 4-year-old red panda, died on Dec. 5.
NBC4-Washington, December 13
Officials at the Smithsonian Conservation Biology Institute are trying to figure out what caused the sudden death of a red panda at its facility.
Henry, a 4-year-old red panda, died on Dec. 5, the Smithsonian National Zoo announced Wednesday.
The red panda had been in good health before his death, officials say. There were also no signs of trauma or injury.
Red pandas typically live eight to 10 years in the wild. Red pandas who live in captivity have a life expectancy of 16 years or more. Read more from Erica Jones for NBC-4.
---
Fox 5 (Washington), December 12
The Smithsonian National Zoo is getting a new little critter. And while he may not be the fuzziest of animals at the zoo, prehensile-tailed porcupine Quillbur will help bring new little bundles of pointy joy to the zoo.
"We would describe him as terrific and radiant!" said the National Zoo on their Facebook post on Monday.
They say Quillbur's new home is within the Small Mammal House of the zoo, where he is the new male addition to the prehensile-tailed porcupine family. Read the full story from Fox 5.
---
Space.com, December 12
Standing beneath a stained glass window embedded with a piece of the moon, Jim Lovell recalled his journey into lunar orbit 50 years ago.
"In this cathedral, my world exists within these walls," said Lovell. "But seeing the Earth at 240,000 miles, my world suddenly expanded to infinity."
The Apollo 8 astronaut, who in December 1968 launched on the first mission to fly humans to the moon, spoke at Washington National Cathedral on Tuesday evening (Dec. 11), reflecting on his flight's 50th anniversary at a public event billed by the Smithsonian as "The Spirit of Apollo." [Moon Memories: Thousands of Apollo Photos Released Online] Read more from Robert Z. Pearlman for Space.com
---
WAMU-Radio, December 13
To anyone who harbors the dream of becoming an astronaut or pilot, the Udvar-Hazy Center in Chantilly, Virginia is heaven on earth.
The 760,000 square-foot facility — a companion site to the Smithsonian National Air and Space Museum on the National Mall — is packed to the gills with aircraft and spacecraft. It celebrates its 15th anniversary on Saturday with a day of presentations, concerts and film screenings.
The free event runs from 10:00 a.m. to 3:00 p.m., and parking will be free throughout. View the full schedule of events here. Read more from Mikaela LeFrak for WAMU.
---
Architectural Record, December 14

The Road Ahead: Reimagining Mobility, a new exhibit at the Cooper Hewitt, Smithsonian Design Museum in New York, is a meticulously curated survey of the state of the street and where it might be headed. "We're trying to bring together many of the different conversations and topics being addressed by disparate industries and designers, so that citizens can wrap their heads around what's happening and have a say in it," says Cara McCarty, curatorial director at Cooper Hewitt and co-organizer of The Road Ahead. "We are at an inflection point, not unlike the turn of the 20th century, when there was a rapid shift from horse-and-buggy to the automobile." Read more from Dante A. Ciampaglia for the Architectural Record.


Posted: 16 December 2018