An alliance for everyone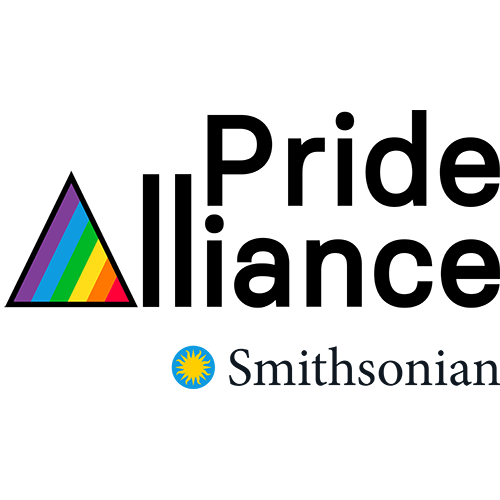 Smithsonian Pride Alliance is the new name for GLOBE, the Institution's active, vibrant lesbian, gay, bisexual, transgender, and queer (LGBTQ+) employee group. Smithsonian Pride Alliance provides support and guidance to staff, interns, volunteers, researchers, contractors, and visiting faculty. With a 40 year+ history, Pride Alliance members guide the Institution through the issues of homophobia and transphobia, including violence, discrimination, and visibility of all people of non-conforming sexualities and genders. Pride Alliance members come from every museum and unit, and not just those who identify as LGBTQ+ but allies too. We have lots of dreams and ideas to make sure LGBTQ+ people at Smithsonian are properly represented and acknowledged in our collections, in our research, and with the awesome staff that make it all happen.
This year we changed our name from GLOBE to Pride Alliance after an extensive selection and voting process. The GLOBE acronym (Gay, Lesbian, or Bisexual Employees) ignored the many sexualities and gender identities represented at Smithsonian and by our visitors. It was time for a change.
Interested in becoming part of Smithsonian Pride Alliance?
Joining Pride Alliance requires no application, no test, and no fees – you're almost a member right now! Sign up for our mailing list and join our Facebook group and you will be in-the-know. Pride Alliance hosts/co-hosts events throughout the Institution year-round, with a tremendous amount of activities in May and June for LGBTQ+ Pride Month.
Join the Pride Alliance Mailing List
Join the Pride Alliance Facebook Group
June is LGBTQ+ Pride Month
This year, Smithsonian Pride Alliance is participating in both DC Capital Pride and for the first time NYC Pride|WorldPride. We will have a contingent in the march, and a booth at the festival in both cities. Everyone is welcome! Join the mailing list and/or Facebook group for all the details.

Pride Alliance has also published a Pride Guide with events happening around the Institution. You can find a printable PDF version here.

For more information about Smithsonian Pride Alliance please email PrideAlliance@si.edu or contact Todd Doane, Chair, at x34337 (VoIP). 202-633-4337 (non-VoIP), or DoaneT@si.edu


Posted: 3 June 2019