Emily is Key to the success of the Latino Center's outreach
One-time aspiring astronaut Emily Key today help mentors the rising stars of the Smithsonian Latino Center's Young Ambassador's Program.
Twenty years ago, when 19-year-old Emily Key began a work/study position at the Air and Space Museum, she figured it was just a stop along the way to a seat in a rocket on the launchpad. "I wanted to be an astronaut," she says from a hotel room in Los Angeles..
After attaining her degree in International Affairs and Latin American Studies at George Washington University–all the while working nearly full-time as a bilingual explainer at NASM–Key's career path pivoted: she accepted a job at an immigration law firm.
Yet it didn't take long before she realized how "isolating" the work was, especially after the high-energy whirl of visitors on the floor of the museum. She became nostalgic for the questions about rockets and jets visitors peppered her with every weekend, for the thrill of witnessing firsthand the 'diffusion of knowledge.' And "I missed seeing the spark in kids' eyes."
After confiding in her old boss at the museum about her dissatisfaction with her legal job, the person suggested she volunteer to keep her hand in the museum world. When she landed a contract to develop a Spanish-language program about the Apollo moon program, she left the firm.
Key went on to log three years at Air and Space and lots of weekends at the Ripley Center's International Gallery before joining the Smithsonian Latino Center 14 years ago, a change she likens to moving from a large corporation to a start-up.
Coming to the Latino Center "merged my interest in Latin American studies and museum work," says Key, who currently directs SLC's education programs. In that capacity, she oversees myriad projects, such as the Young Ambassadors Program, which she calls "a gateway between Latino communities across the country and the Smithsonian." Through YAP, which Key helped launch in 2006, young people of Latino heritage come to Washington, D.C., for programming around cultural identity, using Smithsonian resources to explore everything from their Latino heritage and culture to a wide range of possible career paths inside and outside of the museum world.
"After they leave D.C., they go back to their home communities for a four-week paid internship," she says. Once that's finished, they are officially members of YAP's active alumni network, which provides additional networking opportunities.
"It's not just a summer experience that is fun and cool, but something transformational," says Key, who was in Los Angeles for a reunion of YAP alums, the oldest of whom are now in their 30s. "We stay with them through college and beyond." To date, about 300 young people have participated in YAP.
Key also leads !DESCUBRA!, a family-oriented program that builds science skills in youth and showcases Latinx scientists at the Institution and at Affiliate sites around the US, and which often taps the expertise of former YAs to implement programming.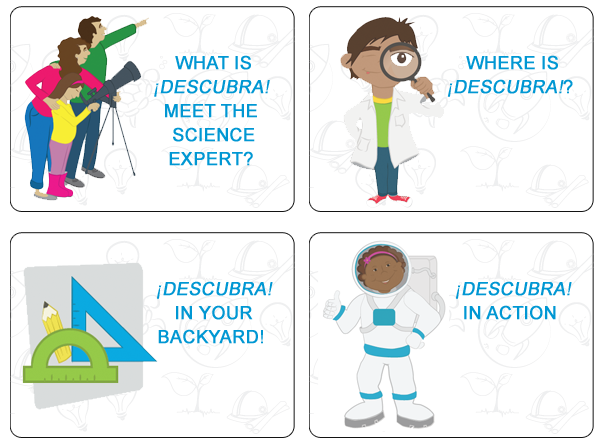 In addition, she is working on two books. One will about the forthcoming Molina Family Latino Gallery, whose physical and online galleries are slated to open at the American History Museum in 2021. The first gallery space at the Latino Center, the Molina Gallery will be dedicated to celebrating the American Latino experience in 4,500 square feet of bilingual multimedia activities and first-person narratives. That book, slated for 2021 delivery, will mirror the content of Gallery's inaugural exhibition, !Presente! A Latino History of the United States.

The other, due in 2020 from Smithsonian Enterprises and Running Press and aimed at middle-grade readers, is a compilation of profiles of 30 prominent Latinos and their contributions to America's scientific, cultural, artistic and public life.

"I have never done children's publishing before," laughs Key. "One of the great privileges of working for the Smithsonian is that you get to continue to grow and learn as a professional."

That, and seeing young people's lives transformed by museums, as her own has been.

"The most satisfying part of all this is seeing [the Young Ambassadors] grow personally and professionally," she explains.


Posted: 31 July 2019