ICYMI: Highlights from the week that was June 23 – June 29, 2019
No one can keep up with everything, so let us do it for you. We'll gather the top Smithsonian stories from across the country and around the world each week so you'll never be at a loss for conversation around the water cooler.

This week we saw how both music and protest have the power to shape society.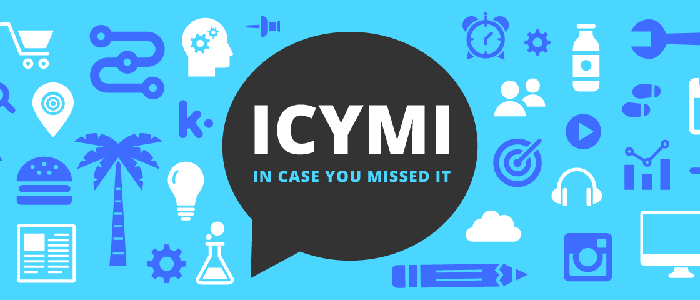 ---
Art and Design
The Washington Post, June 27
Where other people see desolation, artist Ginny Ruffner sees hope. That was true in 1991, when she was in a car accident and told she'd never walk or talk again, and it's true today when she hears dire warnings about impending environmental calamities.
"I've found that many young people are really nihilistic, really believe in that dystopian future. That's just not me," says Ruffner, 67, who managed to reclaim her abilities to walk and talk and — most important — to create art. "I wanted to put out that, in every kind of trauma or horrible incident, there's always some hope, there's always something good. So I thought, 'How can I roll this all together into something visual?'" Read more from the Washington Post.
---
History, Culture and Education
WAMU-American University Radio, June 26
Every year, the Smithsonian Folklife Festival brings music, art, performance and food from around the world to the National Mall. This year they're focusing on the theme of "The Social Power of Music," celebrating the different ways music entertains and educates people, helps them strengthen their identities and builds community.
We check in with some of the people organizing, curating and performing at the Smithsonian Folklife Festival. We'll hear about how local music like punk and go-go fits in and find out why this year's festival is shorter than in years past. Listen to the program or read the transcript.
---
The Washington Post, June 26
The theme of this year's Smithsonian Folklife Festival, the social power of music, conjures thoughts of politically charged protest songs such as "We Shall Overcome" or "Spirits of the Revolution." These are the songs people sing as they're fighting for their rights or standing up for what they believe in. And certainly they're one example of the way music can influence society, says festival director Sabrina Motley, but there are far more dimensions to the festival theme. Read more from The Washington Post's Express.
---
WAMU-American University Radio
No Catalonian human towers, circus performers or Peruvian cooking demonstrations will grace the National Mall during this weekend's Folklife Festival. While the festival typically highlights global cultures and customs, this year's event will have an uncharacteristically local focus: D.C.'s music scene.
The Smithsonian's annual festival has been compressed down from 10 days to two this year, due to planning and funding delays caused by the 35-day government shutdown in the winter. Its theme — the social power of music — remains the same, but instead of highlighting Benin, Brazil and the southern United States, it will focus on music from the Washington region. (The other locations have been pushed to next year.) Read more or listen to the program from WAMU.
---
The New York Post, June 21
The Stonewall Inn uprising was 50 years ago this week, but Mark Segal, 68, remembers a lot about his time there in the early hours of June 28, 1969. That was the night when the NYPD raided the gay bar, leading to four days of unrest in Greenwich Village.
He especially recalls a personal shift when he was able to join the percolating crowd outside on Christopher Street.
"Something switched in me that night. In the midst of the chaos and circus, I thought, 'This is what I will be doing the rest of my life,' " he tells The Post. "That's what Stonewall represents to me."
His recollections are part of a one-hour documentary, "Smithsonian Time Capsule: Beyond Stonewall," that traces historical moments in LGBTQ life, culture and the fight for civil rights. They include the story of mid-1800s gender-bending actress Charlotte Cushman — termed "the Meryl Streep of her day" — and the 1998 premiere of "Will & Grace." The 1915 arrest and three-year imprisonment of a Pennsylvania man on the charge of "sodomy" contrasts with the coming-out of now-retired Brooklyn Nets player Jason Collins in 2013. And the horrifying 1998 murder of Matthew Shepard in Casper, Wyoming, becomes a poignant bookend when he is laid to rest 20 years later during an emotional service at Washington's National Cathedral. Viewers will likely get as choked-up as the Rev. V. Gene Robinson — the first openly gay bishop in the Episcopal church — does when he is barely able to say, "Matt, welcome home."Read more from the New York Post. 
---
The show, featured in the new documentary "Beyond Stonewall," includes mementos from the first-ever Pride event.
Logo.NewNowNext, June 24
On June 21, the Smithsonian Institute's National Museum of American History in Washington, D.C., debuted its yearlong exhibit "Illegal to Be You: Gay History Beyond Stonewall." The show, which is profiled in the new Smithsonian Channel documentary Smithsonian Time Capsule: Beyond Stonewall (premiering June 24 at 8 p.m. ET), spans more than 150 years of LGBTQ American history, the items on display holding special significance since many artifacts from that history have been lost forever. Read more from Logo.
---
Billboard, June 24
Director of Smithsonian Folkways Huib Schippers describes his mission statement simply. "We make sure the history of American sound is not getting lost," he explains. "A lot of the visionary founders from the 1940s and 1950s are approaching the end of their working life cycles and it's left to their children."
One such label is Stinson Records. Initially founded in 1939, Stinson hit a cultural apex during World War II when it teamed up with Asch Records and regularly recorded and released a litany of songs that make up the foundation of American music, the most notable courtesy of folk icons like Woody Guthrie and Lead Belly. While Stinson hasn't issued a release since the 1990s, the label's deep catalog and resulting masters have been split up over the intervening decades. But in May, after a process that's taken approximately 30 years, Smithsonian Folkways — the nonprofit record label owned by the Smithsonian Institute — announced it had acquired the entire Stinson catalog with an eye towards preserving it in perpetuity. Read more from Billboard.
---
Science and technology
A new race could be heating up to claim valuable moon terrain amid uncertain laws
Scientific American, July 2019
A grainy black-and-white image plays across the screen in one of Bob Richards's earliest memories—spacesuits, a lander and astronauts Neil Armstrong and Buzz Aldrin taking their historic first steps across the lunar surface. Richards, who was barely out of his toddler years at the time, recalls sitting in his family living room north of Toronto while his dad futzed with the rabbit-ear antenna, trying to improve the broadcast streaming over from Buffalo, N.Y. "Apollo 11 was a defining moment for humanity," says the founder and CEO of Moon Express, a company that hopes to sell transportation to our natural satellite and eventually mine materials there. "The inspiration of Apollo is very prominent in what's happening today in space." Read more from Scientific American. 
Secretary Bunch
Chicago Sun-Times, June 23
His grandparents were sharecroppers on the same plantation outside Raleigh, N.C., where his great- and great-great-grandparents had been slaves.
But last week, their great-grandson became the first African American secretary of the world-renowned Smithsonian Institution, chosen to oversee 19 of the world's top museums.
That great-grandson, Lonnie Bunch, the former head of the Chicago Historical Society here, returned to his Chicago roots Friday to give the commencement address at Northwestern University — four days after his historic installation as the Smithsonian's 14th secretary. Read more from the Chicago Sun-Times. 
---
Various Subjects
The Washington Post, June 27
If you're among the many who saw the craziness around the opening of the National Museum of African American History and Culture and thought, "Maybe I'll wait until the crowds are a little thinner," I have good news and bad. The good: As the museum approaches its third birthday, it's not the sardine can it was during its first year. The bad: It's still insanely crowded, especially during prime hours.
I'm a little surprised the museum still feels so packed. Don't get me wrong — it's a fantastic museum, more than worthy of all the buzz. But it's also a big museum, with 105,000 square feet of exhibit space and 517,198 visitors during the first four months of this year. Compare that with the National Portrait Gallery, which has considerably less exhibit space (57,000 square feet) and more visitors (553,116 in the same four months) — and no timed tickets or long lines. Read more from the Washington Post's Express. 
---
What happens when changing technologies render once-avant-garde works of art outdated? See how a growing group of conservators is trying to keep art alive.
Popular Mechanics, June 24
For the 100 years it's been in operation, the Butler Institute of American Art in Youngstown, Ohio has been a repository for artwork by American masters, from preeminent 19th-century painters like Winslow Homer, to 20th-century realists like Edward Hopper and George Bellows, to pop artists like Andy Warhol and Roy Lichtenstein.
So in 2000, when the museum opened its Beecher Center for Electronic Arts—the first American museum dedicated solely to new media—it hoped to be a similar storehouse for modern artists. Among the works on display: holograms from Jonathan Ross, lightpaintings from Stephen Knapp, and a sculpture by Nam June Paik, considered by many to be the father of video art. Read more from Popular Mechanics.
---
As the protests of funding add up, they pose difficult questions about the art system as a whole.

ArtNet News, June 25

In the popular imagination, calling someone a "modern Medici" is a synonym for "visionary patron of the arts." That association itself shows how much good PR art patronage buys you.

You don't think "the Pope's banker." You don't think "hated oligarch. Read more from ArtNetNews.


Posted: 1 July 2019