COVID-19 Update: Should I be quarantined for COVID-19?

While it is difficult to get tested for COVID-19, we will accept a positive COVID-19 test result OR a note from a provider which states that the employee has COVID-19 as confirmation of a positive case. This will ensure that, while testing is extremely difficult to get, we are still performing appropriate follow-up actions to protect our community. Please see below the current terminology for what makes a case, primary contact, and secondary contact.
With thanks,
Anne McDonough MD MPH
Smithsonian Medical Officer
Public Health Emergency Officer
COVID-19 Response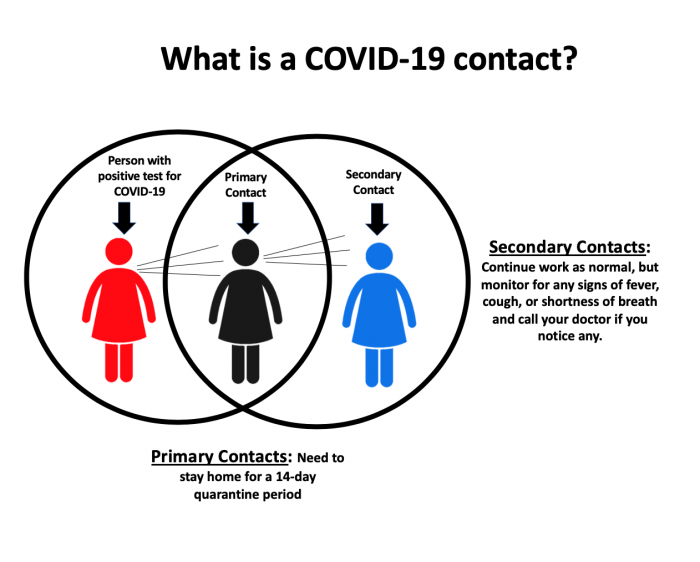 Primary Contact
A primary contact is someone who has been in close proximity to someone who is confirmed (by a test result OR diagnosed by their doctor (in writing)) to have COVID-19. What does close proximity mean? It means being in the same room or air space for at least 2 hours or being face to face with the positive person for at least 15 minutes. Primary contacts are usually identified by the Public Health Department in their state and primary contacts will be given guidance to stay home and quarantine for 14 days (to see if any symptoms of COVID-19 arise).
The Smithsonian response to primary contacts:  The Smithsonian follows state and federal public health guidance concerning primary contacts. People who are determined to be a primary contact will need to stay home for 14 days and telework, if able. Alternative leave options are available if the employee is not able to telework.
Secondary Contact
A secondary contact is someone who has had prolonged contact with a Primary Contact. This means you interacted with a person who had contact with a person who has COVID-19, but you did not directly interact with the person who has COVID-19 (see the infographic). At this time, secondary contacts are not subject to quarantine, but it is recommended that they keep an eye out for any illness symptoms (fever, cough, shortness of breath), and call their doctor to discuss if further tests or evaluation are needed.
The Smithsonian response to secondary contacts: Employees who have had secondary contacts are expected to be at work for their normal work schedule. If anything about their exposure to a primary contact changes or if they start to have signs of illness, we recommend they contact SI-Coronavirusinfo@si.edu for further recommendations. 
Confirmed COVID-19 case
A confirmed case of COVID-19, at this time, is a person who has been diagnosed (by testing OR diagnosed by their doctor (in writing)) with the disease. It is recommended, by their state health department, they isolate themselves at home for the length of their illness unless they are sick enough to require hospitalization. Public health departments will do an investigation around each person with Confirmed COVID-19 to determine their primary contacts.
The Smithsonian response to confirmed COVID-19 case: Smithsonian wants staff with confirmed cases of COVID-19 to use their sick leave or alternative leave options for the duration of their illness. Smithsonian will also work with public health departments to make contact with people who are identified to be primary contacts and will follow SI Primary Contact guidance.
The undiagnosed ill employee
At this time of year, there are various respiratory illnesses going around, including influenza and other viruses in addition to COVID-19. Someone with a respiratory illness may or may not be tested for COVID-19 by their doctor. This person is not subject to any recommendations from public health (except, as always, to stay home if sick).

The Smithsonian response to ill employees: Until a person is diagnosed with COVID-19 (by a lab test or by a doctor in writing), Smithsonian is following normal sick person guidance. We recommend they stay home if they are sick and to consult with their private doctor. We do NOT do contact investigations around people who are sick (and haven't been diagnosed with COVID-19) or recommend enhanced cleaning.

For more information, please visit this website. If you have questions, email SI-coronavirusinfo@si.edu.  


Posted: 18 March 2020