Even National Geographic takes advice from Smithsonian Gardens
Plant therapy is the perfect panacea for a pandemic.
The pandemic has changed many things, even made us rethink our hobbies or reimagine how to complete our work. Staying entertained, finding joy, and building a sense of normalcy requires a bit of effort. But good ideas abound, and thanks to two of our Smithsonian Gardens horticulturists, many more people have learned great tips about how to keep their kids (or themselves) entertained and educated while also helping them cultivate a love of plants.
Quoting SF's very own Shannon Hill and Alexandra Thompson, National Geographic Family published Missing nature? Have your kids grow an eco-friendly indoor garden in late January on the many ways to get young people involved in gardening. Hill and Thompson, both lifelong houseplant lovers and mothers to young children, were just the people to work with National Geographic on this article.
But how does one grow from a child admiring a houseplant at her grandmother's house to working at the Smithsonian? And what does a horticulturalist at the Smithsonian do, especially during a pandemic that requires staying at home?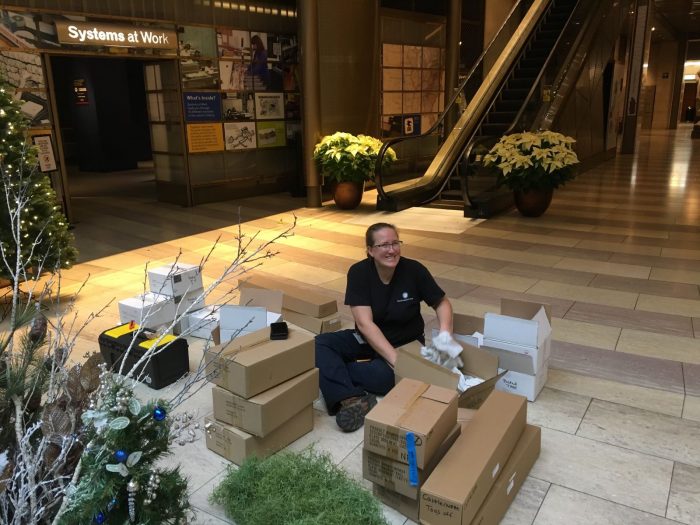 For Hill, she first loved plants because the people she loved valued plants – from flowering houseplants to vegetable gardens that could provide nourishment. As a child, that love of plants extended to more living things and she set her eyes on becoming a veterinarian, going as far as first majoring in Animal Poultry Sciences at Virginia Tech. But soon she found the Horticulture department and set her life on a different path.
Her childhood fascination with her grandmother's African violets grew to a love all houseplants, one she never lost, even when she aspired to be a vet. Now she gets to work with houseplants every day at the Smithsonian Gardens Greenhouse Facility where she cares for the plants being grown for the interior spaces of our museums.
In addition to cultivating plants for the museums or propagating plants for the outdoor spaces, Hill acts as the Greenhouse Volunteer Coordinator. The pandemic has made all of this a bit trickier (to put it mildly) as volunteers aren't able to be on site. Hill has switched to meeting with them remotely, but gardening is an active thing that requires getting your hands dirty. While technology has kept them connected, everyone is anxious to get back to what they love doing.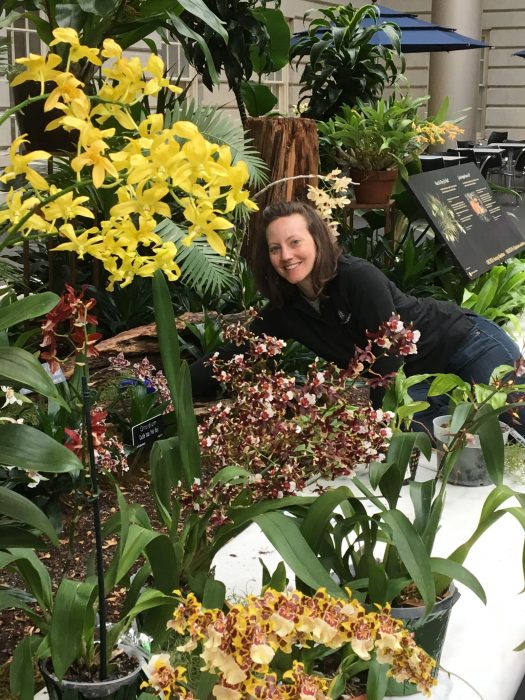 Teleworking isn't something a horticulturalist usually does (see above about getting your hands dirty). Hill has taken advantage of the time in front of a computer to do the mundane tasks like catching up on paperwork, but has also been able to focus more energy on education, outreach, and social media. This means that even while people can't see the plants she's cared for in person, Hill's work still has a large reach and can continue to inspire.
The same goes for Thompson. On any given day before the pandemic, you'd find her maintaining the plants and working on their exhibits inside of the museums. She might be busy in the National Museum of American History, trekking over to the Anacostia Community Museum, or working to bring the outdoors inside to the subterranean Ripley Center.
But now the museums are closed and she's focusing her energy on inventorying holiday decorations or maintaining various Teams sites to keep everyone organized. Thompson has also had time to coordinate social media posts for the Greenhouse and support SG's Education Department to ensure the Interiors and the Greenhouse sections of SG are well-represented on the website. The work of SG continues, even when their staff are far removed from the plants they care for.
Thompson took a more direct path to SG than Hill. It has been a part of her life for almost as long as she can remember. When Thompson was a child, her mother was a botanist who contracted for what is now SG. This means Thompson has spent her entire life around plants, developing a deep appreciation for not just the natural world (she was an Environmental Science major), but also the career she could build.
She had a couple internships with SG in college and quickly added plant science classes to her schedule with the goal of working permanently for SG in mind. As she continued her education, Thompson applied for openings and was hired as the Horticulturist for the brand new Butterfly Pavilion (while still finishing her Master's degree). The rest, as they say, is history.
Now, a year into Smithsonian's pandemic response, Hill and Thompson are busier than ever. Their shift to supporting outreach and education endeavors has raised SG's profile and highlighted all the work the staff does day in and day out. With their involvement with the National Geographic article, not only will parents around the country learn more about how to keep their children entertained, but maybe they will have inspired other children to fall in love with plants the way they have. Who knows, maybe someday we'll see those same children at the Smithsonian sharing their passion with our visitors.
Want to learn more about creating your own indoor garden? Shannon and Alexandra tell you how in Houseplants Are Like Potato Chips.
---
Andrea Martin is a Communications Specialist for the Office of Facilities Management and Reliability. She originally posted this article on Facilities' Prism website.


Posted: 1 March 2021