Ronald Cortez named new Under Secretary for Administration
A strategic leader with 26 years of experience, Cortez will join the Smithsonian December 6.
Smithsonian Secretary Lonnie Bunch announced today that Ronald Cortez has been named the Smithsonian's Under Secretary for Administration, effective December 6. A strategic leader in higher education and local government, Cortez brings 26 years of administrative experience to the role.
As Under Secretary for Administration, Cortez will be responsible for the Smithsonian's management and operations functions supporting the Smithsonian's 21 museums, including the two new museums in development—the National Museum of the American Latino and the Smithsonian American Women's History Museum, as well as the National Zoological Park, education centers, research facilities, and multiple cultural centers and libraries. He will oversee over 2,000 employees specializing in human and financial resources; information technology; procurement; planning; facilities operations, maintenance and capital programs; health and safety; security; and more.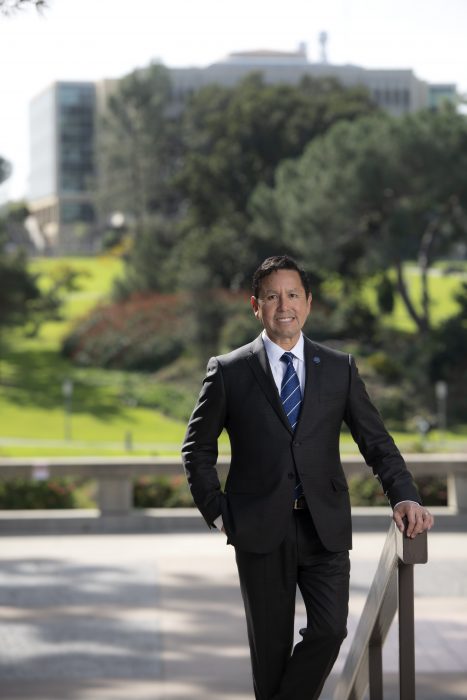 Cortez currently serves as chief financial officer and vice-chancellor of finance and administration at the University of California, Irvine (UCI). Since 2017, he has overseen the university's $3.5 billion operating budget and a $3 billion capital expenditure budget. At UCI, he created a financial strategy to successfully navigate the pandemic and maintain full employment. He also developed the financial and construction aspects of the UCI Medical Center Irvine and the expansion of UCI's Health Sciences campus, and significantly improved customer service throughout the campus. In recognition of his contributions to UCI, Cortez was honored with the Orange County Business Journal CFO of the Year Award in the not-for-profit category in 2020.

Cortez previously worked at San Francisco State University as chief financial officer and vice president of administration and finance and as associate vice-chancellor for the University of California, Santa Barbara. Before his career in higher education, Ron provided strategic leadership at the County of Santa Barbara as deputy county executive officer and director of general services.

Cortez holds a juris doctor from Santa Barbara College of Law, master of arts degrees in organizational management from the Fielding Graduate University and in public administration from Northern Michigan University, and a bachelor of science degree from San Jose State University.

Ron Cortez succeeds Michael McCarthy, who served as Under Secretary for Administration until May 2021. "I would like to give my special thanks to Doug Hall, Mike McCarthy's Acting Deputy Under Secretary for Administration, who stepped up to serve as acting Under Secretary during the interim period," said Bunch. "Doug has done an exceptional job stewarding the many important functions performed by Administration staff and he has been a key member of the senior team. We are especially thankful for his continuing leadership as the head of the COVID response team. Doug will continue in the interim role until Ron arrives in December.

"With his impressive record of administrative oversight, financial expertise and public service, Ron is well suited to help write the Smithsonian's next chapter," Bunch continued. "His leadership will help us meet the challenges of our time and create a better shared future for our institution, our communities, and our nation."


Posted: 7 October 2021