James Hassell is a runner-up for Nature Research Award for Driving Global Impact
Hassell has been recognized for his work with the Smithsonian Conservation Institute's Global Health Program.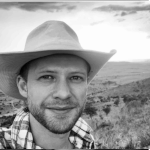 Out of more than 350 entries from 62 countries, Dr. James Hassell, wildlife veterinarian, epidemiologist and Keller Family Skorton Scholar for the Smithsonian Conservation Biology Institute's Global Health Program was selected as one of eight finalists and announced as a runner up for the 2021 Nature Research Award for Driving Global Impact. Dr. Hassell's research combines ecology and epidemiology to study the connections between environmental change, wildlife and human health, with a particular focus on urbanization as a driver of emerging pathogens. This year's Nature Research Awards for Driving Global Impact, sponsored by academic publisher Springer Nature, put a spotlight on those early career researchers whose critical work in climate, cities, environment, healthcare and food security could provide insight into future solutions. Dr. Hassell receives a $10,000 research grant as runner-up for the annual prize.
Topics he is currently working on include:
Population heath and diseases of eastern black rhinoceros
The role of wildlife in the emergence of pathogens and antimicrobial resistance in urban settings
Toxicology training to mitigate poisoning of African carnivores and vultures
The ecology and epidemiology of viral pathogens in bats
Wildlife health training programs in East Africa
Dr. Hassell received his Bachelor of Veterinary Science and Medicine from the Royal Veterinary College, before pursuing a master's degree in wild animal health. He completed his doctorate in epidemiology with the University of Liverpool and International Livestock Research Institute, investigating the role of urbanization on the ecology and epidemiology of disease transmission between wildlife, livestock and humans in Nairobi.
Dr. Hassell is an appointed assistant professor adjunct of epidemiology at Yale School of Public Health, and is currently enrolled in a zoological medicine residency with a focus on wildlife population health through the University of Liverpool School of Veterinary Science.
Spring Nature
As a publisher, Springer Nature is committed to providing platforms, such as its suite of awards, to help researchers communicate the impact of their research, and extending the evidence based approach that drives change forwards.
From publishing journals such as Nature Sustainability and Nature Climate Change to its dedicated sustainability team, Springer Nature takes its role in disseminating and promoting trusted information on relevant scientific developments, sustainable development and climate action seriously. More on the publisher's commitment to sustainability and climate action can be found here.
Learn More
Read more about the work Dr. Hassell and his colleagues are doing with the Global Health Program.
---
---
---
---
---

Posted: 10 January 2022