Biodiversity genomics: Is Earth's gene pool in danger of drying up?
As the "Age of Humans" progresses, we are facing critical environmental and climate challenges that threaten the biodiversity of life on our planet. Secretary Skorton talks with John Kress about how Smithsonian scientists are working to understand the building blocks of life itself in an effort to meet these challenges.
The Smithsonian has been one of the nation's preeminent scientific organizations─discovering and disseminating new, important knowledge─since our founding, when the natural specimens from the U.S. Navy's United States South Seas Exploring Expedition of 1838-1842 formed the basis of our collections. Today, approximately 500 scientists work in areas from astrophysics to zoonotic disease at nine research centers, throughout our museums and galleries, and in programs that span the globe.
As Secretary, I want to build on the success of what we've been doing and to attract even more of the best scientific minds in the country to the Smithsonian. I have visited the Smithsonian Environmental Research Center and seen some of the incredible work they have done on the Chesapeake Bay for the past fifty years. I have seen conservation science in action at the National Zoo. I've visited the National Air and Space Museum's Center for Earth and Planetary Studies, the Smithsonian Astrophysical Observatory, and others. Scientific discovery is a core part of the Smithsonian's mission and I look forward to seeing more of it firsthand and to supporting and recognizing the superb work of our scientists.
One of our most exciting scientific endeavors is our work in biodiversity genomics (the analysis of the DNA of living organisms.) I talked to John Kress, Interim Under Secretary for Science and Director of the Consortium for Understanding and Sustaining a Biodiverse Planet, to find out more about this promising research.

The Smithsonian is a massive entity doing so much research that deals with biodiversity and genomics. Can you tell me a bit about some of that work and how it fits with the Smithsonian's mission?
Fulfilling the Smithsonian's mission, the increase and diffusion of knowledge, becomes more complicated every year. For us to keep providing the essential information and knowledge that the world needs today, we need to keep up with the latest technologies, particularly in the sciences. Genomic technologies will lead us to discoveries about every aspect of the natural world—both how it came about and where it is going in terms of its conservation and adaptation to climate change. Adding the ability to look at the genomes of organisms is something all of our scientists want to do. So we've taken a big step in consolidating our efforts to provide genomic tools to all of our researchers.
What is the Smithsonian Institute for Biodiversity Genomics and how is it pulling all of this research together?
A group of scientists across all the biodiversity units meets bi-weekly to talk about how we are going to build genomics capability across the Institution. We decided that we were already immersed enough in genomic technology that it was time to make a statement by launching the Smithsonian Institute for Biodiversity Genomics last December. It is a virtual institute spread across the Smithsonian—people working at SERC, STRI, SCBI, the Zoo, and NMNH, all of whom use genomics in their research.
What areas of biodiversity genomic research do you think hold the greatest promise to solve some of humanity's great challenges?
There isn't just one thing. That's part of the strength of the Smithsonian—our biodiversity sciences are so broad. We apply genomic technology to understand the origin of life, to understand how ecosystems function, to understand the diversity of life, to understand how we are going to more effectively conserve biodiversity. Genomics has really revolutionized science across the Institution. For example, at SCBI, Rob Fleischer and his team are looking at the genomics of pathogens that are carried in animal populations. We know that some of these pathogens can switch to human hosts. It is critical to have genomic information about the pathogens and the hosts and know how they interact. In many ways, genomics helps us look at these diseases before they enter the human population, giving us the potential to predict what these pathogens will do.
What makes the Smithsonian ideally suited for this kind of comprehensive biodiversity genomic research?
Three things. First, the breadth and depth of our science. Between all of our research centers and the museums, we have more people concentrated on biodiversity than almost any institution in the world. We then take genomic technology and apply it to a broad spectrum of questions, which makes us perfectly poised to make large contributions to biodiversity genomics. Secondly, we have roughly 127 million biodiversity collections. Nowhere else in the world has a collection like that been assembled. Much of it is available at our researchers' fingertips to work with on a genomic level. The third thing that makes the Smithsonian unique is our convening power. We can bring multidisciplinary experts from around the Institution, the nation, and the world together to look for new avenues of research.
In addition to our cross-disciplinary research, we are seeking out partners outside the Smithsonian to amplify our efforts. What are some of these collaborations and how are they allowing our biodiversity genomics work to have more reach and to be more effective?
We are developing partnerships with genomic institutes and computational institutes like Oak Ridge National Lab and Argonne National Lab, which are excellent at providing the informatics tools and the analytic tools for large genomic data sets. With their supercomputers and their staffs of computer scientists, they can really help us take a giant step forward in terms of increasing our analytic capabilities. Those are important partnerships. We also partner with facilities that do genomic sequencing—something we don't have the full capability to do. For example, the largest genome-sequencing company in the world is looking to partner with us because we have the scientific questions and they have the ability to generate genomes.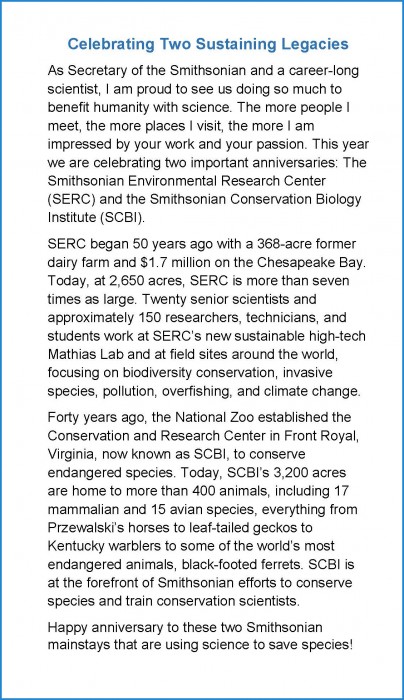 On Nov. 6, we are holding a conference with different government agencies to discuss this important work. What will you discuss and what kind of impact do you hope this will have?

A number of scientists interested in biodiversity genomics approached the Smithsonian with the idea of convening representatives from all the federal agencies, such as U.S. Dept. of Agriculture, the Dept. of Energy, the Federal Drug Administration and the National Science Foundation, that are involved in genomic technologies or are applying genomics to various environmental questions. The aim of this one-day brainstorming session is to think about a framework to create a grand challenge project called the Earth BioGenome Project, incorporating expertise and funding from all of these agencies. We envision a project along the lines of President Obama's ambitious initiative on brain function. It only makes sense, since at the Smithsonian we want to collect genomic-grade tissue of all the species on the planet. The Earth BioGenome Project would be a way to mobilize our collected capacity to generate genomes. It's a giant task, but the understanding of the genome is going to revolutionize our understanding of nature. It is exciting, and the Smithsonian's convening power allows us to undertake big projects like this one.

You have also been instrumental in bringing together research on the Anthropocene, or "The Age of Humans," both internally and externally. What is new on this front?

Scholars, both in the sciences and the humanities, came together through the Smithsonian Grand Challenges Consortia to create the "Living in the Anthropocene" initiative to understand how climate change and environmental change is going to affect everything we do as a society. The physical environment, economies, social interactions, disease transmission, national security—it is clear now that the changes to the planet are going to have major ramifications for all we do. This group recognized that we have to start pooling our information and research to share it with the public, so we began to look at how we are going to adapt to global effects like rising temperatures, rising sea levels, and increased severity of storms. We are developing additional research and public outreach, we are urging the increased protection of our collections, which document this change. And we are urging the Institution to become much more sustainable, both to mitigate the effects of climate change and to act as an exemplar to show what sustainability can be.

Our science is driven by the brilliant minds who do the work in the lab, in the field, in the classrooms, and in the museums. How do we continue to attract and recruit the best scientists?

One way is technology. For instance, our young biological scientists all want to have access to the latest cutting-edge genomic technology. That's one reason for the Smithsonian Institute for Biodiversity Genomics, so we can provide this capability to provide a scholarly atmosphere where people can jump right in to state-of-the-art research. The second is through funding. We need to increase our resources to give our young scientists a jump start. One thing that is attractive about the Smithsonian is that scientists here can focus all their time on research, whether their own or on pan-Institutional projects. They can even work with the museums to turn that research into exhibitions.

Across the Smithsonian, our exciting scientific endeavors never cease to amaze me, whether finding new planets, programming the Mars rover, discovering new species, or unearthing ancient fossils. What do you think the future holds for science here at the Smithsonian and in society at large?

As a scientist, I'm a bit biased, but it's clear to me that science is one of the major pillars that will hold society together. We came out of the Dark Ages thanks in large part to science and our increased understanding of nature around us. Basic education about sound scientific methodology is extremely important, and the Smithsonian has a big role to play in that. I think an understanding of science will allow us to cope with all the changes we see in the planet. But science cannot act in isolation from all of our other societal responsibilities—science must be integrated with culture, with art, with history. Again, the Smithsonian plays a big role in that and will continue to do so.


Posted: 30 October 2015
Categories:

Air and Space Museum , Astrophysical Observatory , Collaboration , Conservation Biology Institute , Education & Outreach , Environmental Research Center , Fort Pierce Marine Station , From the Secretary , Museum Conservation Institute , National Zoo , Natural History Museum , Science , Tropical Research Institute