Carrying the Torch into a new year: 2018
In a year often marked by divisiveness, the Smithsonian strove to be more inclusive—reaching out to make our vast resources of collections, research and people more accessible, more relevant and more universal in 2017. Here are some of the highlights.
January 2017
Go ahead and lick that toad. It's good for you.
New research indicates that secretions produced by frogs and other amphibians may have pharmaceutical benefits. But we were kidding about licking toads–don't do it, they don't like it. Read more from Beth King.
---
February 2017
Morning at the Museum is a special program designed to help children with cognitive or sensory processing disabilities enjoy a visit to Smithsonian museums. A project of the Smithsonian Accessibility Program, Morning at the Museum has inspired similar programs at the U.S. Botanical Garden, the U.S. Capitol. The Kennedy Center and the International Spy Museum. Read more from Max Kibblewhite and take a look at the program's origins and its approach to making the Smithsonian a welcoming experience for visitors of all abilities.
---
March 2017
Smithsonian convenes first Earth Optimism Summit
Rollbacks on environmental protections. Slashed budgets for science and research. Climate change denial. Amidst all the bad news, there are still plenty of reasons to be optimistic about the Earth's future. Read more from John Gibbons about this first-ever three-day event.
---
April 2017
Social media has transformed the way we learn, what we share and how we communicate. What role do museums play when everyone is their own curator? Amy Rogers Nazarov takes a look at how social media has become an integral part of the exhibition experience.
---
May 2017
A a new exhibition at the American History Museum that tells the stories of immigrant entrepreneurs who turned opportunity into a lasting legacy of success. Maria Anderson takes a closer look.
---
June 2017
The Smithsonian launched a new platform hosted by Secretary Skorton to bring together thought leaders to explore critical issues facing the nation and the world. Have an opinion? So do we. Becky Haberacker introduces Second Opinion.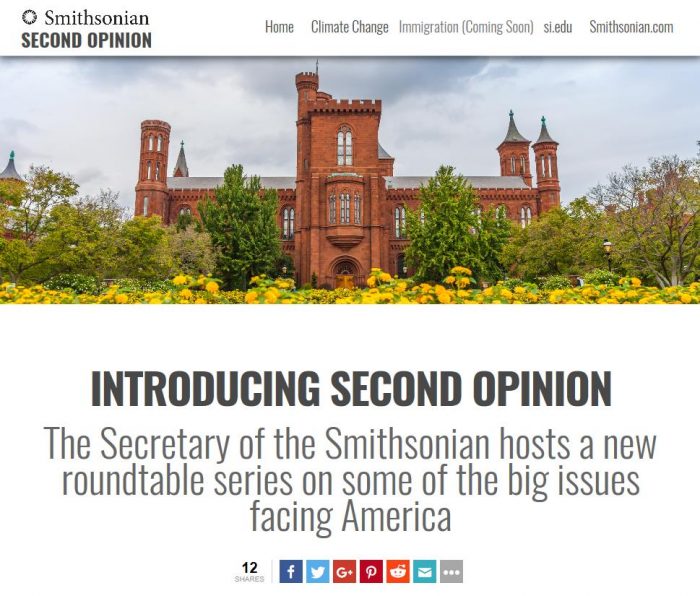 ---
July 2017
Windows can be a real pane for birds
Birds face constant threats from predators, pesticides and loss of habitat, but few people realize that millions of birds are killed each year by flying into windows. Amy Rogers Nazarov takes a clear-eyed look at the Smithsonian's efforts to be bird-friendly.
---
August 2017
The tragedy in Charlottesville
After protests in Charlottesville, Va., over the removal of Confederate monuments led to the death of a young woman, the entire Smithsonian community was given voice in this statement from Lonnie Bunch III, the founding director of the National Museum of African American History and Culture.
---
September 2017
Hirshhorn's new acquisition is nothing to spit at
Every five years, artist Ragnar Kjartansson asks his mother to spit on him for several minutes in front of a camera. The Icelandic artist says the mother and son performance has become "like a part of our family life." Read more about the Hirshhorn's acquisition of "Me and My Mother."
---
October 2017
Rock and Roll will never die (as long as we have anything to say about it)
They live forever in the indelible images seared into our collective memory: Chuck Berry duck-walking across the stage; Jimi Hendrix kneeling as flames rise from his Stratocaster; thousands of screaming, fainting fans awaiting four mop-top lads from Liverpool. These iconic moments and many, many more are captured from six decades of music history in the pages of the new book Smithsonian Rock and Roll: Live and Unseen (October 2017). Read Marilyn Scallan's interview with the author.
---
November 2017
When disaster strikes, the Smithsonian is ready
When environmental disasters occur and communities are struggling to meet the most urgent needs first, museums and historic sites sometimes have to wait for attention and assistance. Secretary Skorton describes how we are helping in the wake of devastating hurricanes struck Puerto Rico and the Gulf Coast.
---
December 2017
A "Short Conversation" about some long-term and far-reaching goals for the Smithsonian

The Smithsonian recently unveiled a bold new action plan, grounded in unity and outreach, that aims to touch the lives of a billion people each year. Smithsonian magazine's Ryan P. Smith reports on the "The Short Conversation."


Posted: 3 January 2018
Categories:

African American History and Culture Musuem , American History Museum , Art , Collaboration , Education & Outreach , Feature Stories , Hirshhorn Museum , History & Culture , Renwick Gallery , Science , Tropical Research Institute