Armenian, Catalan Cultures Fill Mall at This Year's Folklife Festival
Amy Rogers Nazarov offers a sneak peek at this year's festival, a beloved Washington tradition for locals and tourists alike.
Beginning today, the 2018 Smithsonian Folklife Festival will shine a spotlight on the food, music and art of two distinct cultures: Catalonia, in northeastern Spain, and Armenia, in the South Caucasus region of Eurasia.
From June 27 through July 1, and then again from July 4–8,  the 51st annual Folklife Festival, on the national Mall between 7th and 12th Streets, will attract scores of international tourists and locals alike eager to take in the sights, sounds and smells of this beloved Washington tradition. Admission is free to the Festival, which runs from 11 a.m. to 5 p.m. daily, with evening performances beginning at 6:30 p.m. A special Catalan fireworks show is on the schedule for June 30.
Among the attractions this year will be a Catalonian "plaza" filled with musicians, food and art, a spectacle known as "castells"—towers made of performers stacked atop each other—and a wide range of performances ranging from rumba to flamenco music to parading "beasts." The Catalan region is famous for elaborate street festivals, and the Festival will seek to mimic that energy and vibrancy.
Glassmaking demonstrations, Mediterranean cooking classes and other displays will round out the Catalan portion of the Festival.
"Armenia: Creating Home" explores the immeasurable cultural contributions made by Armenians, both from within their nation's boundaries and also around the world through the 7 to 11 million people of the Armenian diaspora. Numerous musical groups—such as the Nur Qanon Ensemble and the Samvel Galstian Group—and multiple dance troupes comprising the Handes! Armenian Dance Summit are all on tap to perform over the 10-day festival.  Cooks, winemakers, designers, artisans and others of Armenian heritage will demonstrate their skills and help visitors get a better handle on the country's long history of cultural innovation.
Visitors who download the augmented reality app ARLOOPA on their devices will be able to unlock animated features of specific signage at the Festival. Also on offer: three-dimensional virtual-reality tours of Armenia's Noravank Monastery and the Areni-1 Cave Complex, where researchers have found the earliest known evidence of winemaking.
Be aware that the final day of this year's Festival, July 8, falls on the Armenian holiday of Vardavar, during which Armenians cool off from the hot summer weather by dousing each other with water.
See the festival calendar for all performance details.
Accessibility
In addition to the geographical regions around which this year's Festival is centered, the Festival continues to enhance its accessibility services to create a welcoming environment for visitors of all abilities.
"The Smithsonian Folklife Festival is an opportunity for cultural exchange between all types of people from the hundreds of participants visiting from abroad, to the millions of visitors who we reach both on site and online," said Sabrina Lynn Motley, Festival director.  "It's imperative that this environment be an inclusive one.
"With each new year, as both awareness and technology increase, we push ourselves to enhance the services we offer so the Festival can be accessible and enjoyable to people of all abilities," she added.
To that end, a wide range of support will be available to help the widest possible range of visitors enjoy the Festival (see box).
For more information on the 2018 Smithsonian Folklife Festival, visit https://folklife.si.edu/ and follow the festival on Facebook, Twitter, Instagram and YouTube.
The Folklife Festival is co-sponsored by the National Park Service.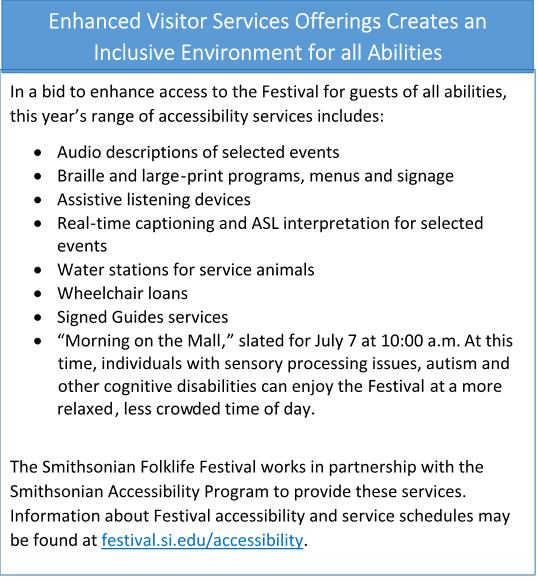 Posted: 27 June 2018