Behind the Scenes of the American Women's History Initiative
Dr. Skorton takes us behind the scenes to meet some of the amazing Smithsonian women who are working to tell the  stories of all American women.
Earlier this month, a new exhibition entitled "All Work, No Pay" opened up on the first floor of the National Museum of American History. From the early 1800s to the present, the exhibition traces the history of unpaid, often unseen labor of women in the home.
Part of the larger Smithsonian American's Women History Initiative (AWHI), "All Work, No Pay" shares many of the initiative's larger themes.
"Women's work is so often invisible," says exhibition co-curator Kathleen Franz, the chair and curator of the Division of Work and Industry at the National Museum of American History. "We wanted to make it visible. That's what the initiative focuses on too: valuing women's work and experiences."
Many of you reading this may already be familiar with the initiative. AWHI is one of the country's most ambitious undertakings to share the influential, diverse, and inspiring stories of women's contributions to this country.
The initiative launches this week with the opening of Votes for Women: A Portrait of Persistence at the National Portrait Gallery, which celebrates the centennial of women's suffrage. As we kick off this major exhibition, we also inaugurate a long term commitment to telling our full national story, especially those chapters that too often remain overlooked.
The Smithsonian's vast range and depth make us uniquely suited to fill these gaps. Through exhibitions, but also in research and scholarship, publications, programming, digital resources and outreach, conservation work, hiring, and acquisitions.
AWHI offers a thrilling opportunity to uncover stories that have historically been invisible. It's also a lot of work.
In the words of Hannah Ostroff, social media manager for the central Smithsonian accounts, "Bringing the whole Institution together under one umbrella is a colossal task. I don't think we've ever done anything on this scale before. This is an enormous, ambitious undertaking."
As a pan-Smithsonian effort, the American Women's History Initiative has been made possible by some amazing behind-the-scenes work. That's why, I think, one of the best ways to learn more about the initiative is to listen to the voices of the passionate, talented, and hyper-effective staff who anchor it.
As we revalue women's work and experiences at a national level, AWHI also invites us to reimagine and reframe the work that we and our coworkers do on a daily basis. Here are three ways in which the Smithsonian is doing exactly that.
Engaging Audiences Digitally
"We are an amazing treasure trove of so many different collections. That means that the people who come to us have a diverse set of interests and viewpoints," said Effie Kapsalis, Senior Digital Program Officer at the Smithsonian Provost Office and digital strategy lead for AWHI. "Our digital platforms can reach, accommodate, and engage all these different audiences."
"Since we rolled out the initiative hashtag, #BecauseOfHerStory, earlier this March, we've watched people learn new stories of women and see themselves represented in the Smithsonian in a different way. We try to build those personal connections and really show them how excited we are by their engagement," said Ostroff.
These tactics are producing results. So far, the hashtag has generated over 219 million impressions on Twitter and has been used over 12,500 times on social media. Since its launch on March 1st, engagements for individual posts on the Smithsonian Instagram account have increased by 17%. Most exciting are the comments that show real impact: "Thank you for sharing Miss Thomas' story and her art! Wow," or "I never knew about her until today! Fantastic story and worth reading more."
"It is vital that we think about who our audiences are and meet them wherever they are," said Ostroff. "For so many people, that's on the internet. The vast majority of the country can't come visit us every year, but we can still be part of their lives every day through social media."
That's why the "Digital First" approach has been such a focus. In addition to the month-long Twitter thread and other posts across social media, the digital team has organized Wikipedia edit-a-thons, will experiment with digital curatorship at the Smithsonian Institution Archives focused on increasing digital resources on the history of Smithsonian women in science, and is working with a data science company to surface more women's stories from Smithsonian collections. Additionally, team has focused its efforts on better reaching and serving college students, middle school students, and women and girls of color with diverse stories of women and girls.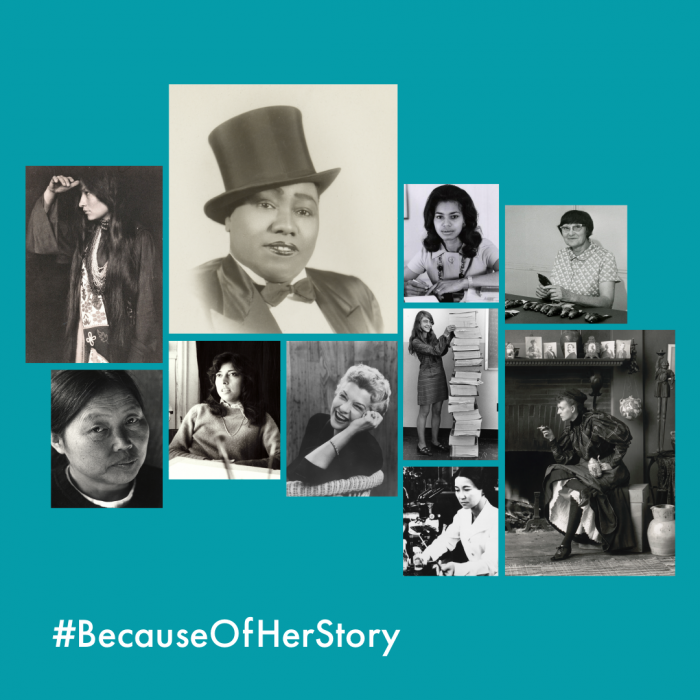 As digital strategy continues to bolster the American Women's History Initiative, the team plans to apply the lessons and successful tactics in other Smithsonian work.
"We're going to be using this initiative to test out ways that we can become more digitally-focused and nimble as an organization," said Kapsalis.
Reframing Existing Resources
The first object donated to the National Museum of African American History and Culture was a boat seat, used by a woman named Débora Nazareno to travel by canoe on waterways through the Ecuadorian rainforest. The boat seat was donated to NMAAHC by her grandson, Juan García Salazar, a world-renowned Afro-Ecuadorian Scholar.
"This is such an important item in our collection, and we used to talk about it always through the lens of the donor," said Ariana Curtis, curator for Latinx History and Culture at NMAAHC. "But as I got more involved in the initiative, I realized how important a piece of women's history this is. Yes, it was donated by a man, but it was used by a woman."
"There are so many objects like this at the Smithsonian. If we think more critically about women's impact on our collections, we see so much more of women's history."
Many of these objects have found their way into a forthcoming release from Smithsonian Books that will feature more than 280 artifacts related to women's history from Smithsonian museums, archives, research centers and libraries. (Curtis is on the Book Committee.)
"We have a lot of collections that don't present themselves as necessarily collected by women or engaging with women's experiences. Yes, we should go collect, but we have so much material to mine from the Smithsonian," said Kathleen Franz. "Fantastic women's stories are everywhere, and the initiative asks us to value them."
"'Valuing' doesn't necessarily mean 'celebrating'" she added. "'Valuing' in the Smithsonian sense means asking smart, incisive historical questions that can bring context and perspective to current conversations."
Understanding Smithsonian History
"Our work needs to start here at the Smithsonian," said Dorothy Moss, curator of painting and sculpture at the National Portrait Gallery and coordinating curator for AWHI. "There have been so many women behind the scenes whose contributions have been transformative to this Institution. We can use our own history to lead the way."

Women like Roxie Laybourne, who worked at the National Museum of Natural History for decades and founded the field of forensic ornithology. By identifying bird feathers found in airplane crashes, Laybourne improved the safety of air travel. Her techniques and tools are still used today.

"I wonder if the American Women's History Initiative should push us to think about gender at the Smithsonian, and how women's movements have affected the Smithsonian. What is our own history?" asked Franz.

Franz noted that the Smithsonian has a long history of women doing curatorial work, many of whom remain hidden figures in museum lore. Recouping these stories, she explained, also gives us a better sense of ourselves now.

"Women who come in should feel part of a long, storied tradition. It's important to understand yourself as part of a genealogy of curatorial work."

"I'm really proud of the way that we're changing the culture of our museums, and hopefully of public conversation by extension," said Curtis. "We want to create a culture in which the absence of women's representation is not acceptable. It's not just about the people that work now; it's how we're training the next generation."

The American Women's History Initiative is taking the long view. With new curatorial hires and seed money for granting all kinds projects, its impacts will extend far beyond the initial excitement of Women's History Month.

"I hope that once this takes off, it will become a core part of our identity," said Moss. "Becoming leaders in teaching, presenting, discovering, and retelling women's stories would be a remarkable thing for the Smithsonian."


Posted: 27 March 2019