ICYMI: Highlights from the week that was March 17 – March 23
No one can keep up with everything, so let us do it for you. We'll gather the top Smithsonian stories from across the country and around the world each week so you'll never be at a loss for conversation around the water cooler.

This week, we read about art and ethics. Is "dirty money" laundered by supporting great art? Does lousy art deserve greatness if it's popular? (Ed. The answer is no, in both cases, in case you were wondering.)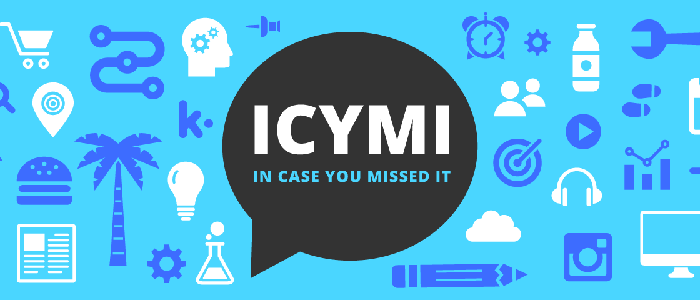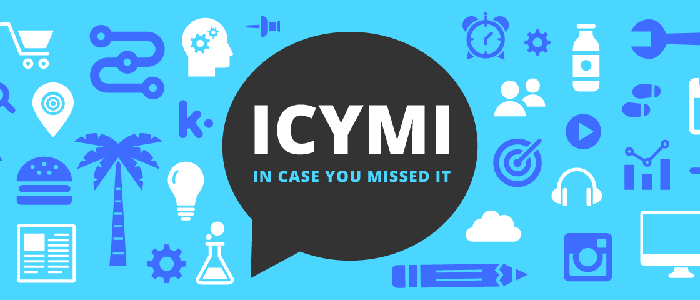 ---
Inside the revamped Smithsonian dino exhibit
CBS Morning News, March 19
---
ABC News, March 20
The red dresses hang from barren branches and flutter in the chilly spring air.
One looks like it's meant to be worn to the office. Another resembles a "date night" dress. Yet another could be worn for a casual day out.
The dresses are part of an outdoor installation by artist Jaime Black and are aimed at drawing attention to the ongoing issue of violence against Native American women. The stark silhouettes flanking the Riverwalk located in the National Museum of the American Indian's Native Landscape area commemorate Women's History Month. Read more from ABC News. 
---
Finally!
Working Mother Magazine, March 19
A new exhibit at the Smithsonian's National Museum of American History is calling attention to how, for generations, women have been expected to handle the housework exclusively—and it's one that will make every exhausted mom feel very, very seen. Read more from Working Mother.
---
ArtForum, March 19
London's National Portrait Gallery (NPG) has decided not to accept a $1.3 million grant from the Sackler Trust, one of the charitable organizations founded by the Sackler family, which owns the pharmaceutical company that manufactures OxyContin. The much-anticipated announcement comes at a time when arts institutions across the globe are facing mounting pressure to reject funding from controversial donors.
The Sackler Trust pledged to award the gift to the museum in June 2016 to support its "Inspiring People" project, a $47 million initiative to revamp the gallery by constructing a new entrance for its north facade; reopening its East Wing, which is part of its original 1896 building; creating a learning center; and reinstalling its permanent collection. The gallery didn't receive the money because it hadn't begun work on the project, and because its ethics committee was deliberating on the ramifications of accepting the funding. Read more from ArtForum.
---
It's possible that some good can come from keeping their name on the walls
The Washington Post, March 15
No American family today has developed a larger gap between its dueling public personae than the Sacklers. On the one hand, they have cultivated a reputation as leading philanthropists and cultural benefactors. Their name graces a gallery at the Smithsonian and wings at the Metropolitan Museum of Art, the Louvre and the Royal Academy. They've funded more than a dozen endowments or academic centers at universities and hospitals around the world, including research centers and facilities at Yale, Harvard, Tufts, Columbia, Cambridge and Oxford. Read more from The Washington Post. 
---
The Washington Post, March 18
Kim Jones was back from active duty in Vietnam eight years when, on his 32nd birthday, he turned himself into, as he put it, "a walking sculpture that's eighteen miles long."
He put on combat boots, pulled a nylon stocking over his face and donned a makeshift crown of foam rubber and aviary wire. He slathered his body in mud and strapped to his back a weird, latticelike construction of sticks tied with rope. He then walked westward along Wilshire Boulevard from downtown Los Angeles toward the Pacific Ocean. Toward Vietnam.
Before going to Vietnam, Jones had been an art student. After it . . . what? Read more from The Washington Post.
---
Reportedly, the National Portrait Gallery's director told Julian Raven the painting was "too political," "too big," and "no good."
Hyperallergic, March 18
Many an artist has demonstrated unfettered ambition when it comes to gaining recognition for their work, but a Trump-loving wingnut named Julian Raven has taken the fight for museum space to a new level: he's suing the Smithsonian in an effort to force them to display his gigantic portrait of our national Embarrassment-in-Chief. Raven views the refusal of the Smithsonian's National Portrait Gallery to display the 16' x 8' piece of propaganda (based on concerns about its size, content, and general shittiness) as a violation of First Amendment rights and his Fifth Amendment right to due process — proving, once again, that just because someone claims to love the Constitution doesn't mean they understand it. Read more from Hyperallergic.
---
The Chicago Tribune, March 21
ay you went to the National Museum of African American History & Culture here with an eye on Chicago alone. Say you restricted your visit to this newish Smithsonian institution solely to those artifacts obtained from the Chicago area. You would have a full, albeit parochial, day ahead: There's Curtis Mayfield's wire-rimmed eyeglasses, and "Harold Washington for Mayor" pins, and Pullman porter caps. There's a pew from Quinn Chapel on Wabash, and a check from James Baldwin for $150, payable to the Chicago chapter of the Student Nonviolent Coordinating Committee.
"When we started collecting in 2005 we had zero objects," said William Pretzer, one of the museum's 12 curators. "And when we finally opened in 2016, we had about 30,000." Read more from the Chicago Tribune
---
Peek-a-boo, little joey! We see you!
WUSA-9, March 20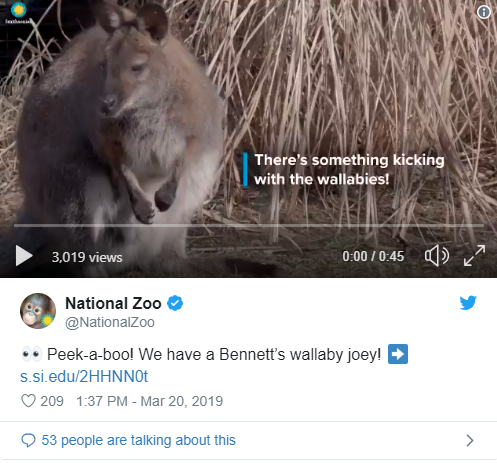 A wallaby joey made a special appearance by peeping its head out of his mother's pouch for the first time since it was born at the National Zoo several months ago.
The zoo confirmed the birth announcement on Wednesday by tweeting out a video stating "It's a joey!" Read more from WUSA-9.
---
Palaeontologists have been urged to share 3D scans of fossils online, but a Nature analysis finds that few researchers do so.
Nature, March 6
A decade ago, palaeontologist Jack Tseng set out on a treasure hunt. Not the typical boots and pick-axe affair you might imagine, but one that is relatively common in his field. From his base at the Natural History Museum of Los Angeles County in California, Tseng visited museums around the world to examine the skulls of carnivores in their collections. And whenever he encountered one, he asked whether he could take away 3D scans of the specimen. Tseng's own institution housed skeletons from striped hyenas, cheetahs, jackals, aardwolves and mongooses, as well as skulls from extinct hyenas and dogs. But Tseng, then a doctoral student, needed even more exotic fossils for his research on how carnivores evolved the ability to crush bone. "I was looking for exceptionally complete skulls," he says. Read more from Nature.
---
She is "relaxed and very stylish" in the portrait
The Art Newspaper, March 21
The "iconic portraits [of Harriet Tubman] present her as either stern or frail", the director of the Smithsonian National Museum of African American History and Culture (NMAAHC), Lonnie Bunch, says in a statement. But a recently discovered photograph of the abolitionist and Underground Railroad conductor, due to go on view at the museum next week for the first time ever, "allows us to see Harriet Tubman in a riveting, new way", he says.
The carte de visite portrait dates from around 1868-69, when Tubman would have been in her 40s. "This new photograph shows her relaxed and very stylish," Bunch says in the statement. "Sitting with her arm casually draped across the back of a parlour chair, she's wearing an elegant bodice and a full skirt with a fitted waist. Her posture and facial expression remind us that historical figures are far more complex than we realise. This adds significantly to what we know about this fierce abolitionist—it helps to humanise such an iconic figure." Read more from The Art Newspaper.
---
Group of more than 500 cities, counties and tribes accuses family of helping to create 'worst drug crisis' in US history

The Guardian, March 22

A group made up of more than 500 cities, counties and Native American tribes across the United States has filed a massive lawsuit accusing members of the Sackler family, who own the maker of the opioid painkiller OxyContin, of helping to create "the worst drug crisis in American history".

The lawsuit represents communities in 26 states and eight tribes and accuses Sackler family members of knowingly breaking laws in order to enrich themselves to the tune of billions of dollars, while hundreds of thousands of Americans died.

"Eight people in a single family made the choices that caused much of the opioid epidemic," the lawsuit, filed earlier this week in federal court in the southern district of New York, states.

The same eight members of the family had recently been added to a small number of lawsuits that are underway against a string of opioid-makers, including the Connecticut-based pharmaceutical company the Sacklers wholly own, Purdue Pharma, but they have not been sued as individuals on anything like this scale before. Read more from The Guardian.


Posted: 26 March 2019