Ghoulies and ghosties and long-leggety beasties and things that go bump in the night
Any Castle worth it's sandstone should be haunted, especially one that keeps its founder in a crypt by the front door. Amy Rogers Nazarov takes us along as she goes ghost hunting. Do you have a spooky story? Share in the comments!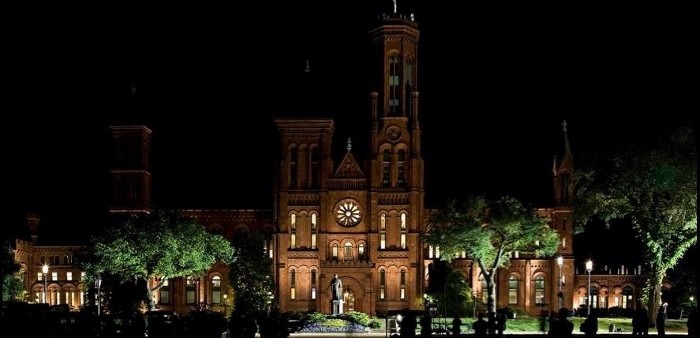 Included in the May 13, 1900 edition of The Washington Post, is an article entitled "Phantoms of the Museum," which contains this startling line:
Guarded footsteps traverse the lonely corridors, made by unseen feet, and husky voices break the night stillness.
The piece, which featured interviews with a number of "night watchmen" on duty in what today we call the Arts & Industries Building and the Smithsonian Castle, mentioned that the "shades" of former Secretaries Joseph Henry (1797-1878) and Spencer Fullerton Baird (1823-1887) could be spotted roaming the buildings, evidently reluctant to leave the places where they'd spent countless hours.

Over the years, the phantom of James Smithson himself—whose remains lie in a crypt at the north entrance of the Castle—has also been witnessed walking the halls of the Castle after dark. Deaths which occurred there – of a worker named William Page, who fell from scaffolding as he worked in the Castle in 1850, and of William Henry, the first secretary's only son, who succumbed to jaundice in the family's quarters in 1862—add notes of tragedy and grief to the building's long history.

Pamela Henson, an historian at SI Archives, gathered these and other chilling tales in a talk about our spooky Smithsonian that she first delivered in 2016. Over the decades, she notes, there have been reports of a phantom Secretary Henry disappearing into the pedestal of his statue on the Mall, of eerie birdsong echoing through the night in and around the Castle towers, of the ghost of a 19th century staffer who not only dwelled in the Castle for a time but who had died of tuberculosis there in 1876.

According to Henson, there is no report of whether the spectres  moved across the Mall along with the National Museum collections when the new National Museum of Natural History opened in 1910, but apparitions continued to trouble the staff. "Sometimes the apparition turned out to be an eccentric employee," she writes. "Jessie Beach was a Museum Aide in the Department of Paleontology, known for her rather dyspeptic personality. As the legend goes, at one point in her life, she began building a home in Arlington, Virginia. Construction dragged on as she got into disputes with contractors. She had given up her lease, in anticipation of the house being completed, but that never occurred. So she took up temporary residence in the museum that stretched into years as the house stood unfinished and empty. One can imagine the reaction of new night guards who encountered her tall white-haired figure in a long white dressing gown floating down the deserted hallways of the museum in the middle of the night."

Whether you consider yourself a skeptic (like Secretary Henry was) or a believer, SI staff still hear spooky noises and pick up eerie vibes to this day.

Dan B. likes to come into his Castle office as early as 6 a.m. on Sundays to catch up on work. This early bird has caught a ghostly worm on at least a dozen occasions.

"I often hear papers rustling or someone moving around," even when he is certain he is the only staffer on his floor. He checks the hallways for other early-bird colleagues, but none are to be found.

"I swear I'm not crazy," Dan adds.

Then there was the time Smithson's shade got a little testy with Maura R., whose desk was then right above the founder's crypt. "One day, while floating around in our office suite, he tried to hit her with a piece of the ceiling," reports her colleague Joe Y. "He missed, but it landed on her desk right next to her and gave her quite a start."

There have been other unsettling visits. "We had a coffee grinder in our little copy-room/library," recalls Joe. "One day, when nobody was in that room, Mr. Smithson went in and turned on the grinder. It didn't seem like it was a malevolent act. I think he was just interested in increasing his knowledge about electrical kitchen appliances, or maybe wanted us to make him a cup of coffee."

In 2017, Marilyn S. chanced upon a light flashing in a Castle case that contained a mace and other symbols of the Smithsonian, and took a little video of it. It was "just a bad bulb or bad connection," but "it wouldn't have been out of place in a scary movie. Old castle, artifacts, dark rotunda, flashing lights…lol—it all works," she writes in an email.

Creepy stuff is not just occurring in the Castle, by the by. Case in point: the basement of the Freer. That's "the only place that really gives me the creeps for no apparent reason," says Allison D. "I can't bring myself to work down there alone because of the overwhelming feeling of being watched and followed.

"I've never heard of anything happening down there, so I guess I have to chalk it up to a high electromagnetic field reading (yes, I've watched too many episodes of Ghost Hunters)."

"I believe in ghosts, and I've always wanted to experience something unusual (just not in my own home, please!)," Allison continues. "I would think that I would have seen something unusual working in remote areas of every building over the past 15+ years, but the closest I've ever come to seeing a ghost is an unfortunately placed mannequin in the attic of NMNH." (Yikes! Are you sure it wasn't Jessie Beach?)

Interested in learning more about "spirit photography"? Check out "When a 19th-Century 'Spirit Photographer' Claimed to Capture Ghosts Through His Lens"

NZP has its share of spooky goings-on, as well. "When I volunteered to watch baby Kandula (an elephant who has since been moved to the Oklahoma City Zoo), I was in the old elephant house at 2:00 a.m.," commented Kim D. online. "I heard the door open down by the hippo yard, and I heard footsteps. Assuming it was security, I gave no concern.

"Then I looked over and a person was watching Shanthi (Kandula's mother). They looked at me and VANISHED in front of my very eyes. I gathered my courage to check things out just to make sure they hadn't ducked into the darkness. I walked the entire building and nothing was to be found. All the doors were locked. I ended up barricading myself in the keeper's office where I could have the lights on, and I called security to come and escort me out of the building. I never did an after midnight shift ever again." (We don't blame you, Kim—though we'd admit we'd be kind of curious to catch a ghost lemur or panda strolling on Olmsted Walk.)

Over at Capital Gallery, Tracie S. reports no paranormal experiences per se, but made this thoughtful observation that might resonate with many across the SI. "I think that objects— especially the 'anthropological' ones that have been used in rituals or have been through traumas—could retain some kind of 'energy' that science has yet to explain," she notes.

Nevertheless, Richard Stamm, curator of the Castle Collection, scoffs at the notion that ghosts roam the Castle (or any other SI building, for that matter.)

"In the 44 years I have worked in this building, I have never had any [paranormal] experiences. So, I remain a skeptic, as was [Secretary] Henry when he debunked a Spiritualist who purported to converse with a ghost [during a] 'séance' that was held in the Regents' Room in 1868."

For his part, Dan is mostly unfazed by the noises and sensations he cannot explain. He is cognizant that he is one of thousands of SI staffers who have advanced the endeavors of the Institution since 1846 and he honors those who preceded him in its offices, labs and exhibit rooms.

"'This was my house before it was yours,'" he says. "That's probably all they're trying to say."


Posted: 30 October 2020