The futures of the Arts & Industries Building
A storied museum looks toward its future(s).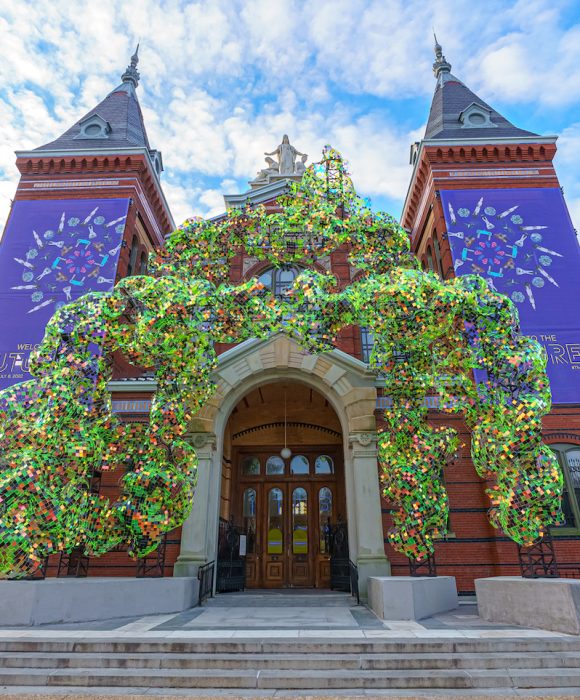 If you visit the newly reopened Arts & Industries Building, you will walk under the words "The National Museum," engraved across the front entrance. I have always loved AIB for its beauty, for its spectacular architecture, but especially for this name and the history it represents.
When AIB opened in 1881 as the National Museum, it marked a radical shift in the idea of what the Smithsonian could be. AIB was intended not just to showcase artifacts and amuse audiences, but to teach and uplift visitors as citizens in a democracy. The building's design itself differed sharply from its predecessors in America and Europe. Their sprawling marble palaces with long, descending staircases were meant to evoke awe and majesty. Unlike these earlier museums, AIB was made of simple brick. The building had four entrances at ground level, to welcome the public to enter from any direction and learn. This would be the people's museum.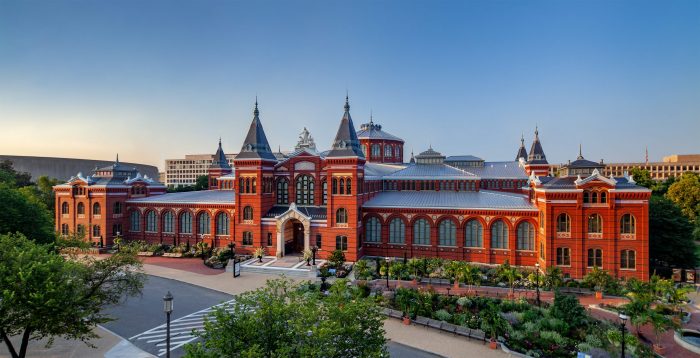 In its earliest years, the Smithsonian had largely focused on research, scholarship, and grant-making. AIB represented a new mode of public engagement for the Institution. Thousands flocked to the National Mall's newest building to see firsthand the inventions that were changing the world: the electric light bulb, the steam locomotive, and Alexander Graham Bell's telephone, among others. Over the following decades, AIB became the incubator for many other Smithsonian museums, debuting everything from dinosaurs to rocket ships to a moon rock collected during the Apollo 11 mission.
To me, AIB is the mother of the Smithsonian. So much of what we do at this institution emerged at AIB. Descriptive labels to explain what people were seeing, new ways of organizing displays to tell stories, 'pop culture' collections, and even 'living animal' collections (an initiative that would eventually grow into the National Zoo). Unlike earlier museums, with static collections and exhibitions, AIB's halls were designed with large mahogany cases on moving casters, so that the spaces could be reconfigured to accommodate new exhibitions. The building made exhibition design modular and flexible; standard cases could be fitted in multiple ways to display different sizes and shapes of objects. In this sense, AIB was imagined as more than a home for objects. It would be a home of the nation's changing ideas and ideals, a celebration of innovation, and a place that would evolve as the needs of the public did.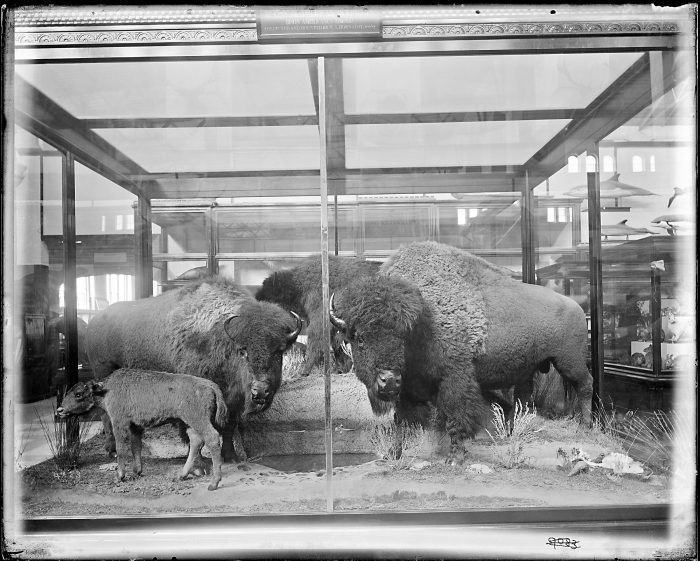 AIB has always been significant to me both professionally and personally. It was one of the first Smithsonian buildings I ever visited. It was where the collections I oversaw as a curator at NMAH were housed. It was even where my daughter went to preschool. But most of all, its rich history embodies the Smithsonian's tradition as a forward-looking Institution, from Joseph Henry's creation of the first citizen science program to record national weather data across North America, to Roxie Laybourne's development of the field of forensic ornithology. For 175 years, the Smithsonian has been a place of innovation, purpose, creativity, and public service, ideals I will continue to embrace throughout my tenure as Secretary.
The FUTURES exhibition continues the Institution's long legacy of creativity and innovation. I can think of no more appropriate place than the Smithsonian for such an exhibition, and no better building than AIB. As the Smithsonian celebrates 175 years of service to the nation and the world, FUTURES shows us how museums can and should be places for audiences not just to reflect on their history and culture, but to be inspired by what the future might hold. This exhibition represents that optimistic vision: to spark discovery, empower creativity, and welcome everyone to experience the same kind of wonder that the first visitors must have felt when the Arts & Industries Building opened its doors.
---
Learn more about the renovation of the Arts + Industries Building


Posted: 30 November 2021