The Invention of Thanksgiving
Secretary Skorton considers America's complicated relationship with Native Americans and helps set the record straight on a meal that was more of a snack than a feast.
We often speak of the Smithsonian as the caretaker of America's treasures and cultural heritage. Among those treasures—as iconic as the Star-Spangled Banner and as significant as the desk where Thomas Jefferson wrote the Declaration of Independence—is one of the world's most expansive collections of Native artifacts from the entire Western Hemisphere, from the Arctic Circle to Tierra del Fuego
The Smithsonian's National Museum of the American Indian is steadfastly committed to bringing Native voices to everything the museum presents, both on-site at one of the three NMAI venues—the museum on the National Mall in Washington, D.C., the George Gustav Heye Center in New York City, and the Cultural Resources Center in Suitland, Maryland—and through the museum's publications and digital outreach.
It is no coincidence that November, the month in which we celebrate America's second-most popular holiday, is also the one in which we commemorate Native American heritage. In fact, Thanksgiving itself reflects our complicated relationship with the first Americans.
I wanted to address that complex and sometimes contradictory relationship in this month's column, but I quickly realized that perhaps I am not the best person to tell this story. In the latest episode of our celebrated podcast, Sidedoor, host Haleema Shah talks with Paul Chaat Smith (Comanche) about the myths surrounding the first Thanksgiving and how American Indians are both romanticized in popular culture and invisible in contemporary America. I'm privileged to share a synopsized version of their conversation here.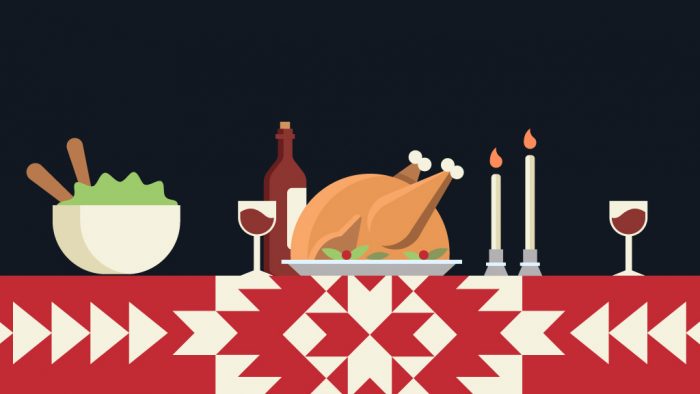 Native Americans are only one percent of the population, but they appear across our culture: their images are on our boxes of butter and cornstarch. Their names are used to sell motorcycles and cars. And one of their brief encounters with English colonists is the foundation of one of our biggest holidays.
The story of Thanksgiving evolved over time: In fact, the first Thanksgiving of 1621 received little notice or attention. Curators at the Smithsonian's National Museum of the American Indian like to call it a "brunch in the forest." Native Americans and pilgrims did share a meal, but it hardly had the significance we now ascribe to it.
"What historians have had trouble explaining to civilians is that history is always a narrative. It always has a level of fiction in it," says Paul Chaat Smith, noting that "all history changes over time." Smith is a co-curator of the NMAI's highly acclaimed exhibition "Americans," which opened earlier this year, and a featured guest on the newest episode of the Smithsonian Sidedoor podcast, "That Brunch in the Forest."
Many Americans are familiar with the story of the early English colonists, or Pilgrims, coming to North America aboard the Mayflower. Many died from starvation and disease, and the rest struggled to survive a cold winter. The school-play version of Thanksgiving tells of a landmark moment of coexistence, multiculturalism and neighborliness when Native Americans taught Pilgrims to farm, and shared a meal with them after a successful harvest in 1621.
But it wasn't a landmark moment—Smith describes it as a nonevent that, while it was recorded in the writings of early English settlers, was more of a historic footnote.
"They didn't repeat it the next year," Smith says. "It wasn't special and some people knew that it happened, but it was forgotten for hundreds of years until the 1800s."
And that could be because Thanksgiving was never a very original idea to begin with. Long before 1621, Native Americans held celebrations and dances around a harvest, and Europeans also held religious services to give thanks.
How Native Americans Got a Permanent Seat at the Table
After the American Revolution, George Washington called for a national day of prayer and thanksgiving; later, so did Abraham Lincoln and 19th-century women's magazines. The idea of such a national holiday began to pick up steam after the Civil War, just as popular culture became fascinated by early Pilgrims and Native Americans.
In 1855, the lost manuscript of William Bradford, the governor of Plymouth colony, was recovered, and in 1858, Henry Wadsworth Longfellow published The Courtship of Miles Standish, which would become a best-selling narrative poem about the early days of that settlement.
"And over time, we get where we are now—where Thanksgiving is always about Indians," Smith says—not to mention that Thanksgiving is now America's second favorite holiday, rivaled only by Christmas. Native Americans are presented in grade-school history books and popular movies with varying degrees of accuracy. The Battle of Little Bighorn, the Trail of Tears, Pocahontas and Thanksgiving are all stories with which many Americans have at least a passing familiarity. They are also stories that the "Americans" exhibition examines in order to distinguish fiction from fact.
For Smith, Thanksgiving was an "irresistible" subject to study because of the key role the Wampanoag play in the Thanksgiving narrative and the holiday's status in American life.
"So we decided to look at how and why that happens. Why is it important for the United States to feel like this is where our country begins? It's a very generous view to say the first thing we're going to commemorate is when these proto-Americans welcomed people already there, the Native Americans, to have a meal."
Why Thanksgiving Matters to America
Smith describes the tale of the brunch in the forest as something of an American origin story, one that he says depicts the earliest colonists saying "we're friendly, we want to be friends."

"The great Thanksgiving moment is when you bring in new neighbors" or invite friends for the meal, he says. This is "quintessentially American. [It shows] a certain generosity of the American spirit as you have a meal that is explicitly referencing a forgotten meal that happened [in 1621]."

But it may also be a way to cope with, or ignore, deeply troubling parts of U.S. history—One that includes the U.S. government removing Native Americans from their lands, authorizing more than 1,500 wars, attacks, and raids on them, and tragically reducing their population.

"It's this very unsatisfying way to deal with this hard truth, which is that the United States grew at a great expense to Native Americans," Smith says. "How do you come to terms with that? I think that's what Thanksgiving does. It's a way to engage with that [history], even though most people don't think they're engaging at all."

When it comes to American history, Smith says Americans face the challenge of reconciling the Declaration of Independence's oft-quoted principles of freedom and liberty with the country's history of inequality.

"The ambition of the American project is so extraordinary, almost utopian, and yet in the moment people know it's nothing like that," he says." You're actively dispossessing Native Americans even as you sort of romanticize them."

And though history gives Americans troubling truths to contend with just as much as it provides fodder for holiday myths, Smith believes one of the country's biggest assets is its willingness to revisit history. He cited the Indian Removal Act, which passed in the 19th century and dispossessed millions of Native Americans, as an example.

"In the 1830s, there were politicians who voted against [removal], who said 'we're going to regret this one day. This will be a moment of shame.' That's how it's regarded now," he says. "One of the things that Americans should be proud of, that I'm proud of, is that we are willing to look at really negative chapters of our history in a way that, I think, all countries do not."

Listen to more of the conversation on Sidedoor:

The exhibition "Americans," curated by Paul Chaat Smith (Comanche) and Cécile R. Ganteaume, will remain on view through 2022 at the Smithsonian's National Museum of the American Indian in Washington, D.C. Portions of this post were originally published by Smithsonian.com.


Posted: 20 November 2018